Joomla CMS doesn't fit your needs anymore? Maybe Drupal 8 is created for you? Though there are few issues. "How am I going to transfer all of this huge amount of content and data?" You don't have to spend a lot of time on the copy-pasting process! CMS2CMS offers the possibility to migrate all the data automatically!
Why should you migrate your website from Joomla to Drupal?
Compare – Joomla! plugins marketplace: +7k plugins vs Drupal amount of plugins (modules): +35k. That's a big difference, right? Accordingly, fewer plugins = fewer number of useful features to add to your website. 
Plugins compatibility. You can't just install one plugin after another and repeat this infinitely. There may be some issues in your website functionality. Unless you know how to make some changes in PHP code, though the successful result is still not guaranteed. Another reason why J! is being migrated is that some may find it limited in website customization options.
Drupal is considered to be one of the most powerful and advanced website builders out there. It comprises not only the features of a CMS platform but rather it's a content management framework as well, that provides the website owners with the ability to create their own application on Drupal core. This CMF is highly-developed while speaking about its functionality. Moreover, the latest Drupal 8 version has lots of new tricks to show and is suitable for management and business collaboration. You are always able to improve your website management with the modules, themes, contributions, etc. 
By the way, Drupal is considered to be on the top, when it comes to developing an enterprise website.
Thus, to make the website management sphere even more simple and efficient, we present you the tutorial that will show you how to migrate from Joomla to Drupal 8 automatedly and with no losses.
Joomla to Drupal 8 Migration: Step-by-Step instruction
Sign Up/Sign In
Create an account or sign in with your Google or Facebook account.
Specify Source and Target details
Now you have to provide your Source/Joomla and Target/Drupal CMSs and website URLs. Download the Connector Extension and install it.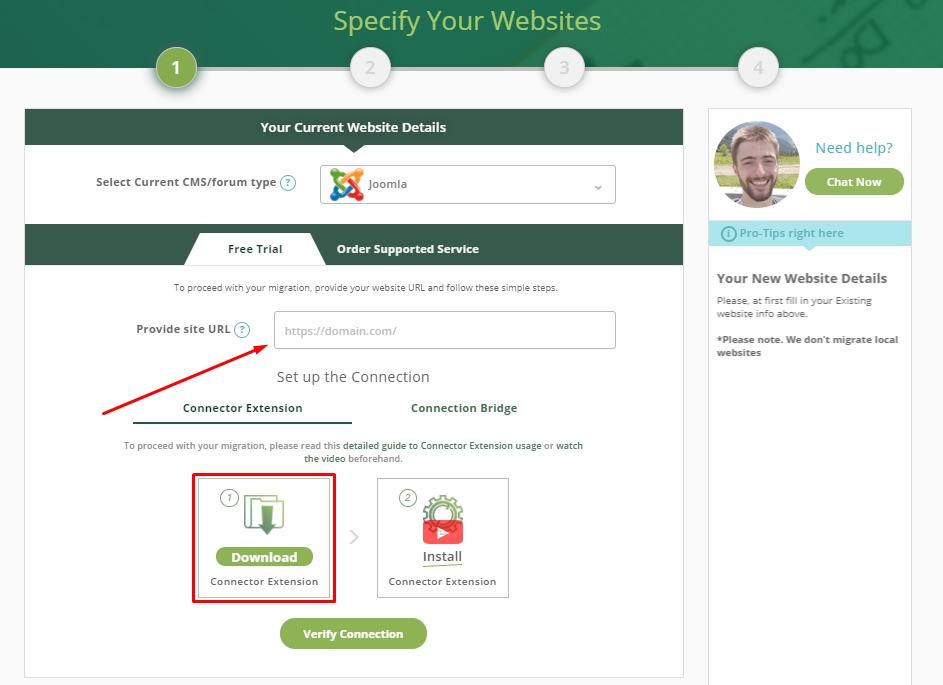 Connect to your New site
You are able to migrate to our Test Site in case you don't have a new Drupal website yet. Or you can select the 'Migrate to Your Own New Site' option.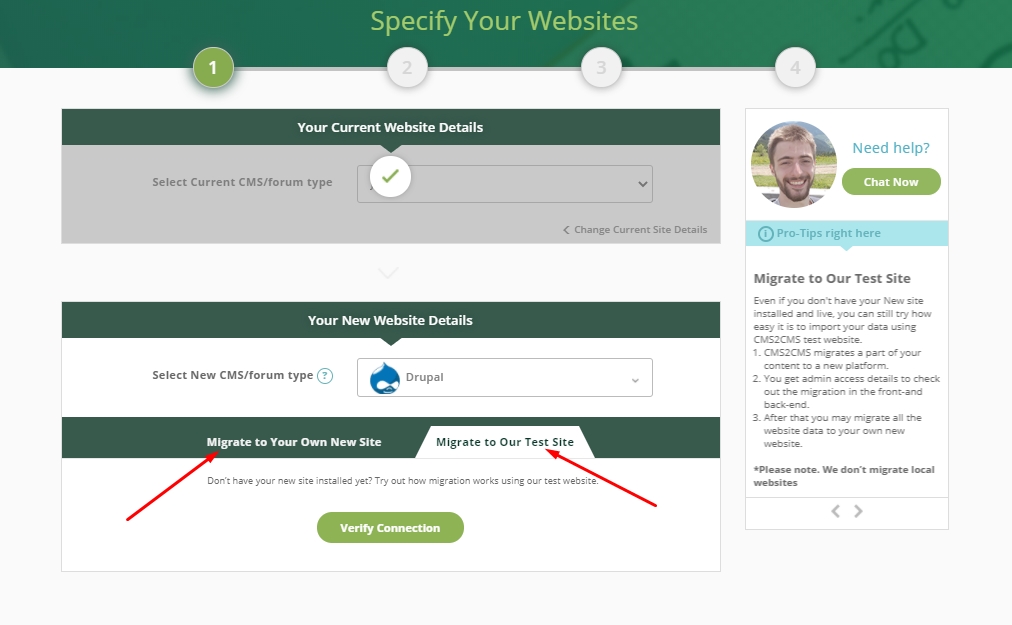 Connection Bridge
In case you are migrating to your own site, perform the next steps. After providing the details of your new website you will be asked to download the connection bridge which establishes the connection between the websites. You should upload this file to the root directories of both your sites via FTP, FileZilla for instance. Follow the instruction to install it.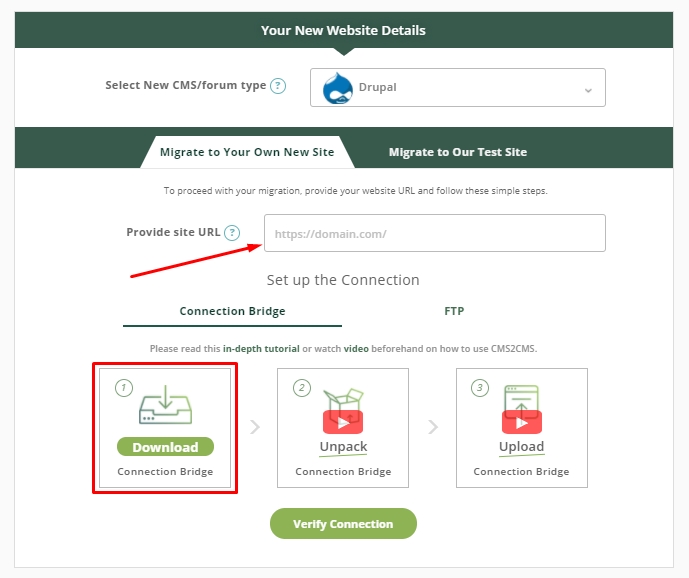 Additional Options
Now you have to choose the Entities to be migrated and additional options as well. Then press Start Free Demo migration.
Check out the Results
The table includes clickable links. Check the results and make your final decision.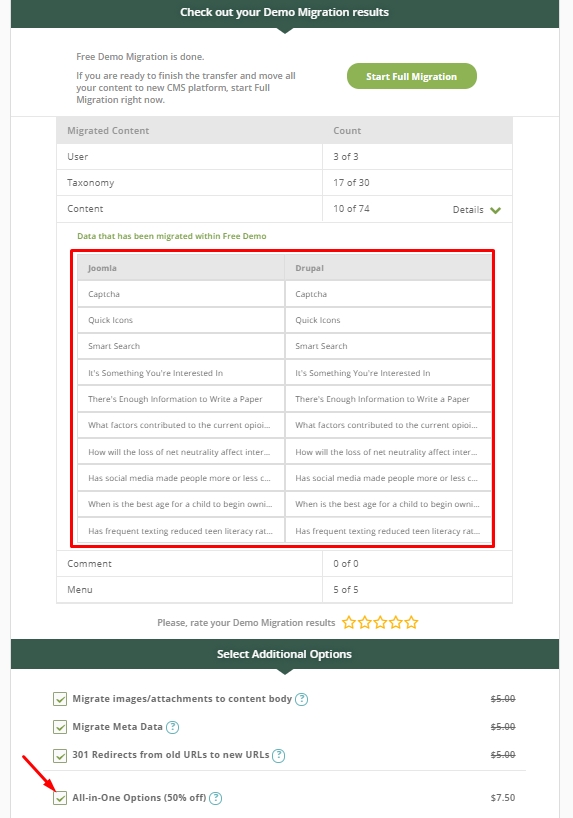 Start Full Migration
If you are satisfied with Demo results, launch the Full Joomla to Drupal Migration. It takes approximately 15 minutes of your time but you can close the browser and when the conversion is over, you will be informed by an email. 
With CMS2CMS Service You Can Migrate the Following Items from Joomla to Drupal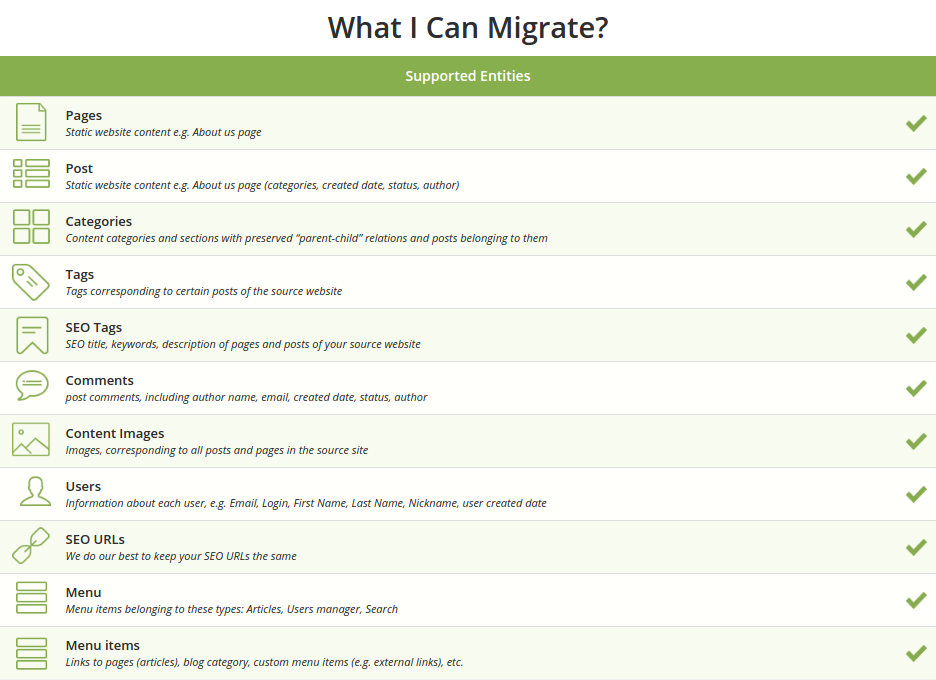 If you are ready to start the new life of your website and migrate Joomla to Drupal, go ahead and set up your free Demo Migration. And in a few minutes, you'll be able to enjoy your new Drupal 8 website.
The following two tabs change content below.
Valentyna Tysiachna
Valia is a vivid CMS platforms observer, that's why she found her dream job of marketer manager at CMS2CMS migration service. Keen English learner, music lover and passionate content writer, she enjoys constant improvement and is open to challenges.
Latest posts by Valentyna Tysiachna (see all)