Websites are all different. They have been created for various purposes and differ in the costs of their creation and technical maintenance. The level of functionality and design range from simple to more complex to suit your particular needs. Therefore, from a do-it-yourself website to a custom-designed web project, the price of a project varies widely.
We've already focused on the cost of running HTML, WordPress websites and the instruction on how to create a website. In this article, we'll try to outline approximate expenses that are necessary to create your online presence with Joomla!, including price-points for each category.
Joomla! is an award-winning content management system in terms of unlimited functionality and flexibility, which makes it easy to build everything from personal web pages to powerful and robust online applications. Whether you want a simple web presence or something far more forward-thinking – this platform makes it easy to build something that looks good and works well. If you've decided to go to the Joomla! route and are searching something about how much does it cost to develop and maintain a website – your search ends here. We are going to guide you right through the potential expenses that are likely to be spent while getting started and running a Joomla! website. So, let's get started!
Registering a Domain
Before you start doing anything, you need an address for your website, that is a domain name. A domain, also referred to as a URL, is similar to your home address – it is the address that a user types into a web browser to find your site. There are many types of domain zones to choose from according to your website needs and goals: .com, .net, .org, .id, .eu, .uk., etc.
Let's see what domain extensions are the most used:
Source: https://domainnamestat.com/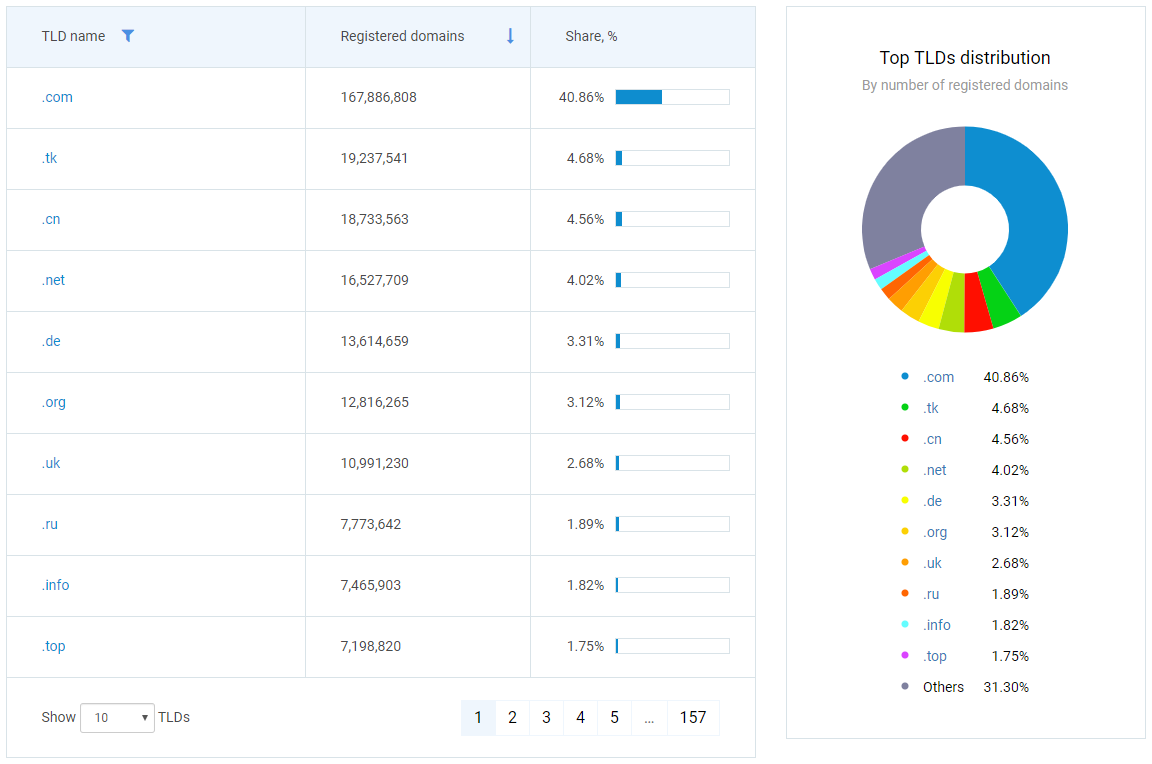 Average Domain cost: $10-$30 a year for a domain name.
Getting a Hosting Provider
When you have your domain ready to go, it's time to get your Joomla! website hosted. First, you have to find a hosting company that supports Joomla! (Inmotion Hosting, for instance). Consequently, you need to explore web hosts and check out their hosting plan details to find out if Joomla! is okay for that host. Furthermore, they provide you with a username and a password which are necessary to install your website on their server. Remember that you get what you pay for. Sometimes, it's preferable to charge some fee for a good hosting provider in order to avoid a big disaster of losing a website in the future.
Average hosting Cost: $150 to $500 for 12 months of registration.
Website Design and Development
Depending on your needs, you can choose the custom design or ready-made templates and themes. It significantly affects the total price of the project. A website development cost usually depends on a wide range of factors such as the number of pages, the type of content and the complexity of the design, etc. Typically, you are billing for a web developer/designer time per hour or a whole job done. So the more complicated the design and the more modifications that are likely to be added – the more it will cost. One more important thing to keep in mind is that if you pay for web development – you should consider what kind of after-sales support you can expect to.
Average design and development cost: $500 to $5000 for custom work according to the requirements.
Website Maintenance
Website maintenance is something that most users forget to budget. Sometimes they remember about it, but still decide to do it by themselves. However, being a relatively user-friendly CMS – Joomla! indeed expects a certain level of programming background. Website maintenance varies greatly depending on what you expect from your Joomla! project. It's highly recommended to have a designer on call if you have a problem that you can't fix.
Furthermore, if you expect them to do additional work such as creating new images, maintaining social media or newsletters, adding new content, etc. – expect the price to go up.
Average maintenance Cost: minimum $100 and up to $1000 monthly.
Let's Break It Down: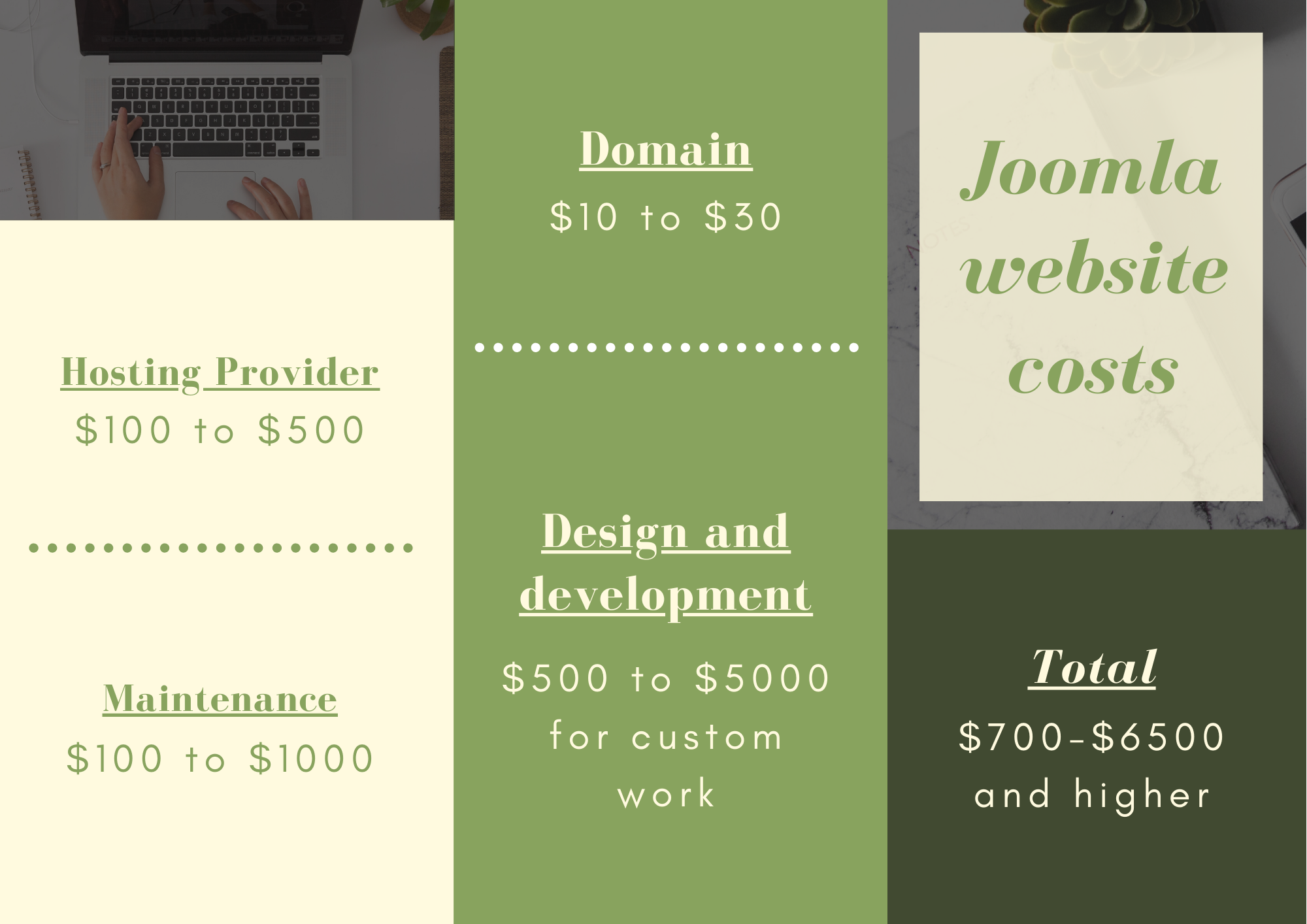 In total, running a website on Joomla costs $700-$6500 on average.
What are the key features of Joomla CMS?
-Mobile-Friendly Admin Area
-Revamped Article Screen
-Unified Configuration
-Mobile-Friendly Front-end Templates
-Your choice of updates
Why should I choose Joomla CMS?
Flexibility. Joomla makes it easy to build everything from personal web pages to powerful and robust online applications.
What to start with on Joomla?
1. Choose a domain name
2. Get a hosting provider
3. Care about design
4. Provide the maintenance
What is the total price for running a Joomla website?
In total, running a website on Joomla costs $700-$6500 monthly on average. Details here.
Is Joomla SEO-friendly?
Joomla has powerful SEO tools built and ready right out of the box
-Metadata and Keywords
-Mod_rewrite support for SEF URLs
-Menu creation built with the thought of creating clear and consistent sitemaps
Final Words:
Remember, website running prices fluctuate all the time and all the above-mentioned costs are approximate. You are likely to spend a bit more or less depending upon the size and scope of your Joomla! website.
Hopefully, the article will give you a good starting point for you to understand the real cost of Joomla! website running.  With all that said, try Free Demo and take your web project a step forward with CMS2CMS service just now.
The following two tabs change content below.
Valentyna Tysiachna
Valia is a vivid CMS platforms observer, that's why she found her dream job of marketer manager at CMS2CMS migration service. Keen English learner, music lover and passionate content writer, she enjoys constant improvement and is open to challenges.
Latest posts by Valentyna Tysiachna (see all)