Sometimes it's easier to leave than seek solutions. The same principle can be applied to running and developing a web project. You might spend long hours making a website good-looking and super-functional but still, it doesn't bring you the expected result.
The solution can be – a content migration. Sounds scary? But there's no need to worry, as far as all the data you were compiling for years will be saved.
This article is devoted to WordPress to Joomla converter and all the subtleties of its work. You might think "What is the point of migrating from WordPress if more and more users turn another way round – to WordPress?". Right, WordPress is one of the top platforms but not the only one.
Joomla is also a great choice for developing a website, and about four hundred thousand websites are built with Joomla CMS.
What are the bright sides of Joomla?
allows creating functionally powerful and visually appealing websites;
offers a large number of extensions to boost the functionality of a website and make it more interactive;
has a large support community;
thanks to an easy to use control panel, making a website with Joomla saves lots of time
Now, the most interesting episode – WordPress to Joomla migration. With the CMS2CMS migration service, the conversion runs in a fast, safe, and accurate way. All you have to do is to follow the simple steps described below, and all your WordPress content will be automatically moved to Joomla in a matter of minutes.
Step 1 – Sign up
To begin WordPress to Joomla transfer, first of all, you need to sign up with CMS2CMS service. Provide the required information or log in via Facebook or Google account.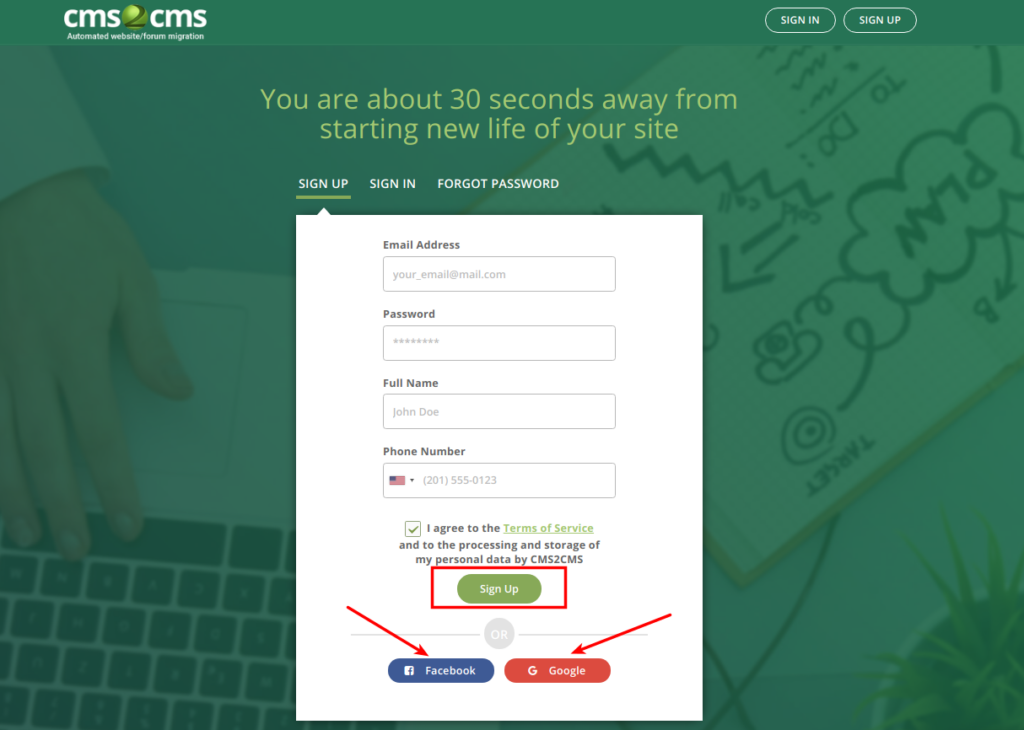 Step 2 – WordPress details
Now, you need to indicate what website you are going to migrate. Please, choose WordPress as a current CMS and provide a URL address of your website. Right after that provide your WP login and password in order to install the Connector plugin automatically.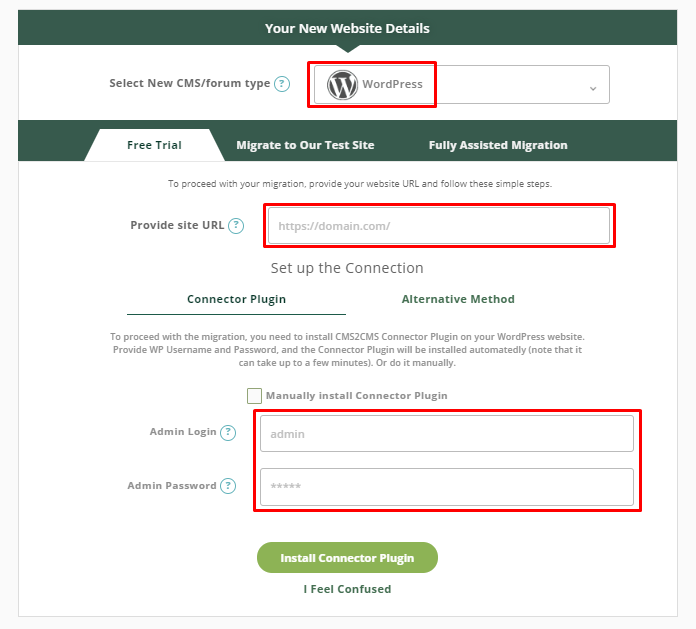 Step 3 – Connection to your Existing website
For proper work of WordPress to Joomla converter, we need to connect to your website. Please, download and install Plugin Connector following the steps shown in this video. After that press the "Verify Connection" button.

Step 4 – Joomla's part
Half-way is done. Now, let's find out what website you are going to migrate to. Choose Joomla from the list of suggested platforms and provide your new website URL. In case, you didn't create it yet, CMS2CMS service offers you test site which is built on Joomla CMS as well.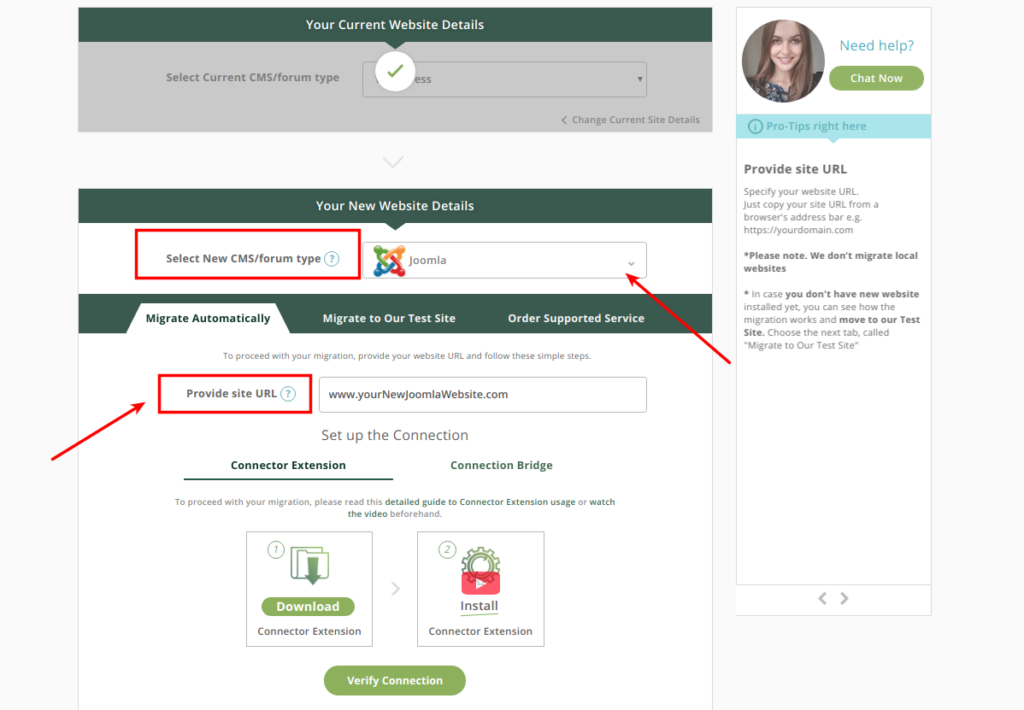 Step 5 – Connect to New website
On this step, you have to establish a connection to your New website. Do it as shown in the video and Verify the connection.
Step 6 – Try Free Demo migration
We at CMS2CMS understand that website migration is not an easy-made decision, that's why we allow you to preview the result of WordPress to Joomla conversion for free. Indicate how entities have to be displayed and choose additional options if needed.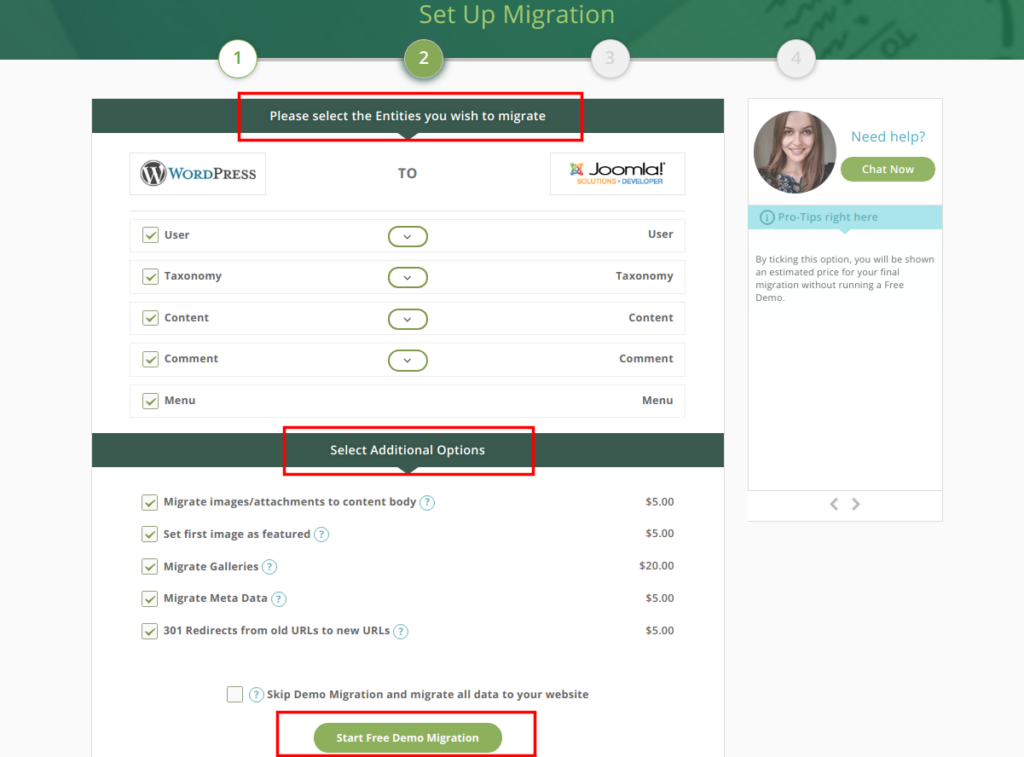 Step 7 – Finish WordPress to Joomla migration
Check how the demo migration worked for your website – click the links in the table. Then, let WordPress to Joomla converter finish its work.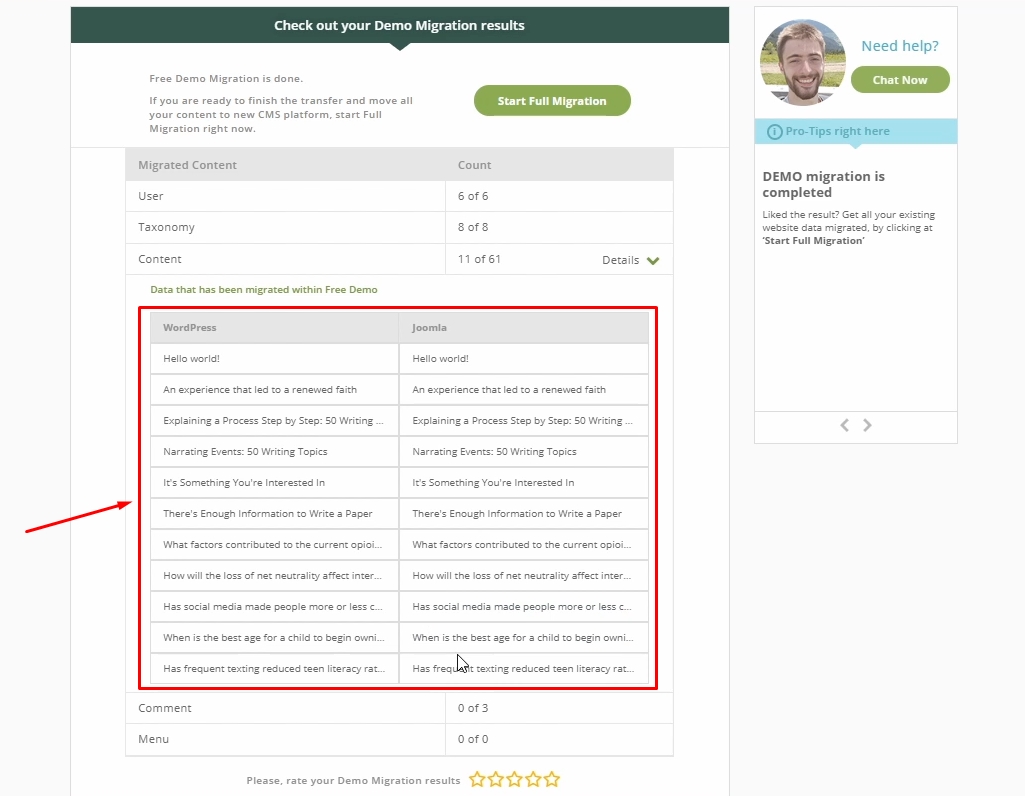 Step 8 – Enjoy the result
That's it! Now you are a proud owner of the Joomla website with all WordPress-content saved.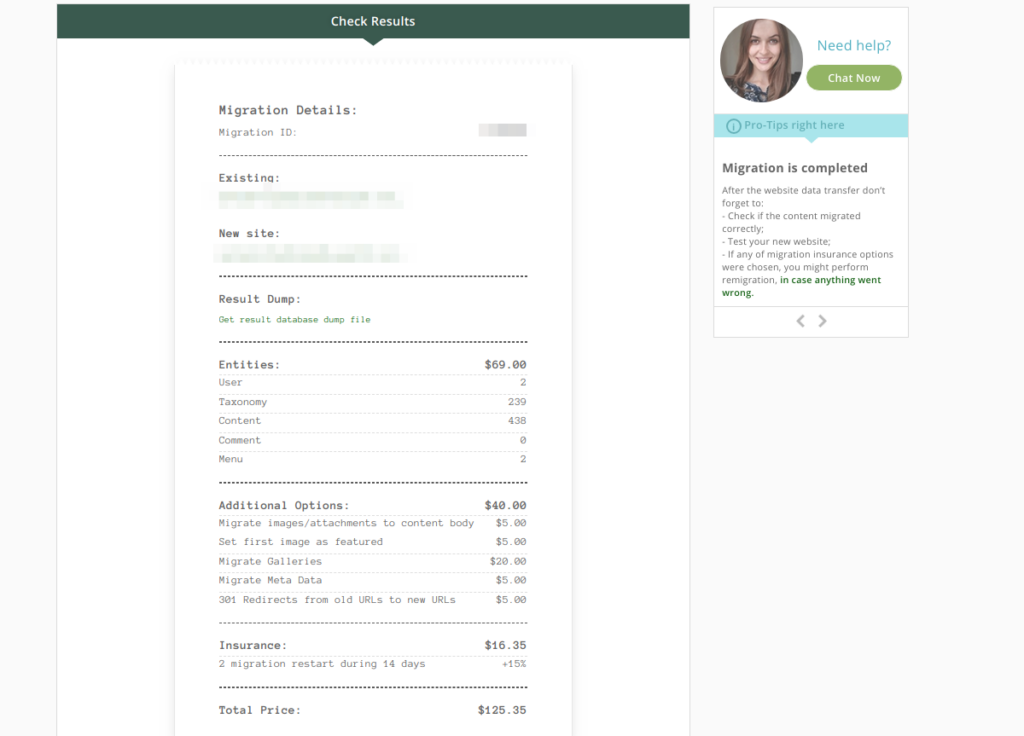 Summary
I guess it would be unfair to say that website migration is impossible without the developer's hand because today there are so many options that make web life easier.
Just reject all the doubts and let the new life of your website begin! You will be impressed with the result.
The following two tabs change content below.
Valentyna Tysiachna
Valia is a vivid CMS platforms observer, that's why she found her dream job of marketer manager at CMS2CMS migration service. Keen English learner, music lover and passionate content writer, she enjoys constant improvement and is open to challenges.
Latest posts by Valentyna Tysiachna (see all)