Concrete5 and WordPress are two quite popular and reputable CMS options that provide a good platform to create something that looks good and works well. They look pretty similar at first glance but digging into the dashboard of websites reveal the fact that in fact, they have quite different properties. The article aims to compare the strengths and weaknesses of both of them and clarify which CMS reigns the highest.
Concrete5
Concrete5 has proved itself as reliable and trustworthy CMS solution allowing to build any kind of websites (e.g. online magazines and newspapers, eCommerce sites, government websites community-based portals, as well as personal and family websites). The platform surely has merits of its own:
Usability – Concrete5's dashboard provides you with everything you want to edit and publish a post.
In-page Editing – With in-page editing available in Concrete5, the whole content compiling process is easy and time-saving.
Customization – By means of the applications, it is possible to extend the functionality as required.
Free – The software is totally free to download. The company offers free customer service and some free plugins. Everyone can get it from its official website.
However, where there is light, there also shadow. The platform indeed has some obvious drawbacks which influence its popularity:
Limited Addons – The platform has limited addons. Although it can be written, many newbies feel difficult to handle the whole process by themselves.
Small Community – There aren't many active members on its forum yet. As a result, it is hard for users to find effective solutions in its community.

WordPress
WordPress, alternatively, is currently listed as the most popular and credible software package to build any kind of websites with any complexity. Providing enough functionality to appeal to a wide variety of users (newbies and experts alike), the platform has earned the love and loyalty of millions of people all over the world. It managed to dominate the CMS landscape due to the following reasons:
Popularity – WordPress is indisputably the most welcomed piece of software out there.
Usability – WordPress is extremely intuitive and easy work with even for the greenest of users.
Search Engine Friendly – WordPress puts much importance on SEO, offering numerous plugins in this regard in order to get high positions in search engines.
Large community –WordPress community is extremely huge filled with both enthusiasts and webmasters. They provide a welcoming place to go in case you got stuck.
Plenty of Plugins – WordPress offers an abundance of amazing plugins and themes that aim to add any extra functionality and refresh a visual look of a website as often as required.
Concrete5 to WordPress Step-By-Step
With all that in mind, you are probably searching the easiest and effortless way of Concrete5 to WordPress migration. Why not give a try to CMS2CMS automated migration service and ensure your conversion go as straightforward and trouble-free as possible? The migration with CMS2CMS doesn't require any coding skills or programming knowledge. For you to get the general idea of the procedure – here we provide a short step-by-step guide:
As soon as you've done, extract the plugin and activate it by pressing the matching buttons.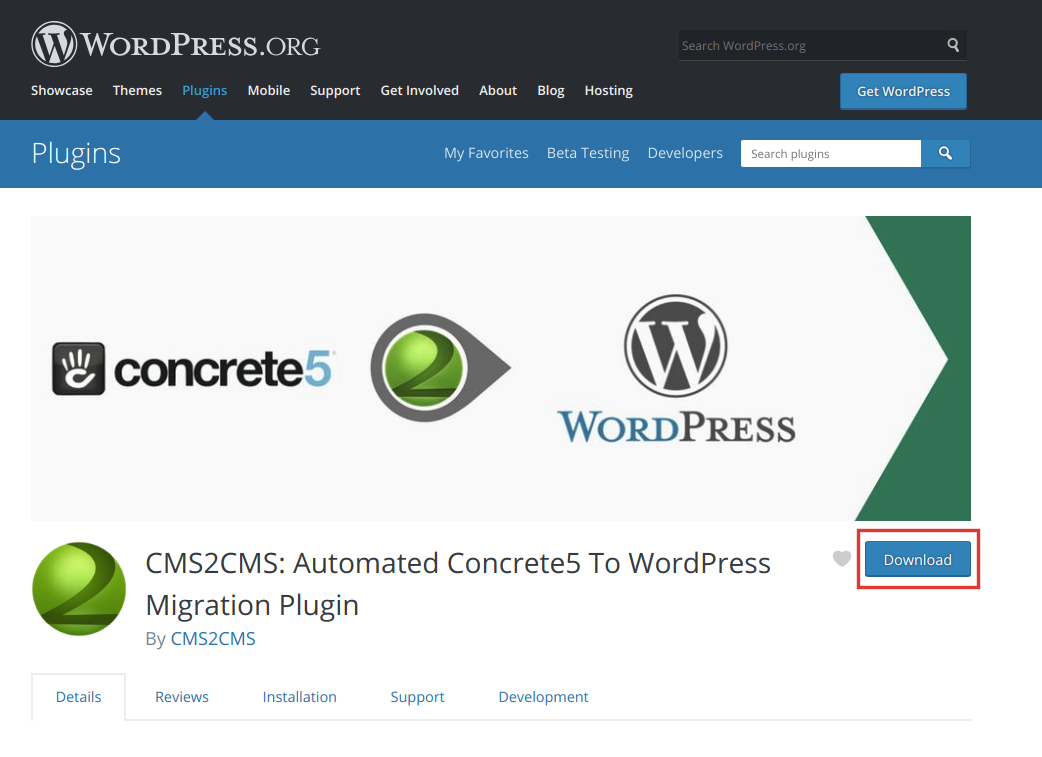 2. Upload it to your WordPress website and go to the Admin Dashboard.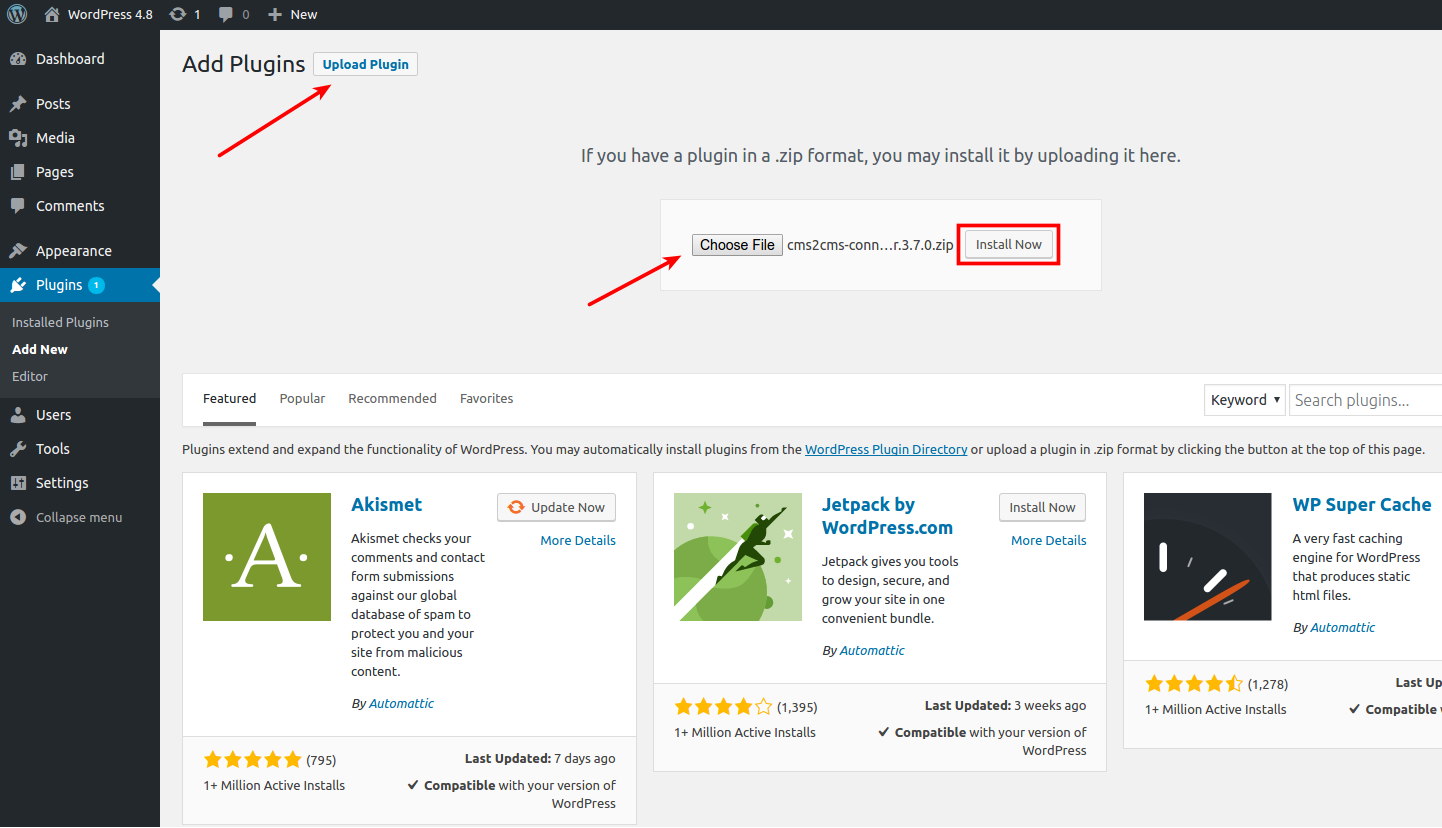 Find the Plugins section and activate the CMS2CMS: Automated Concrete5 To WordPress Migration Plugin.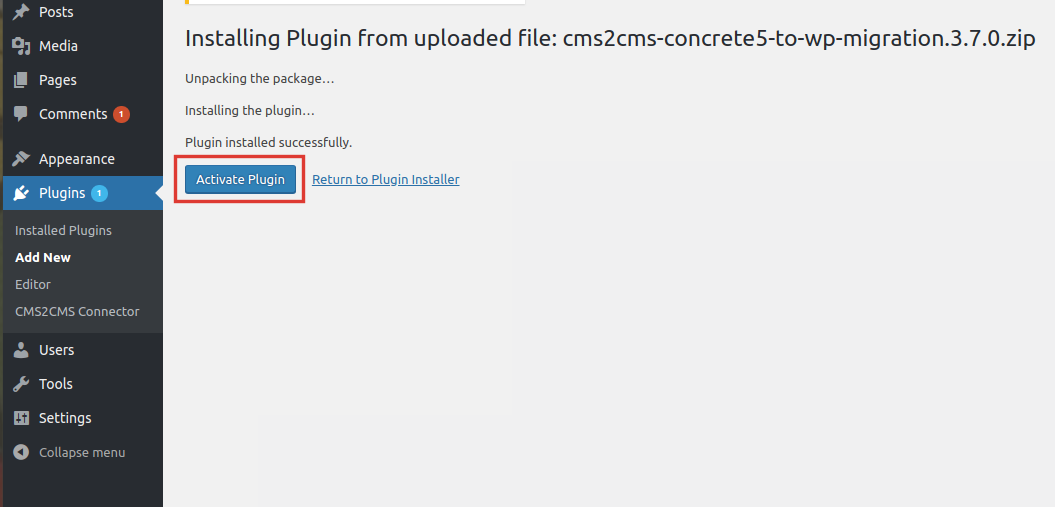 Click on the plugin and log into CMS2CMS.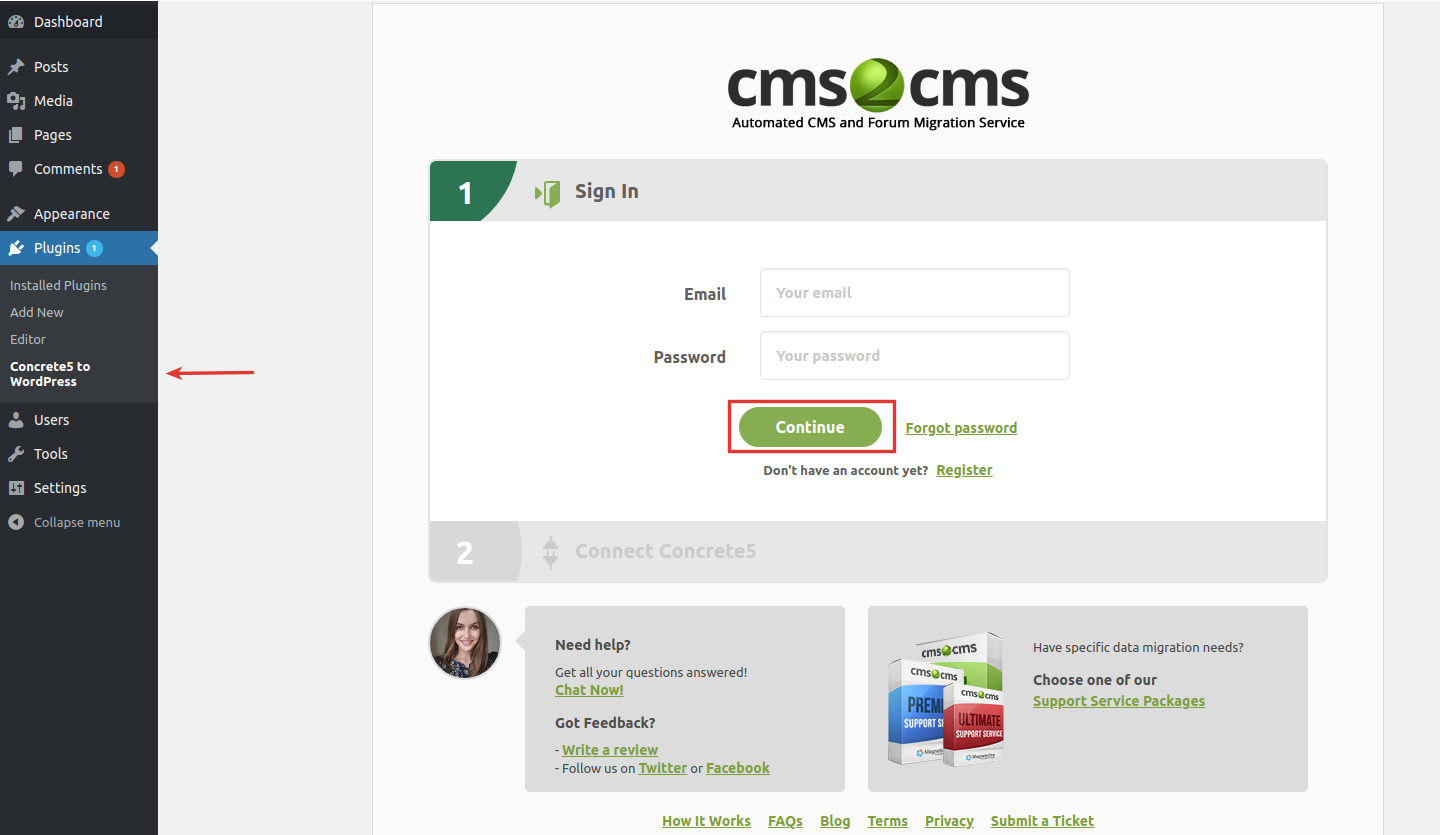 Download the Connection Bridge and upload it to your Concrete5 site root folder. Please read this in-depth tutorial or watch the video beforehand on how to install and use the Connection Bridge. Provide your Concrete5 website URL and press "Verify connection".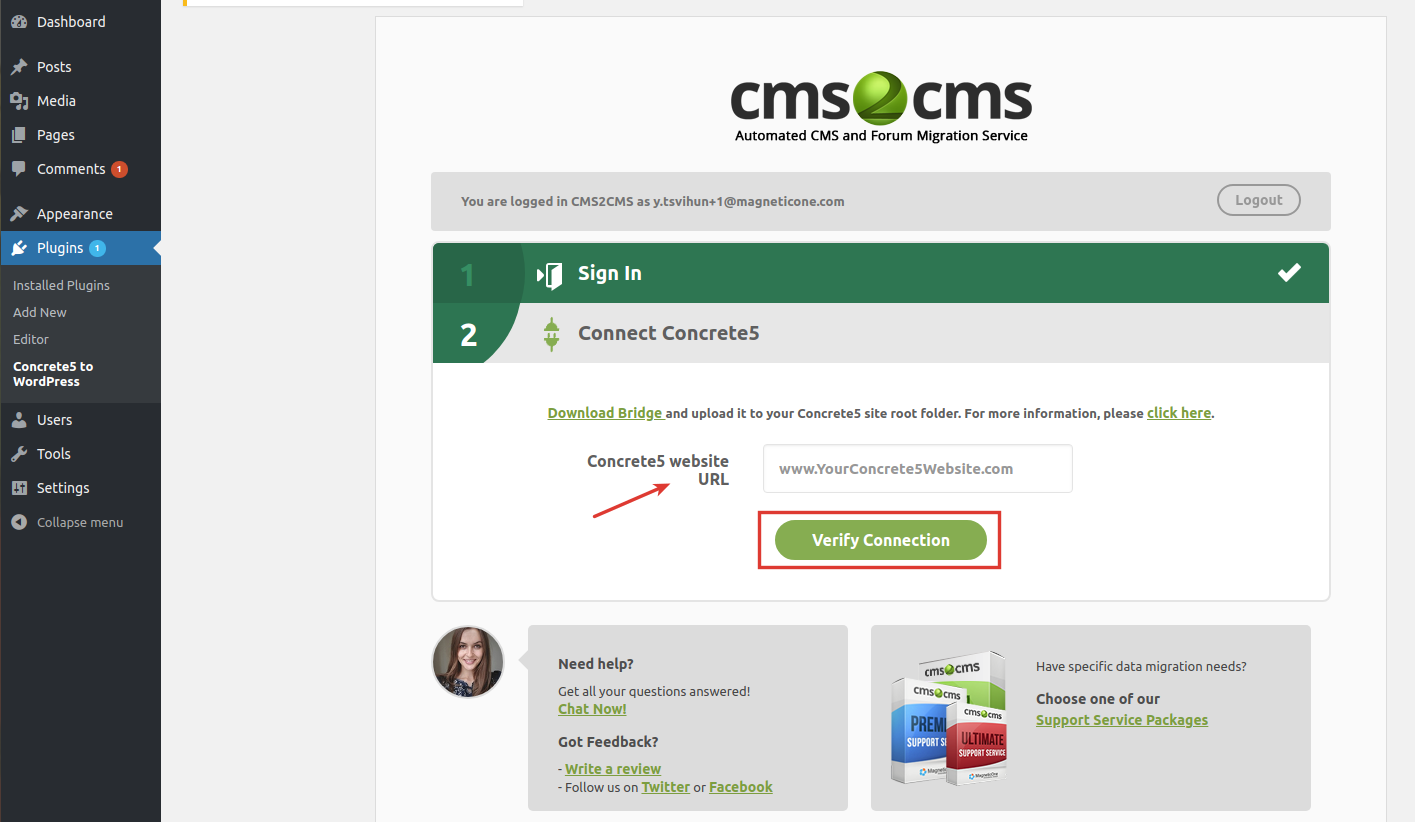 3. Now, when you are almost done with the Concrete5 to WordPress migration.
Select the data you want to be transferred to your new WordPress website. Choose the entities you wish to migrate and additional options if needed. After that, you can proceed with Free Demo Migration to estimate the results first.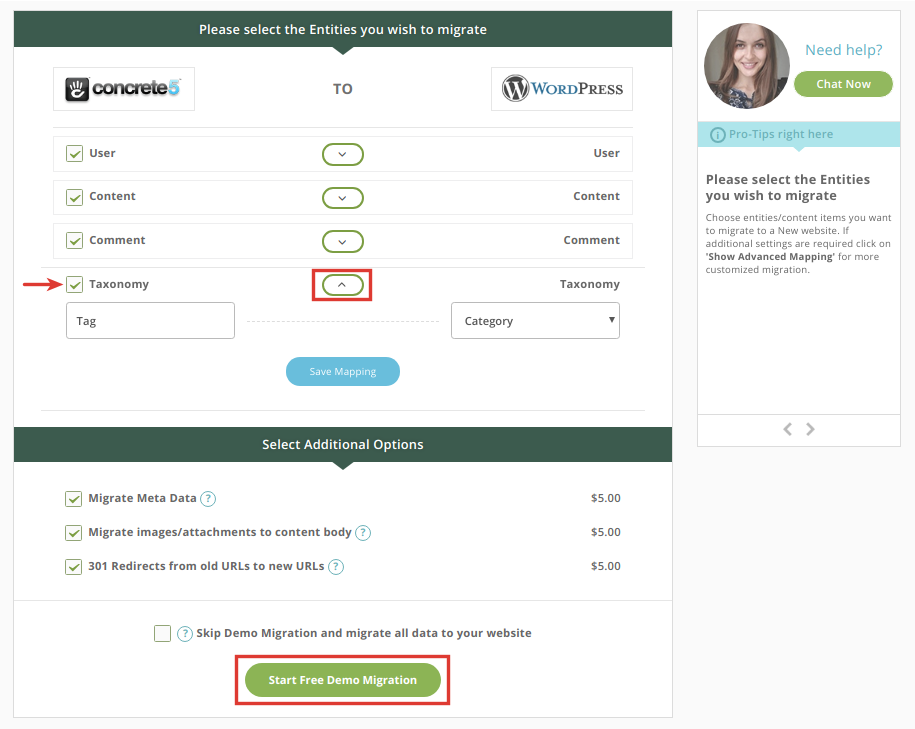 4. And, the only thing left to be done is to start the Complete Migration.
Select the additional options needed, choose the migration insurance, check how much it will cost and get the migration going, by clicking the "Complete Migration" button.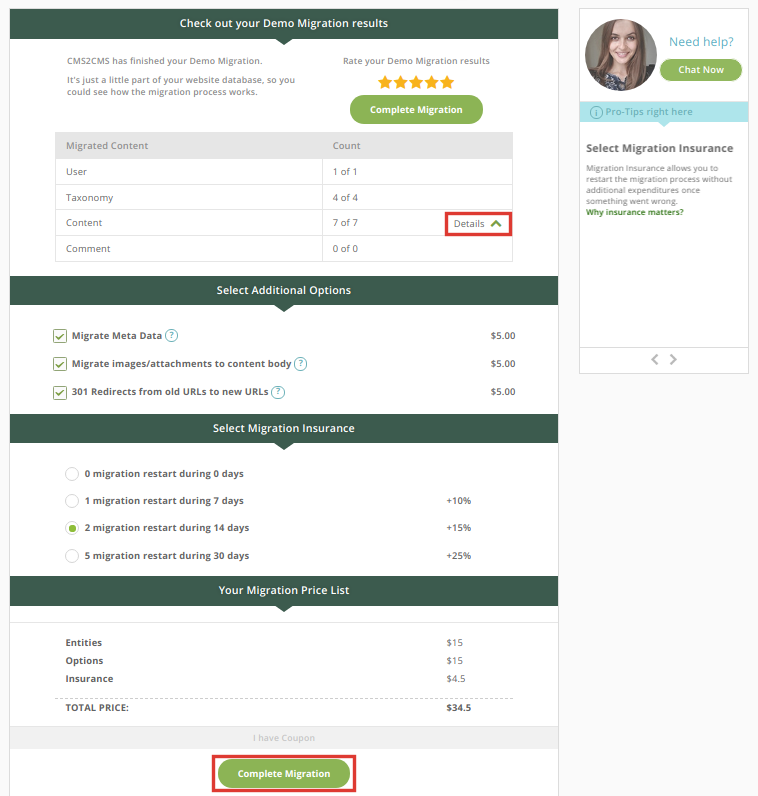 As soon as the transfer is complete, you will receive an email notification and be able to check the new look of your new WordPress website.
That's it! Enjoy the results of migration and use new possibilities to make your project more successful 😉
The following two tabs change content below.
Valentyna Tysiachna
Valia is a vivid CMS platforms observer, that's why she found her dream job of marketer manager at CMS2CMS migration service. Keen English learner, music lover and passionate content writer, she enjoys constant improvement and is open to challenges.
Latest posts by Valentyna Tysiachna (see all)