There are lots of CMSs floating around the Web that provide great platforms for serious site creators. Joomla and WordPress are currently listed as the top popular and "loved" software out there. Both platforms can be extended below their original purposes with the help of different plugins and extensions.
Kunena and bbPress are competitive forum solutions for Joomla and WordPress correspondingly that have been specifically designed to be simple to use, yet sophisticated. Overall, when it comes down to forum Kunena vs. bbPress – you'll certainly have great possibilities with both platforms, and it's a matter of personal taste to decide which application to choose.
Once you've given your preference to Kunena, but feel a bit disappointed with it and wish to pick up a piece of WordPress glory – give a try to bbPress. The idea of forum Kunena to bbPress migration naturally scares many folks due to the fact that it's quite a labor- and time-intensive endeavor.
CMS2CMS automated migration service is exactly the tool you need to convert your Kunena content to bbPress as seamless and error-free as possible. The service has been specifically designed with end-users in mind – therefore, no technical experience or special skills are required to handle the migration properly. This utility makes people all over the globe gravitate towards the platform in terms of ease of use and speed.
Ready to migrate to bbPress? So, read on the following all-the-way guidance for you to see how easy it is to make the switch by yourselves:
Step 1. Download the Plugin
Go to official WordPress plugin repository and download "CMS2CMS: Automated Kunena to bbPress Switch" Plugin.
 Step 2. Plugin Installation
After you've downloaded the plugin to your computer:
• Go to WP admin panel -> Plugins -> Add New->Upload Plugin
• Find on your computer "CMS2CMS Automated Kunena to bbPress Switch" plugin
• Press "Install Now" Button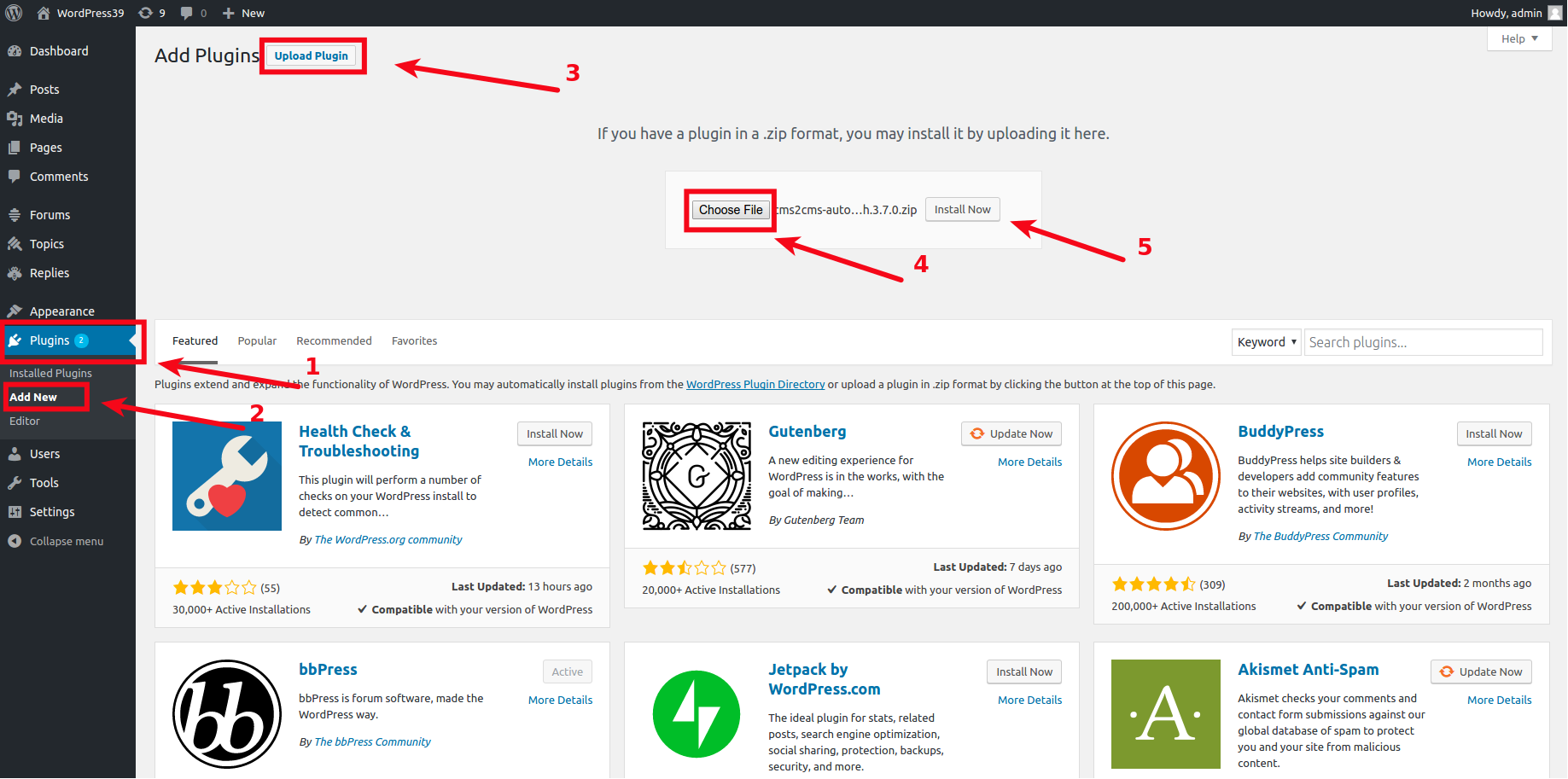 After that, you need to activate the plugin, go to Admin -> and click "Activate" Button.
 Step 3. Login to your CMS2CMS account
Now, find "Kunena to bbPress" in the plugins section and log in to your CMS2CMS account.
Next, connect your Kunena Forum. For that, specify its URL in the corresponding field. After, press "Verify Connection" Button. When you've done that, you'll be redirected to the Migration Wizard.
Step 4. Establish the Connection to Joomla Kunena.
There are two ways of establishing the connection to your Joomla Kunena. You can either install the Connection Bridge or Connector Extension. In this guide, we'll go more automated way. Press "Download Connector" Extension and save the file in a ZIP format to your computer.
Now, install the extension to your Joomla site:
Go to Joomla admin board -> Extensions ->Install
Upload the file
After, go to the Components section, find CMS2CMS Connector, and log in to your CMS2CMS account.
Now, press "Proceed" Button.

After, you'll be redirected to the Migration Wizard, where you can continue the transfer. After checking your new forum details, press "Verify Connection" Button.
Step 5. Run Demo Migration.
Choose the entities you wish to migrate as well as additional options if needed. Don't forget about Migration Insurance! After, start your free Demo migration. If you're confident with your choice, you may also skip this step and migrate all of your content straight away.
Step 6. Perform Full Migration
In case, you are satisfied with the results of Demo – Start Full Migration. After the final click, your Kunena content will be converted to bbPress.
Step 7. Enjoy the Results
When the migration is done, you'll get an email notification and be able to check the fresh look of your forum. Congrats you've joined a happy bbPress family:)
Now you are provided with all the necessary information on how the Automated Kunena to bbPress Migration plugin works. So, don't hesitate any longer, make your choice and start the migration right away.
The following two tabs change content below.
Valentyna Tysiachna
Valia is a vivid CMS platforms observer, that's why she found her dream job of marketer manager at CMS2CMS migration service. Keen English learner, music lover and passionate content writer, she enjoys constant improvement and is open to challenges.
Latest posts by Valentyna Tysiachna (see all)