It's a common misbelief that the more complicated CMS platform is, the more difficult it's to migrate. Drupal is a powerful content management system capable of handling projects of any level and complexity. When it comes to installation and customization, Drupal is not as user-friendly as WordPress, for example. In a nutshell, if you are an absolute novice in the CMS world, using Drupal without a developer's hand it close to impossible.
Actually, Drupal to WordPress migration is one of the most frequent transfer users ask for. That's why CMS2CMS service did its best to allow its users to move as many content items as possible.
pages and posts;

categories and tags;

comments;

content images;
SEO URLs;

users;

attachments (mp3, pdf, video files);

custom fields;
menu and its items;
metadata;

301 redirect;

SEO ranks
All that will be transferred from Drupal to WordPress in a fully automated way. And that's only a basic list of entities which you can migrate. Depending on your needs, a customized migration is available.
Now, let's get to the point – how to migrate Drupal to WordPress?
1. Create CMS2CMS Account
To start automated Drupal to WordPress migration, the first thing needed to be done is to sign up with CMS2CMS. Provide your name, email, phone number, and choose a password. You can also sign in via your Facebook or Google account. For this, choose the appropriate option.

2.  Connect to Existing Drupal website
Choose Drupal as your Existing CMS and enter its URL address. Set up the connection to your Drupal website. For doing this, download and install the Connection Bridge to your computer. Follow the video instruction to do it in a proper way. When finished, press the "Verify Connection" button.  
3. Provide Your New WordPress Website Details.
Now, choose WordPress as your Target CMS platform and provide its URL. To install the Connector plugin to your WordPress site automatically, provide your WP admin login and password. In case you don't have your WordPress installed yet, you can try Migration to CMS2CMS Test Site.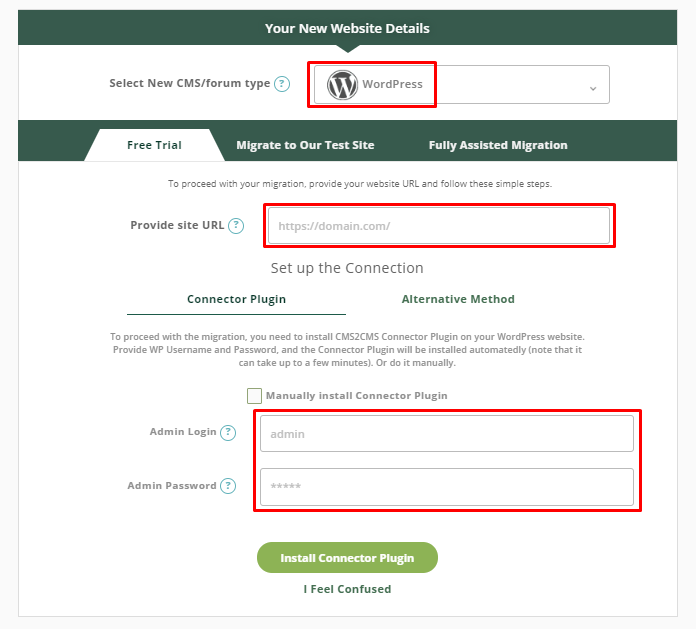 Also, you can check this video to see the whole Drupal to WordPress migration process!
4. Run Free Demo Migration
Before migrating Drupal to WordPress, CMS2CMS service offers you to preview the future look of your website and run Free Demo migration. Choose the Entities and additional options you are going to migrate and press the 'Start Free Demo Migration' button.
5.
Check the Results
Check out the links in the table and you will see how your migrated posts look like on the new WordPress CMS platform. If you are satisfied with the result, complete the migration!
Also, you can order the Design customization!
Summing Up
As it said, to each his own. Running a website is not a static process and needs constant improvements. There are millions of website owners who find Drupal the most suitable platform, but if you belong to those seeking user-friendliness, catchy design, and functional plugins – WordPress is just the ticket!
Give CMS2CMS a try and preview how your Drupal website might look like after the migration. Get a refreshed project in a matter of minutes!
The following two tabs change content below.
Valentyna Tysiachna
Valia is a vivid CMS platforms observer, that's why she found her dream job of marketer manager at CMS2CMS migration service. Keen English learner, music lover and passionate content writer, she enjoys constant improvement and is open to challenges.
Latest posts by Valentyna Tysiachna (see all)