Magnifying WordPress majesty is so useless nowadays, isn't it? Taking more than a half of market share, it's pretty clear that this content management system is the most-wanted website building utility. Started from a simple blogging platform, WP has blossomed into the CMS that boasts its all-inclusive opportunities for any kind of web projects. The most magnificent thing about WordPress is the wise simplicity.
If lately, you have given your preference to Joomla, but want to pick up a piece of WordPress glory, we've prepared an all-the-way guidance on how to migrate your Joomla website to WordPress carefully and accurately.
Naturally, website migration is not an easy meat, but the granular and thought-out plan will rule everything out. At first, we should divide Joomla to WordPress migration into 3 main strategies:
Website Content Migration
Now, let's deep into the migration stream groundly.
1. Getting Started: Hold Yourself Ready
Initially, you should proceed with a few preparatory steps. To run migration smoothly and without any sharp movements, follow this instruction:
Get Rid of Out-of-Date Content
If you run your website for a long time, more probably there are some obsolete data or irrelevant information. In this case, you may delete it absolutely in order to save much time and effort for your future migration.
One more hint of effortless Joomla to WordPress migration is the backup option. This will help you to avoid all a risk of data transfer. Also, if you need some old page or post, you will be able to get this info from the saved copy. You may use a hard drive, DVD drive, or just use such option of your hosting provider.
2. WordPress Investigation
Now, you may finally install your new WordPress website. Choose your hosting provider and scrutinize every angle of WP.
It's recommended to install the plugins that are similar to ones on your Joomla site. For instance, if you have an image gallery (like Phoca Image Gallery) at your Joomla, there's nice analog at WordPress – NextGen Gallery; if you use the sh404SEF extension on your current site, just install the similar, for example, WordPress SEO by Yoast. The same you may do with the forum plugin.
Set up SEO URLs Structure
Before migrating from Joomla to WordPress, enable WP SEO URLs. Just go to the WP Dashboard->Settings->Permalinks->Custom Structure.
WordPress CMS is known for its extended repository of free themes and plugins. So, choose the new theme from WP theme repository or any other third party one.
3. Joomla to WordPress Content Migration Options
So, now we come to the content migration procedure right up close. There are two common  ways of converting Joomla to WordPress:
Otherwise, this method is known as manual migration – you just cut and paste all the content from Joomla to WordPress core. Honestly, wasted time and low spirits are the main characteristics of such a process. On the other hand, it works well if you just have a few pages and posts.
Lately, it was developed an automated CMS and forum migration service – CMS2CMS, an automated CMS, and forum migration service, is suitable for the conversion of the extended sites and basically takes 15 minutes of Joomla to WordPress migration. It's also possible to run a Free Demo first to see the conversion results. Check out the entities you can move from Joomla to WordPress below: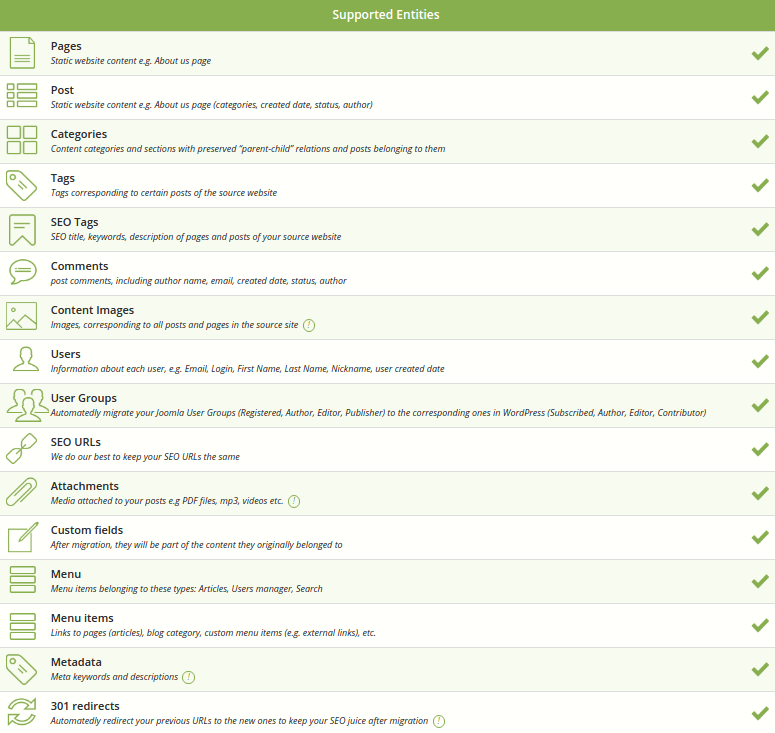 4. Life After Migration: Site Recover
When the data transfer is over, the first urgent thing is to get your site visitors and SEO juice back.  Let's start:
First, make sure your site is crawlable by Google bots. You may do this with the help of robots.txt file that informs the spiders whether this or that page should be indexed. One more important thing is, Google bots can't read non-text content, like images, video and audio files, so be certain that images include "alt text attribute" and title in HTML. While video and audio should comprise a written transcript (it means – embed).
Liquidate the Broken Links
Check up whether there are the broken links (404 errors) and get rid of them immediately. It will be an effective practice for SEO as well.
Also, the crucial issue is to refer your site users to the new web page location (together with the Google bots). The alternative way – permanent 301 URLs redirects from Joomla site to WordPress. As it was mentioned below, CMS2CMS inserts them automatedly, you should just paste the code into config files of your sites.
Afterword
On the whole, Nelson Mandela said, 'It always seems impossible until it's done'. So, now you know that it's not so complicated to migrate your website, it's just a little patience and insistence.
The following two tabs change content below.
Valentyna Tysiachna
Valia is a vivid CMS platforms observer, that's why she found her dream job of marketer manager at CMS2CMS migration service. Keen English learner, music lover and passionate content writer, she enjoys constant improvement and is open to challenges.
Latest posts by Valentyna Tysiachna (see all)