Launching a website is a hugely significant and worrying time. There are tons of things that can go wrong, and when they do, the results are often drastic.

Yet every site is unique which comes with its different customers, goals, and technologies. It's natural that you want to launch a perfect website, and you owe it to yourself and your site to check the following list of things to check prior to and immediately after you have launched a new site.
Design Checklist
One of the most critical parts of the website launch checklist is to focus the attention on making sure the design is excellent.
Images and graphics are an essential component of many sites, so you will want to ensure that they are properly displayed on any devices.
Cross-Device Functionality
Nowadays there is a considerable amount of the web-capable devices all around, and with that comes a staggering array of screen sizes. Done right, your website will run correctly on any screen size, but be sure to double check.
Cross Browser Functionality
Different browsers may render your website in different ways, so it's essential to test your site in different browsers. During this process (and the next, in multi-device testing) you'll want to make sure your layouts, typography, navigation, and other design elements are displaying properly.
Focus on Site's Functionality

You want your visitors to be able to engage in every feature you have taken time to set up on your site, so make sure everything works by testing it out. Interact with your site like any visitor would. You want every aspect to work from your forms to your social media icons to your redirects to your third-party integrations.

Get different members of your team to test out your site too. You would be shocked to see how differently people navigate through your site and what places you forget to check.
Page Content Checklist

Content is king, and the testing process should be fit for one. Typically this involves making sure that all content has been updated and approved.
Proofread, Grammar, Spell-check
Make sure your content is proofread by many people. It is also a good idea to hire a professional proofreader.
Great imagery is an essential part of your website. You should make sure your images are licensed. Besides the ethics of it all, getting called out publicly for using images without a license is an embarrassment you can do without.
Search Engine Optimization (SEO)

A crucial element of your business strategy, where your site is a core, is your search engine optimization approach.
Review the Title Tags for Pages
The title of a page is one of the few SEO criteria which can be influenced. As a general recommendation, title tags should meet the following standards:
Begin with the target keyphrase followed by the company name (i.e., Keyphrase | Company Name);

Be unique to each page;

Include no more than 55 characters including spaces.
Review the Meta Descriptions for All Pages
Although meta descriptions do not influence SEO in general, they affect user behavior and CTR (which is an SEO signal). Meta descriptions should be focused in such a way to induce your user to click-through to the page.
Add Alt Text to All Images
All images should include relevant alt tags – particularly the first image on the screen should contain your target keyphrase. Alt tags should provide simple descriptions of the image and add a target keyphrase when relevant.
Submit the Sitemap to Search Engines
Verify your site on Google Search Console tool. Once you've checked your website, make sure you submit a new sitemap.xml to Google. Make sure the new sitemap passes and contains no errors.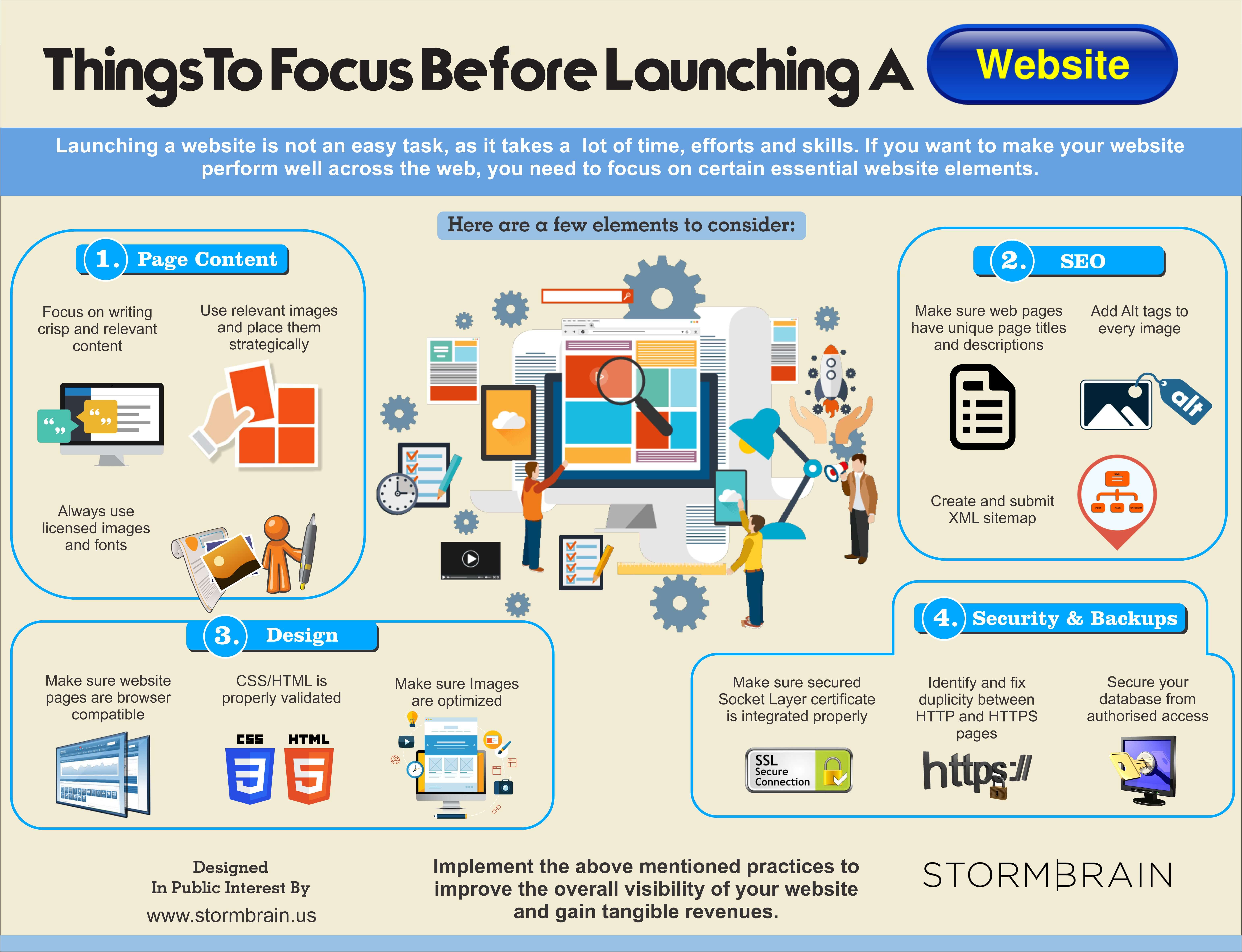 Security and Backups Checklist

Website security is no joke, especially for companies in the business sector, health/medical industry, and banking/financial/credit sector because these industries have reported the highest number of data breaches on average.
It's important to remember that no one is entirely exempt from an attack. If it can happen to big-name companies like Sony and Target, it can happen to a small startup. Thus, focus your attention on the following things:
Have you thought about what happens if the server goes down? Make sure the backup system is configured properly, and the recovery process has been tested, so you know it works.
Make Sure Passwords are Secured
All website usernames and passwords should be accessible only via secure mechanisms such as using LastPass.
Wrapping Up

After going through these website launch checklists, you might be feeling slightly overwhelmed. But when it's all said and done, you can keep visitors on your site longer, efficiently move them through the sales funnel, and, most importantly, maximize your conversion rate.

This list is also indispensable during the website migration. When you are with a totally new CMS platform, you need some time to learn its peculiarities. And this checklist will come in handy during this process.

Which elements do you think are the most important to address when launching a new website? Feel free to leave your comments in the section below.
The following two tabs change content below.
Valentyna Tysiachna
Valia is a vivid CMS platforms observer, that's why she found her dream job of marketer manager at CMS2CMS migration service. Keen English learner, music lover and passionate content writer, she enjoys constant improvement and is open to challenges.
Latest posts by Valentyna Tysiachna (see all)