From time to time all software update their core installation to keep updated with the evolving web technologies. And Joomla is no different…
Security releases for the old Joomla 1.7 version have ended long ago, that means there is no more support from the dev team. Therefore, if you want to prevent your Joomla website getting hacked – it is critical to shift to the newer 2.5 version of the platform. Joomla 1.7 to 2.5 upgrade process can be a tricky and time-consuming process – though, without a shadow of a doubt, the benefits of upgrading are completely worth the cost. Here's a list of few reasons why you should seriously consider upgrading your current Joomla 1.7 version to 2.5:
1. Joomla 2.5 new SEO is a great step forward allowing to drive even more traffic to a website.
2. Using newer standards of HTML5, Joomla 2.5 ensures a website to be viewable in all major browsers.
3. The Joomla 2.5 database has been hardened to prevent brute force attacks and therefore tighten security of the platform.
4. The user interface in the back end is much more consistent and easier to use if compared with 1.7 version.
With all that in mind, though the term "upgrade" is used – due to the large changes in Joomla 2.5, it is more of a data migration. The procedure for migrating to Joomla 2.5 is complex and challenging, however quite manageable with CMS2CMS automated migration service. All-the-way tutorial given below will guide you with hopefully detailed steps on moving your Joomla 1.7's data into Joomla 2.5 ensuring your upgrade process is a smooth sailing.
Foreword: make sure to backup your current Joomla 1.7 before you initiate the upgrading process. In case the procedure fails, you'll be able to restore your site to a working condition.
To upgrade your Joomla 1.7 to 2.5 without getting your feet wet with scripts and codes – CMS2CMS service is exactly the solution. Visit CMS2CMS official website and register your personal account there. Just specify your username, email and password. Alternatively, it is possible to login via your Social Media accounts (Facebook or Google+).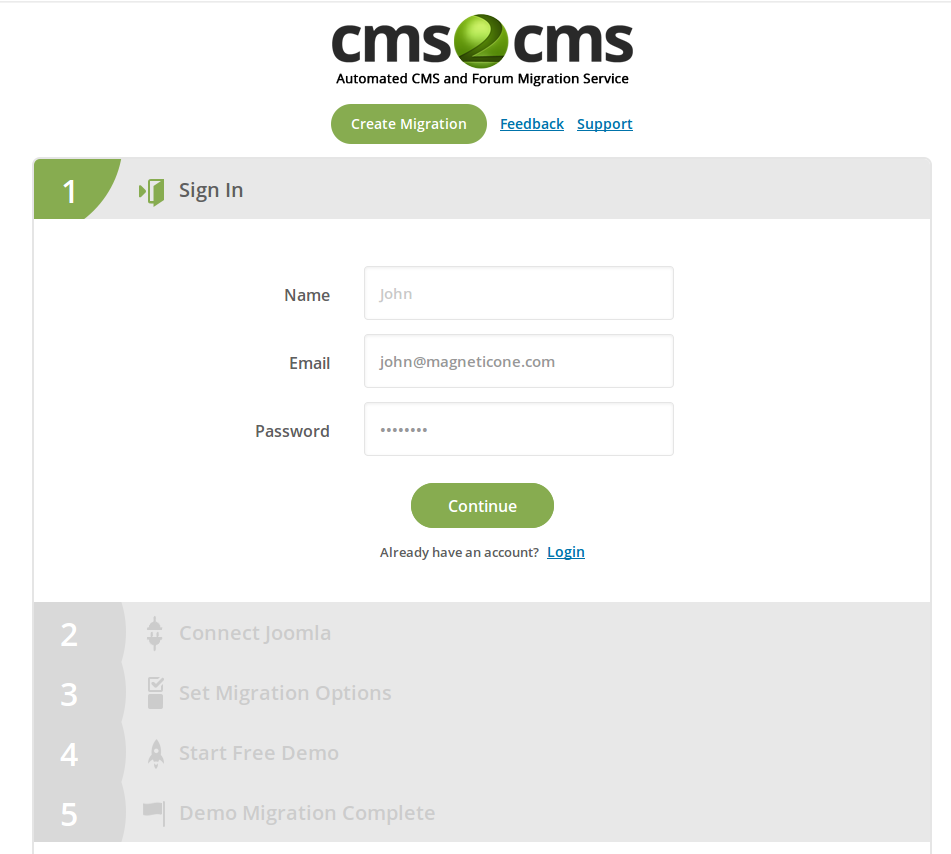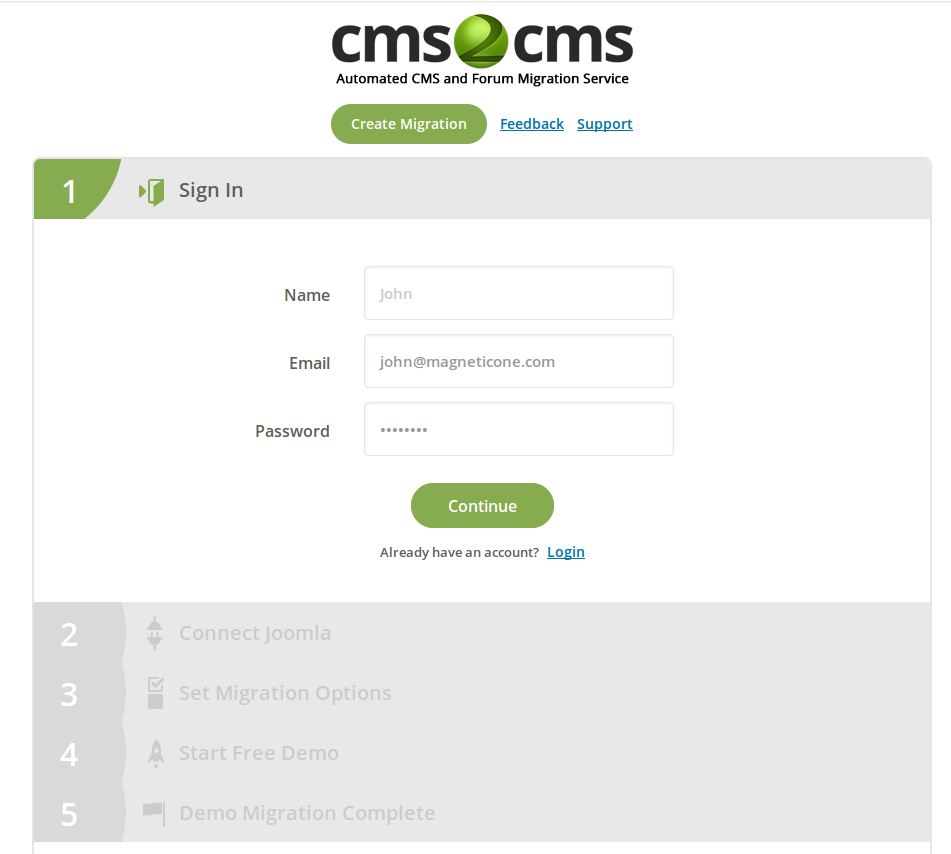 Connect your websites
To proceed this aim download and install the bridge file on your PC. Once done, connect your Joomla websites via FTP client software. Within FTP dashboard copy the "cms2cms" folder and paste it into the root directories of your Joomla websites (current and new versions).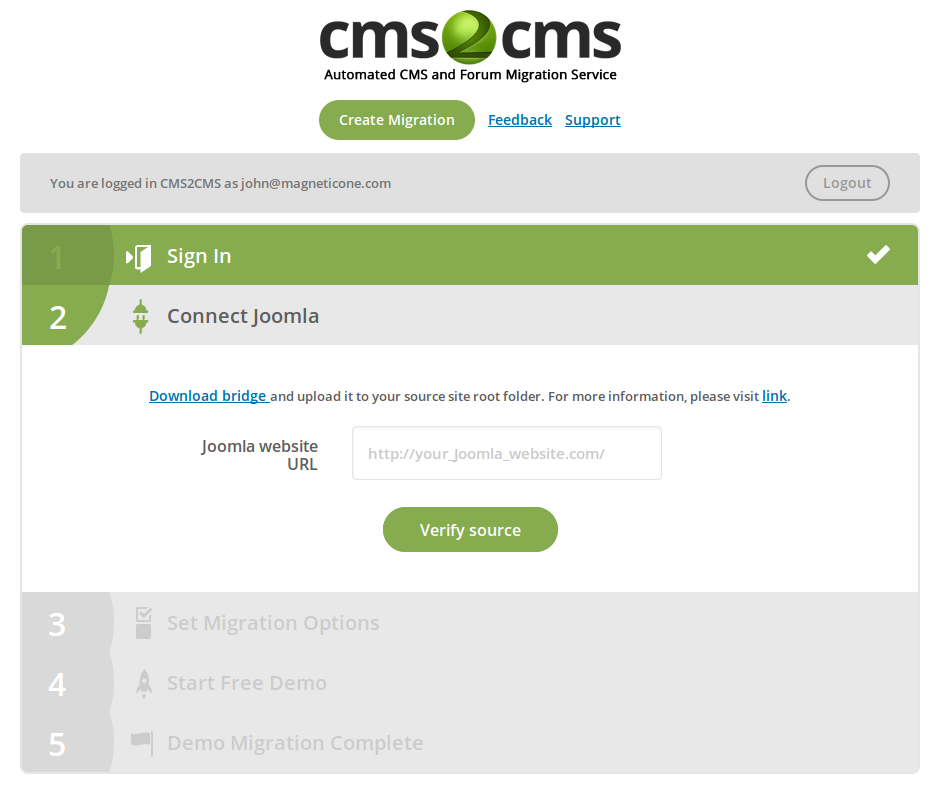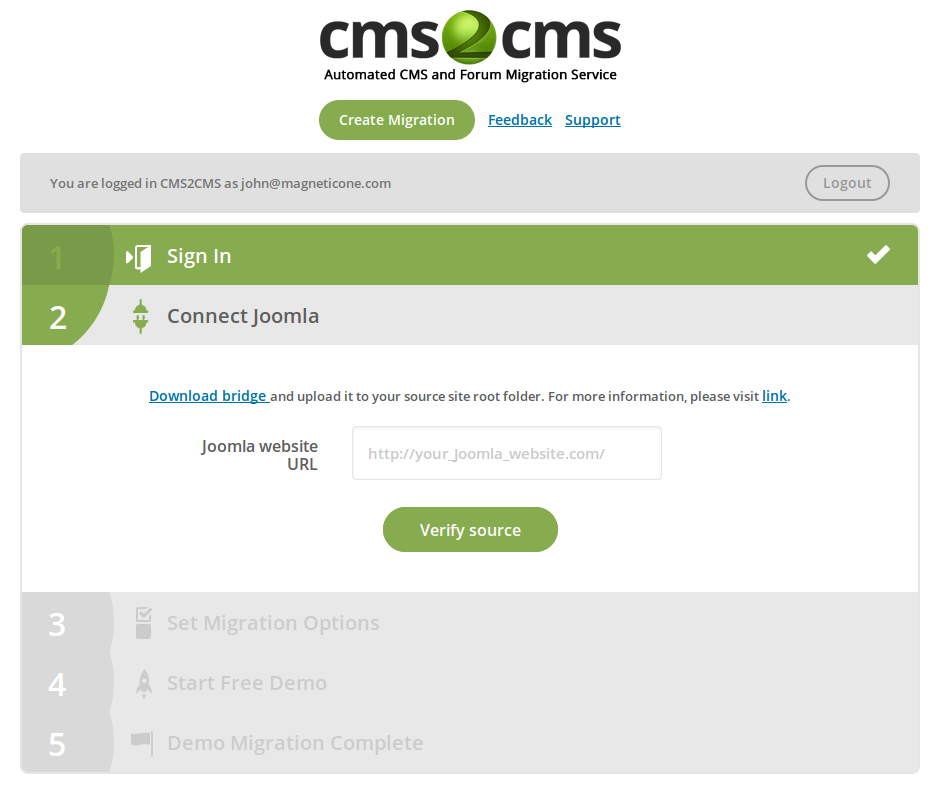 Now is the right time to choose migration preferences you wish to be imported to the new version of Joomla. All you need to do is to check the matching boxes in order to  activate the required options.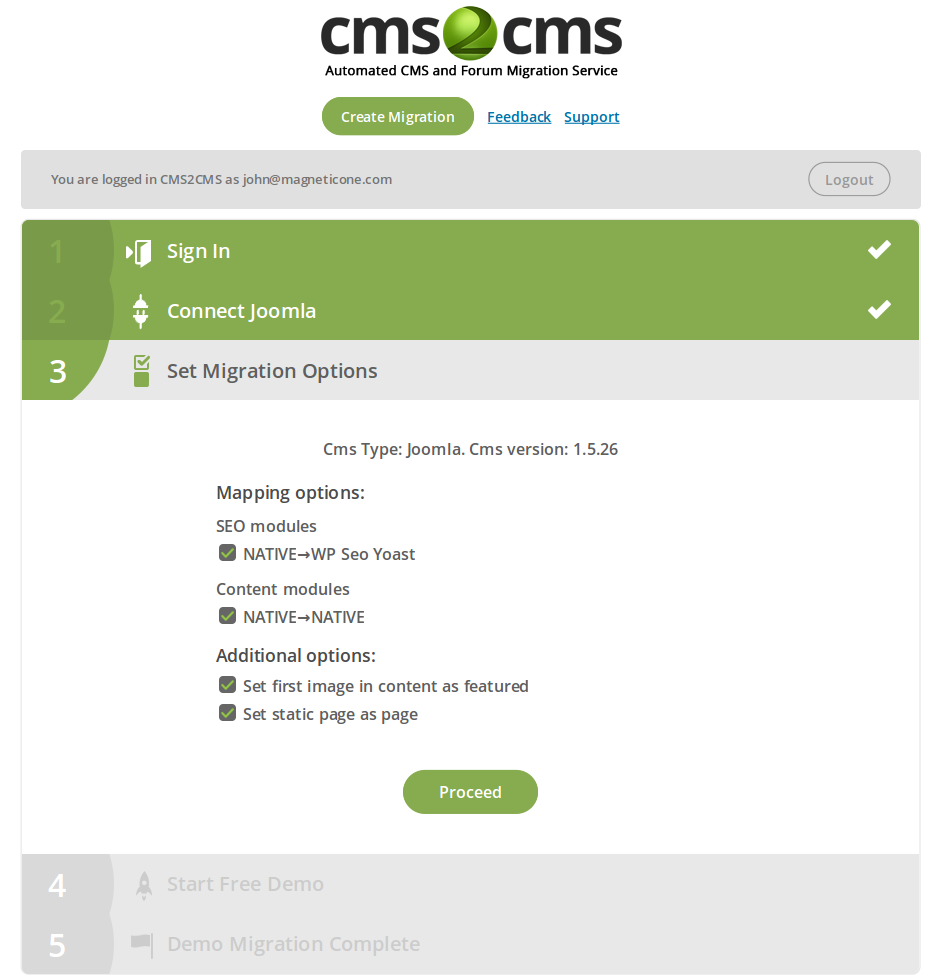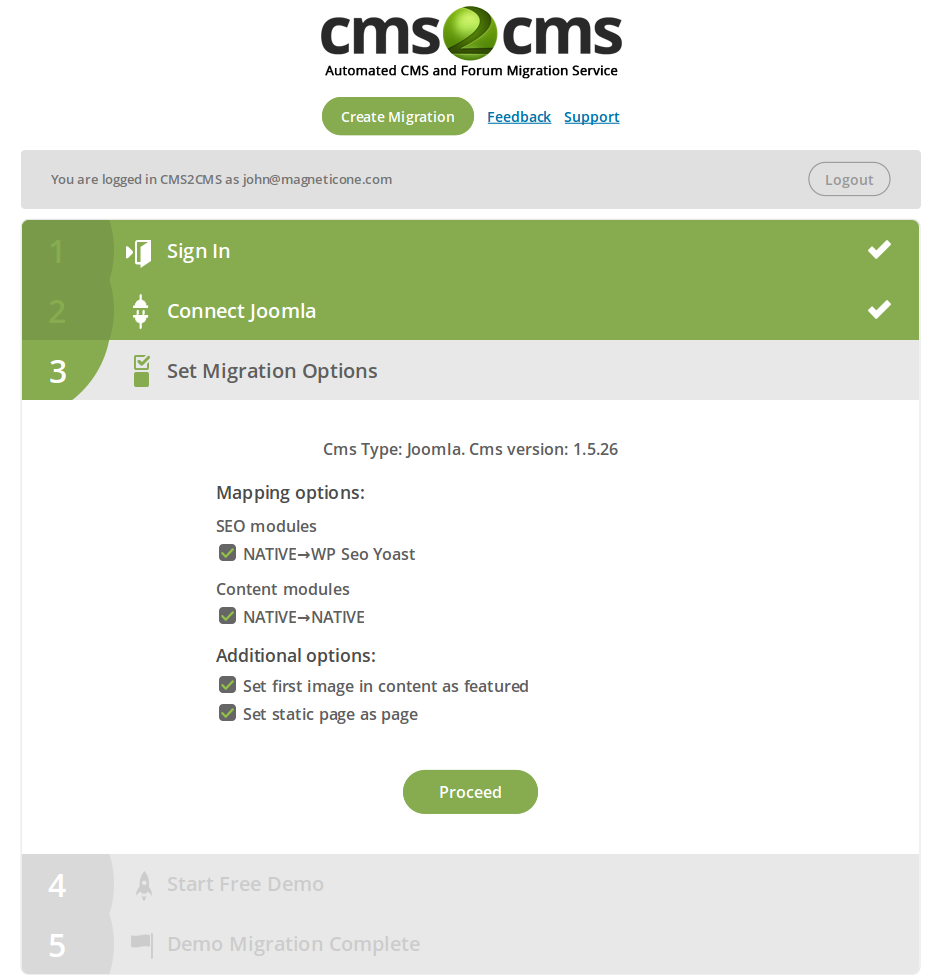 Demo Migration is strongly recommended to run to see the CMS2CMS tool in progress and to estimate its results.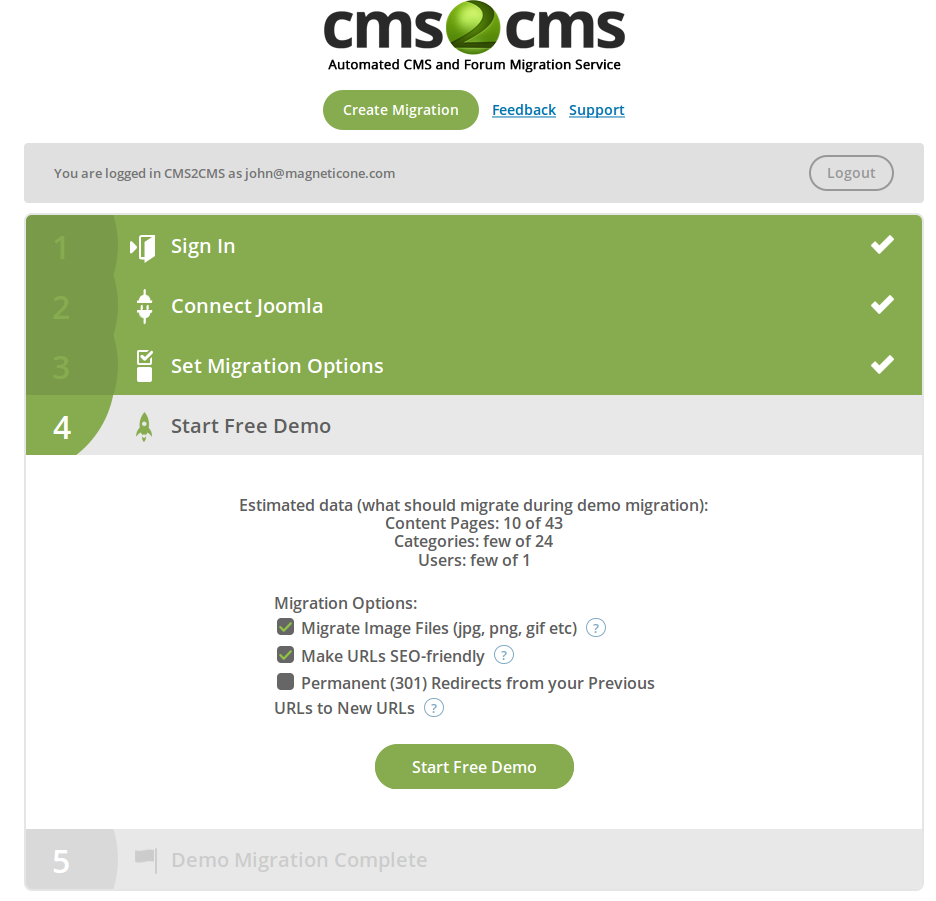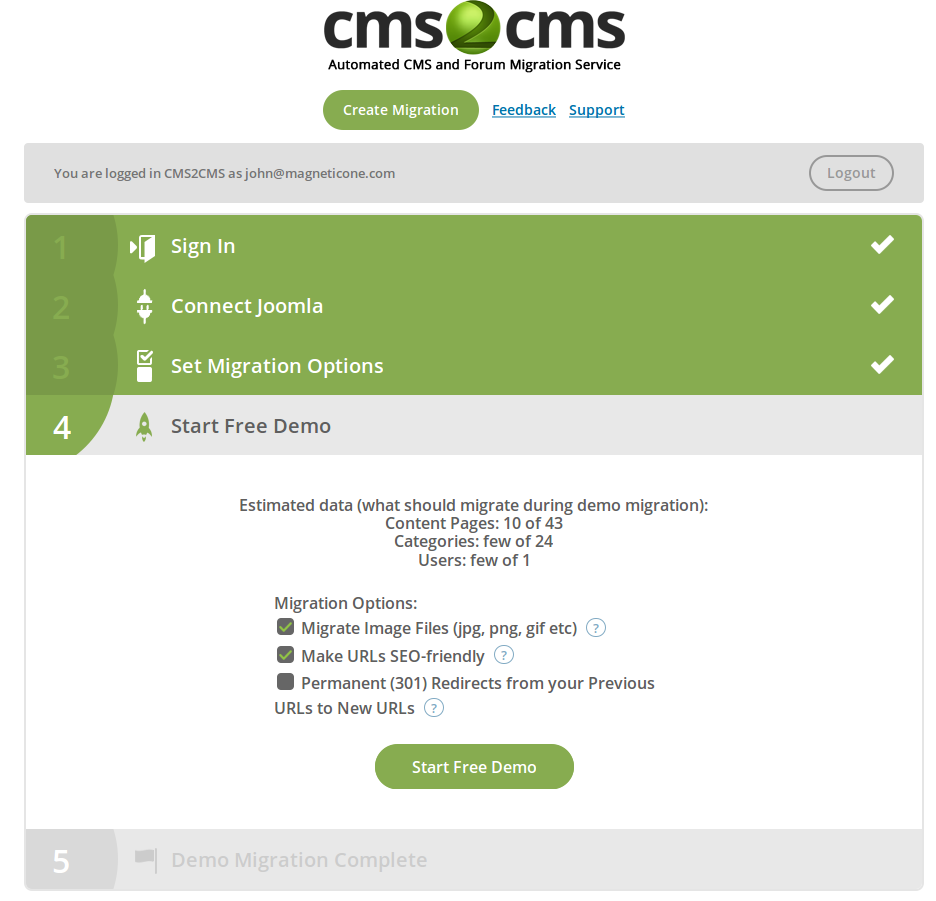 In case you are happy with your Demo migration output and are eager to get your website upgraded as soon as possible – start Full Migration by pressing the corresponding button. In some moments get ready to enjoy your upgraded Joomla 2.5 website.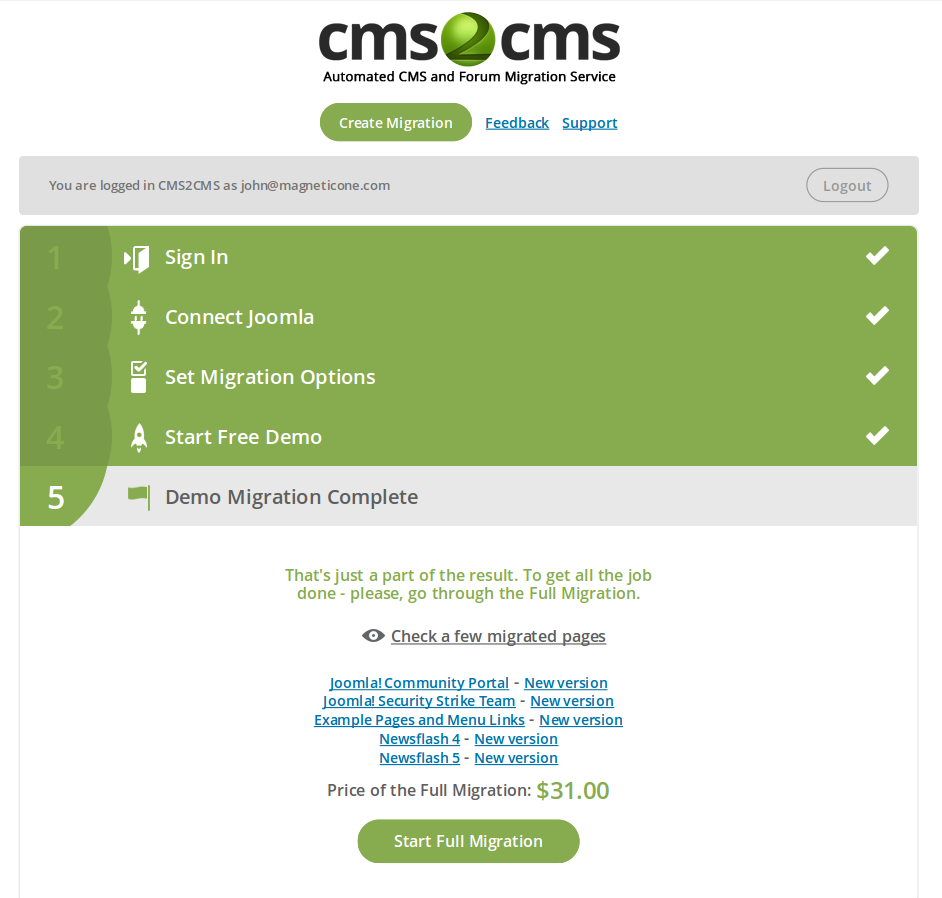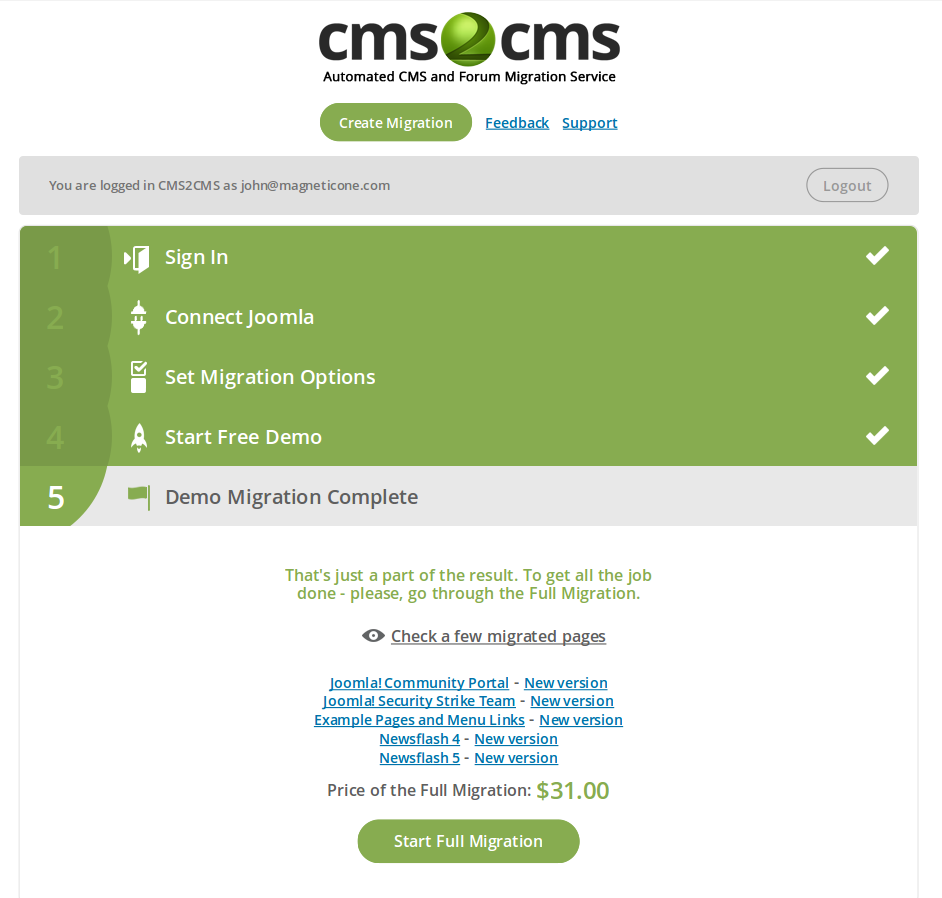 Despite the fact that it is strongly recommended to upgrade old Joomla versions to the latest ones – there are still users looking to upgrade to Joomla 2.5.
So, take the stress out of upgrading your existing Joomla 1.7 version to the newer 2.5 with CMS2CMS. Don't dally any more – do it right now!
The following two tabs change content below.
Valentyna Tysiachna
Valia is a vivid CMS platforms observer, that's why she found her dream job of marketer manager at CMS2CMS migration service. Keen English learner, music lover and passionate content writer, she enjoys constant improvement and is open to challenges.
Latest posts by Valentyna Tysiachna (see all)