If the question "How to import my Tumblr blog to WordPress (or any other CMS platform)?" is on the top of your head, this article is right for you. Time is going, more and more content is being created, the blog is growing up. One day you recognize that the Tumblr platform is not enough for you. It doesn't provide its users with total control over the content. That platform is a perfect option for those users who want their followers to be a group of close friends. But Tumblr doesn't meet the needs of creators who want more. Using CMS2CMS, you can easily and quickly import all of the content from your Tumblr blog to any other CMS platform. So here is the step-by-step instruction of migration from Tumblr to WordPress, for example.
 1. Create an account or Sign In via Facebook or Google
2. Select your current CMS platform – Tumblr
We are starting from Free Trial! You can choose Fully assisted migration, by the way. Our tech team will do everything instead of you! But let's go back. Here you have to enter your site URL address. Copy it in your Tumblr Blog's Settings. It's important! the link has to look like this: http://ioliverblr.tumblr.com/ 
3. Enter your login and password
Don't be afraid – it's safe, we take security very seriously. You can read about it at our Security Policy. We need an email and password to connect to your account and to have access to migrate your content.

4. After that, we have to select a new CMS platform
You can choose whatever you want! In this instruction, we will migrate to WordPress because it is one of the best CMS – it gives total control of the content! So here are two ways: you can check out migration results on your new existing site, in case you have one. Or you can move to our Test Site if you haven't another yet. In case you have a new one – enter its URL Adress.
5. Establish the connection to your new site
To connect to your WordPress website all you need to do is to enter your admin login and password. It is required to install the connector plugin automatically.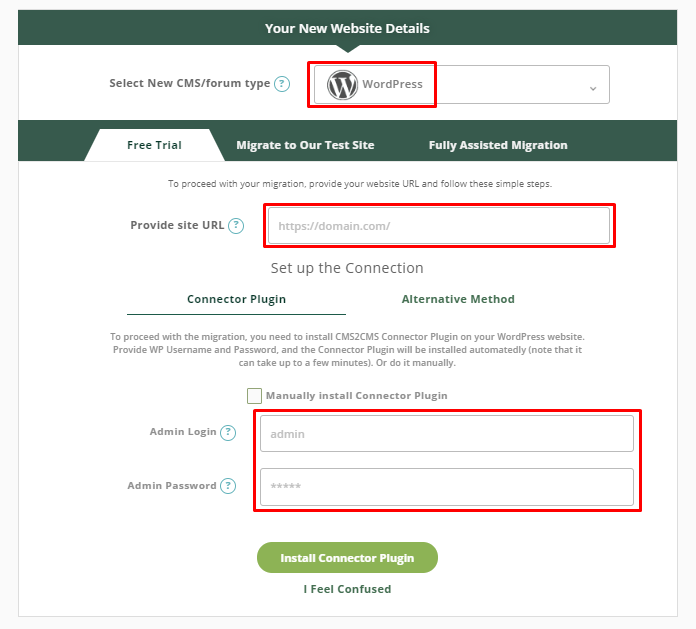 6. Select the Entities
That you want to import and type of content you want to transfer your posts in.
7. Finally, we can Start Free Demo migration!
At this step, you are able to select additional options if you wish. Or you can skip the demo and migrate all data.  
Done! Now you can check out the results!
During demo migration, you can see part of your data. Here are two tables: in the first one, you can see the number of imported content. On the second – highlighted in blue – are clickable links. Here you can compare the previous appearance of your website and the new one. 
If you are satisfied with the demo results – don't waste your time, start your full migration! 
Like we said – it's super easy and quick! CMS2CMS is a perfect tool for you. Import your Tumblr to WordPress and let your blog grow much faster! In case you still have any questions – we are always here to help you!
Press HERE to start your Demo migration.
The following two tabs change content below.
Sofia Luchyshyn
Marketer at CMS2CMS
Latest posts by Sofia Luchyshyn (see all)