What is migration insurance?
CMS2CMS Migration Insurance is a unique option which provides you with the opportunity to restart your migration process once something went wrong and prevent you from wasting additional costs and time.
Why might you need to restart the CMS migration again?
the migrated data got damaged as a result of incorrect CMS installation (either existing or new);
the data got damaged by 3rd party extensions;
broken relationships between entities in the process of customization.
How much does it cost?
The cost of Migration Insurance varies from 10% to 25% of the total data transfer price and depends on the number of restarts you would like to make.
What are the benefits of Migration Insurance?
Minimizes time and money investments;
Data migration restarts once something in the process went wrong;
No worry about unpredictable circumstances.
How does it work?
Right after you've completed Free Demo migration, you can select which Migration insurance option fits your needs the best and complete content migration.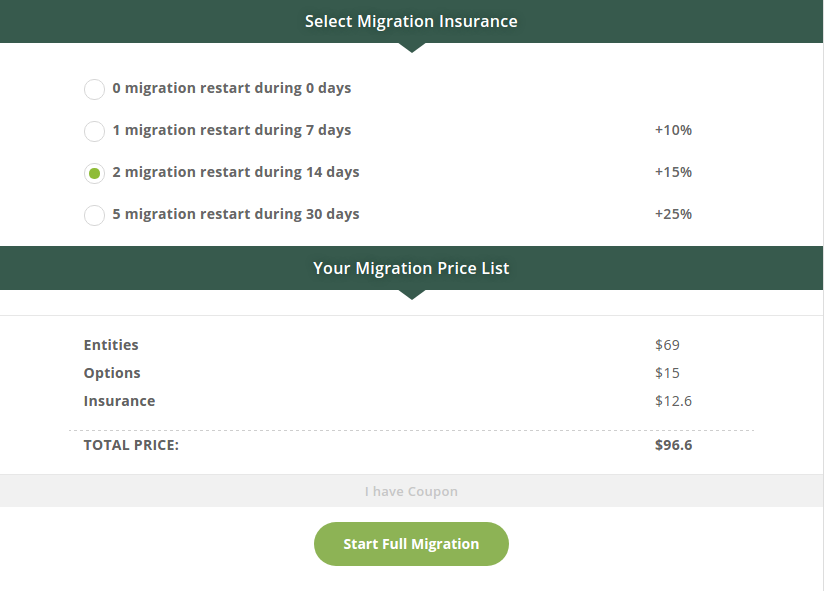 Please note:
Existing and New website URLs and CMS types have to be the same as during your initial data transfer.
Migration Insurance doesn't provide a possibility to enable Additional Options, except those included in the initial migration. In case you wish to add new or disable some additional options, please, contact our Support Team.