How to use CMS2CMS migration plugins?
Download the Plugin
Go to WordPress official plugins repository and download the
CMS2CMS Joomla (or your type of CMS you want to migrate from) to WordPress Connector Plugin
. The file will be saved in a ZIP format.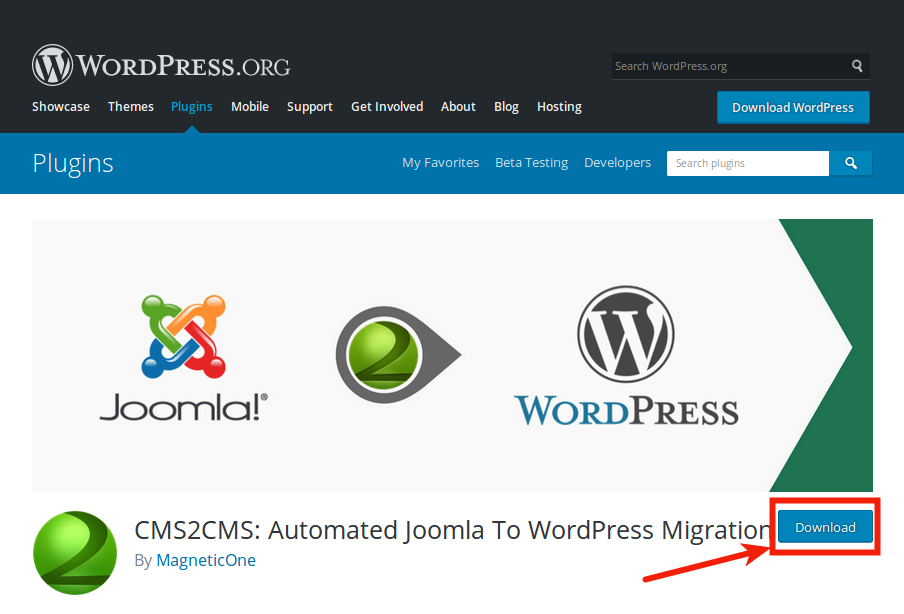 Installation Process
Go to your WordPress website Admin Panel -> Plugins. In the 'Plugins' section click 'Add New'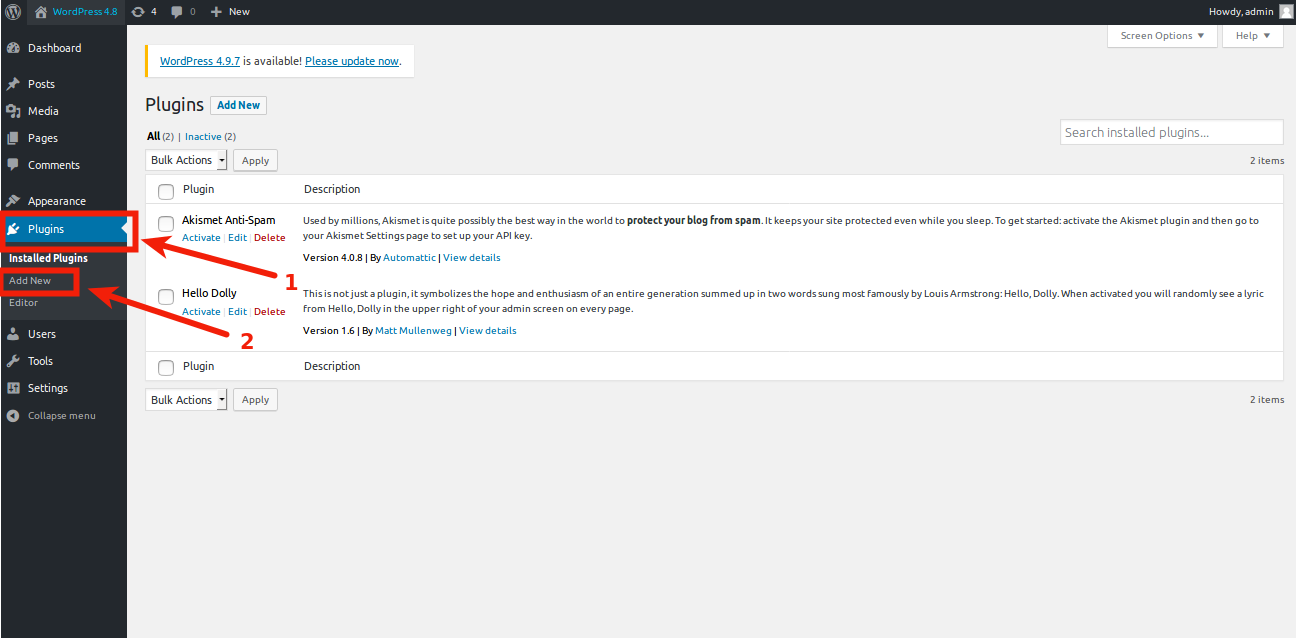 Click 'Upload Plugin'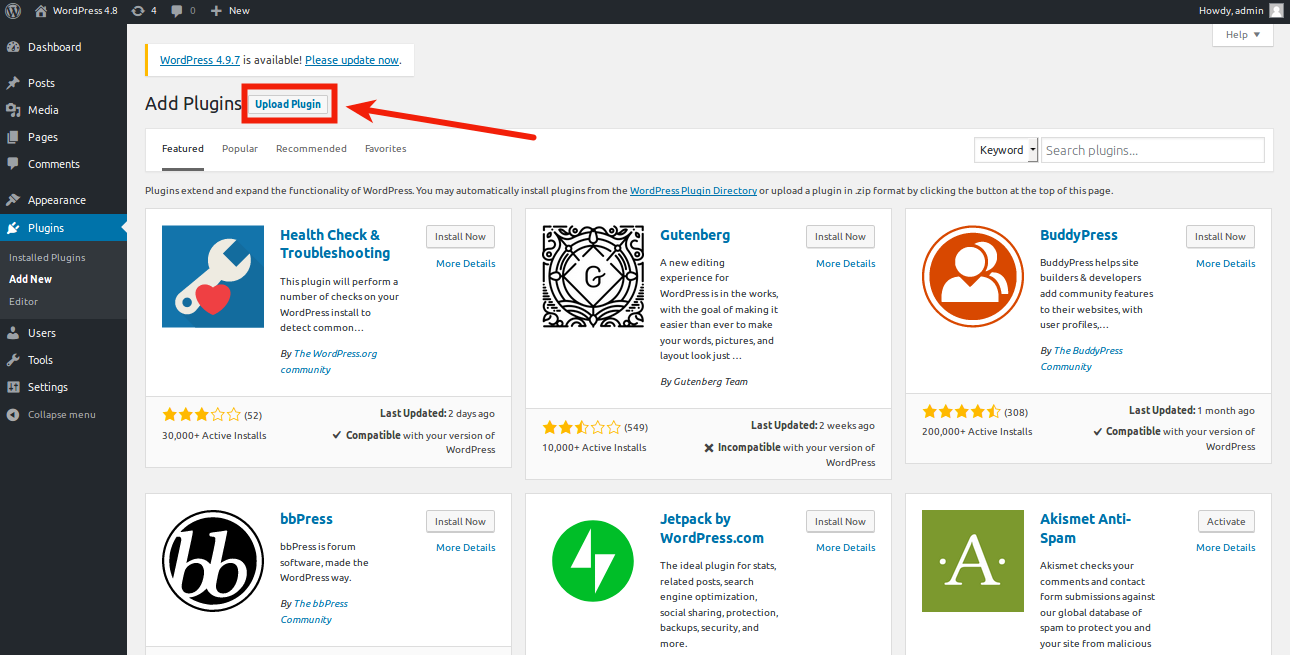 Then, you should click on 'Choose File' and choose the downloaded migration plugin in a ZIP format.
After the upload, go to 'Install Now'.
Press 'Activate Plugin' after you've installed it.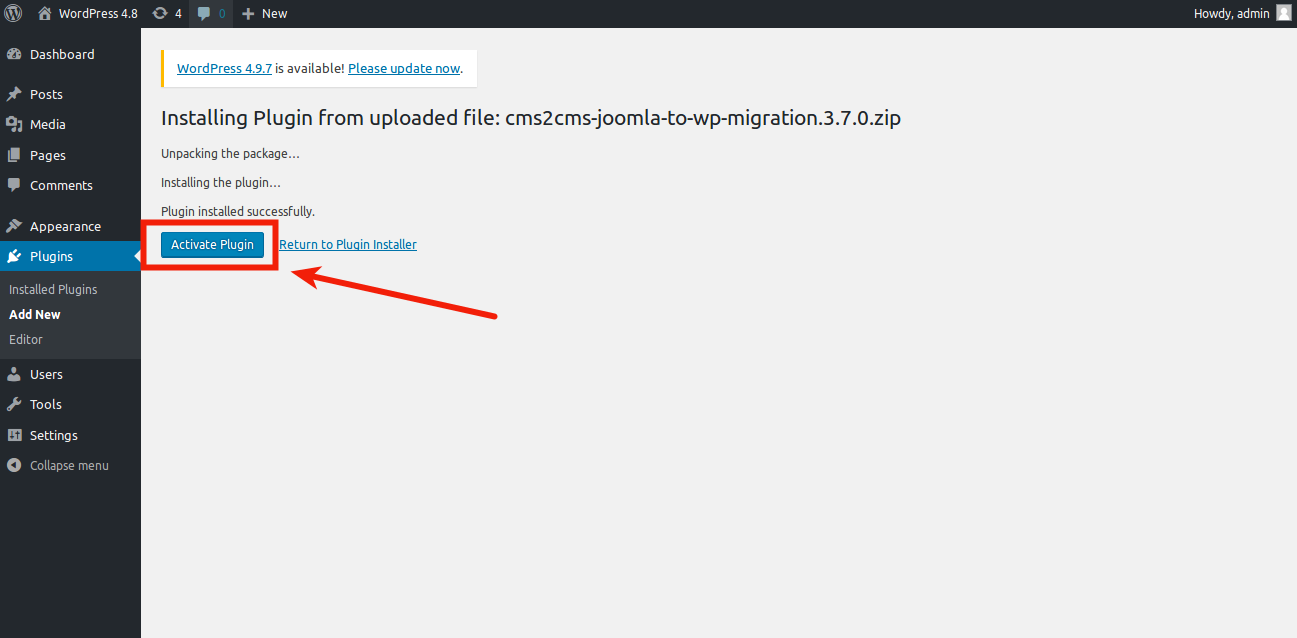 You will see 'Your CMS To WordPress' plugin activated in the 'Plugins' section. Go there. You'll be headed to CMS2CMS plugin migration page.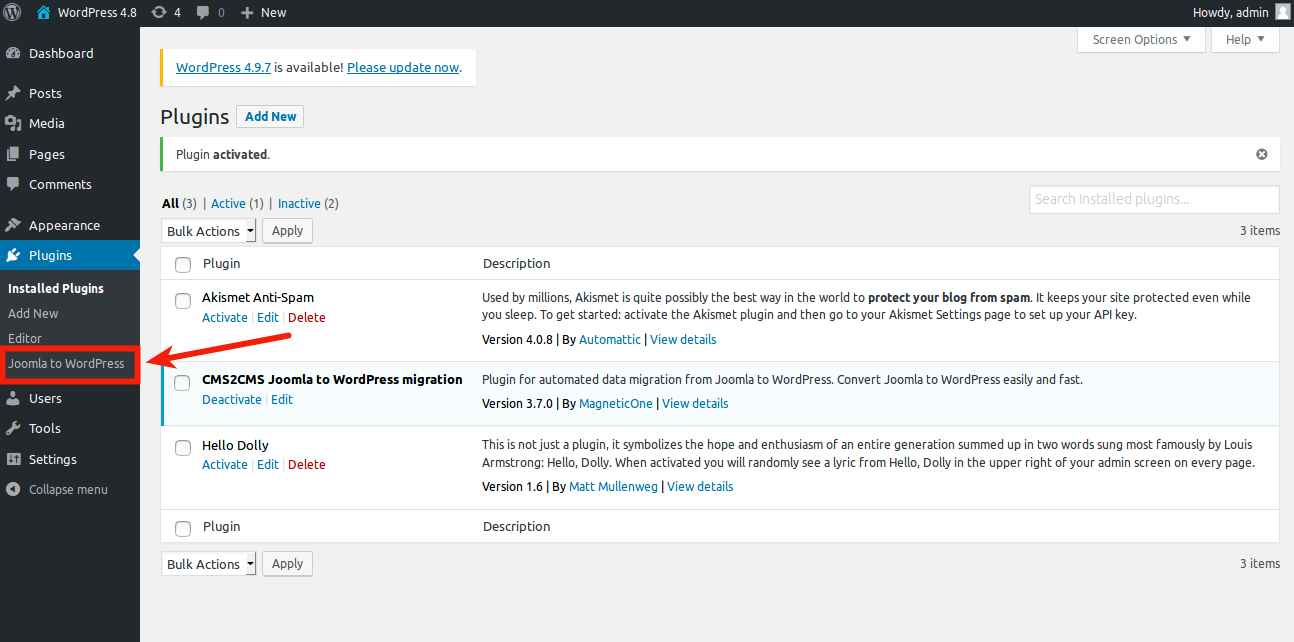 Sign in to enter your CMS2CMS account. Press 'Continue'.
If you don't have an account, please, register.
On the next step, you should connect your website's platform you want to migrate from. Provide the URL of a site you want to migrate from. Then press the 'Verify Connection' button.
After that, you'll be redirected to the Migration Wizard. Next, you have to establish the
connection between your current and new WordPress websites
. For that, you need to download and install the
Connection Bridge
. First, press 'Download Connection Bridge' button, the bridge file will be saved in a ZIP format. Extract 'cms2cms' folder to your PC from the downloaded bridge ZIP file.
Open your FTP, like Filezilla (download it, if you don't have it yet).
Enter the following data you can get from your hosting provider:
Host, Username, and Password.
Thus you'll obtain access to the root folder your current and new websites.
Local Site
section shows the elements you have on your PC.
Remote Site
section shows the root folders of your websites.
Find your current CMS website root folder in the
Remote Site
section.
Below you will see all the elements and data of your website.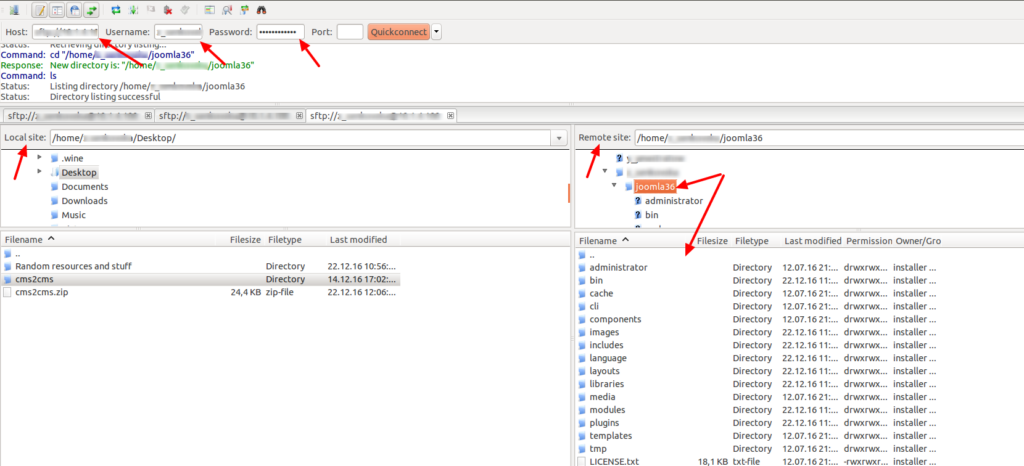 Drop the extracted 'cms2cms' folder to the root folder of your current website to establish the connection between the sites.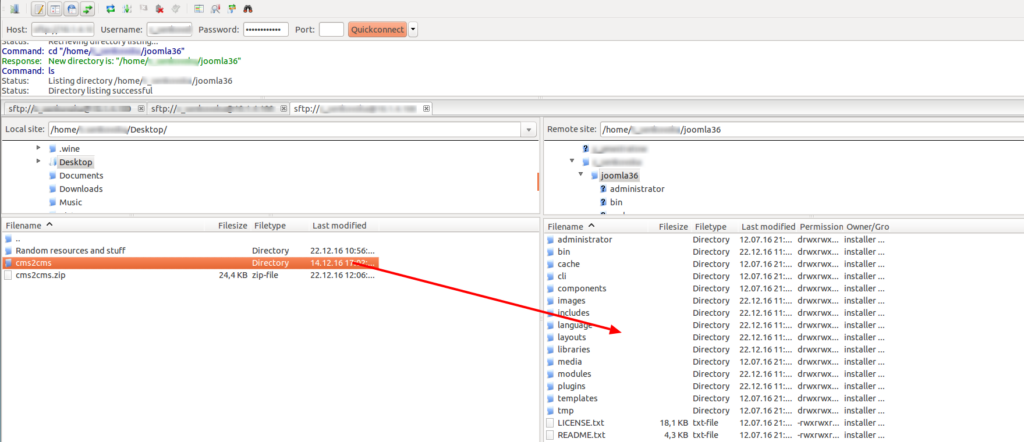 After this step, return to the Migration Wizard and click "Verify Connection" button.
Now,
run a free Demo
to get the preview of your new WordPress site. Choose the entities you wish to migrate as well as the additional options if needed. In case you want to migrate all of your content without running a free Demo, you may
skip this step.
You can check the results of your Demo migration when it's finished. Follow the
instruction
to do so.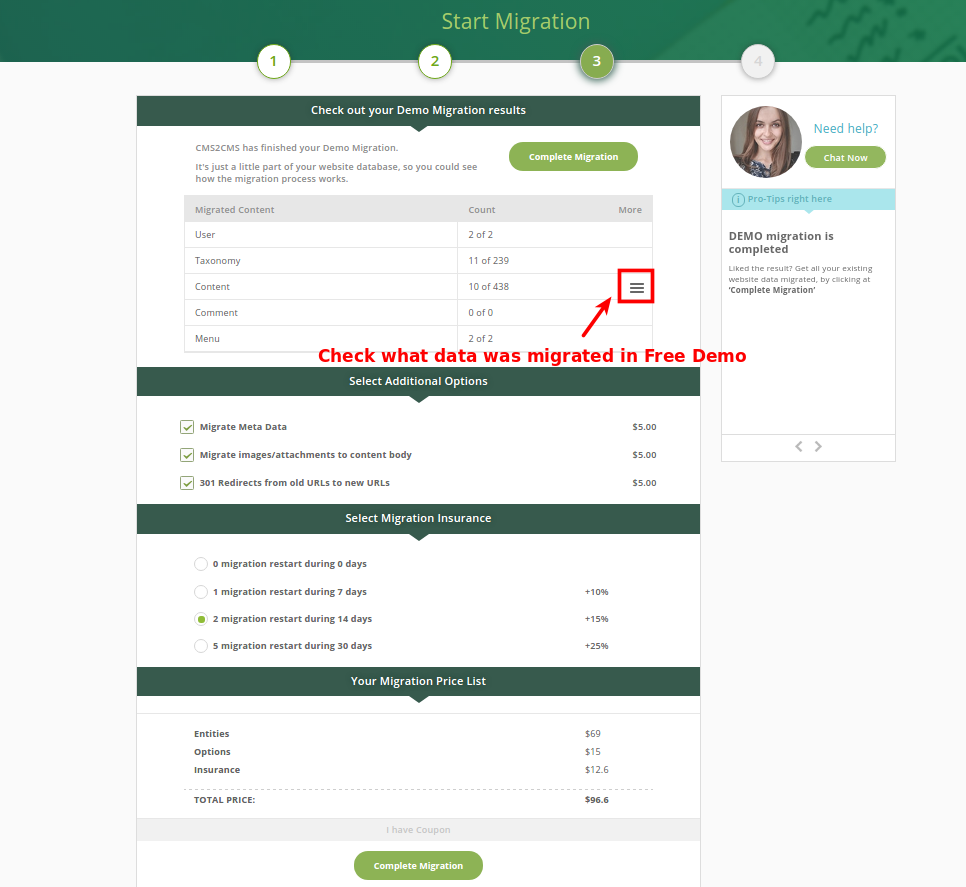 When your migration is complete, you'll get a notification and will be able to enjoy your new WordPress site!
Posted in: FAQ, How To Use CMS2CMS Migration Plugins?
Need more help?
If you've got a specific issue with your migration or a question that isn't answered in this section, we are here for you. Feel free to contact us with your requests and we'll do our best to answer within 24 hours or less.