CMS migration – this could be a headache and other kinds of "aches" for web-site owners. Though, in fact, it's not so scary as it may sound. If to deal with the migration process maximum correctly.
To prevent you from going the wrong paths in Wix to WP migration, we'd better shortly scan through each platform.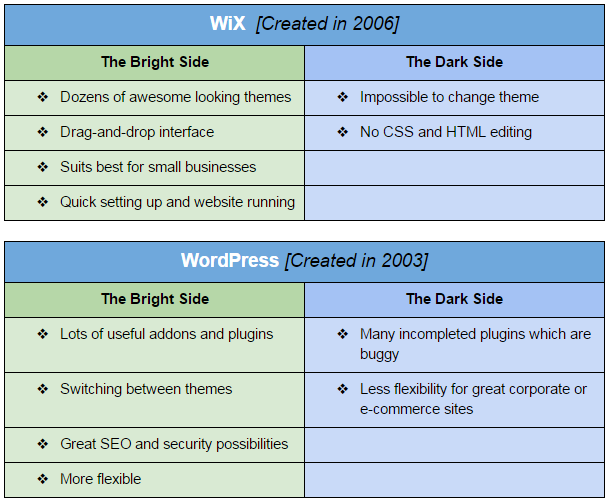 For now, let's find these devils in the details.
Mistake #1 Management
Why is it first? Because it's the take-off runway for everything else. And "you shall not pass" if not paying attention to this part.
Time, data, and user database – these are the key priorities in CMS migration. Calculate your time wisely, check your data for correctness, take into consideration users, and how differently they will interact with your website.
Mistake #2 Skipping data evaluation
Who needs senseless data? No one, right? Especially when there is too much of it. Thus, it should be optimized and updated. If there are lots of things you don't need, just delete them. Or this will waste your migration time badly.
Mistake #3 No backup
It's better to take care of your important data. Thus, making a backup here is crucial. Use some data backup and security tools, like myRepono, Duplicator, or blogVault to make sure that your info will be stored. You may also do it using the hard drive or DVD drive but this will be a time-consuming procedure.
Mistake #4 Plugins? Nah, didn't hear about those
Website migration doesn't finish with just simple data transferring. There are lots of additional steps, like installing vitally important plugins. Don't forget about these little guys. They are a crucial part of your website's functionality and responsible for your site's security, speed, performance, and anti-spamming. Either way, your newly migrated website will be like a house of cards. Installation of additional plugins will also help you gain more visitors and users.
Mistake #5 Unappropriate customization
Before migration, you should be well aware of the possibilities and features of the platform you're migrating to. If you don't know how things are done in WordPress, you'd better pay attention to their tutorials or ask somebody to help you get into the workflow with WordPress. If the website made badly it is not safe and less usable.
Mistake #6  Who needs testing, anyway?
You need if you want all things to work well with no failures. Check whether the data is represented in the correct format and if all the records are kept in place. It is also recommended to use a copy of your real data when monitoring all the transferred info.
While migrating from Wix to WP you should try to get rid of these flaws. As the result, you'll get an effortless migration process. Check the post to learn how the Wix to WordPress migration process works! Try to miss nothing and you'll see how your new website will put sunglasses on its face and say to everyone "deal with it".
The following two tabs change content below.
Valentyna Tysiachna
Valia is a vivid CMS platforms observer, that's why she found her dream job of marketer manager at CMS2CMS migration service. Keen English learner, music lover and passionate content writer, she enjoys constant improvement and is open to challenges.
Latest posts by Valentyna Tysiachna (see all)