The topic of choosing the right content management system (CMS) for a website has been discussed regularly, and of course, the answer appears when you dive into subtleties. Keep reading and find out the detailed facts-based comparison of brilliantly developed CMS platforms – SilverStripe and WordPress. In case you've been thinking about switching from SS to WP, after reading this article, you will learn the fastest way of a website migration.
Both WordPress and Silverstripe are very capable, advanced and versatile pieces of software allowing to build top-end, stunning websites within a short period. However, which one to choose?
SilverStripe is the right choice because…
First released as free and open source software in 2007, SilverStripe is an emerging and steadily growing enterprise-level platform. Probably the first thing users choose SilverStripe for is its

security.

The SilverStripe CMS is easy to navigate, and beautiful to boot. The SiteTree gives content editors a clear understanding of their website's page hierarchy.

When editing a page in the CMS, the content editor can choose between 3 different "view modes": edit, split and preview mode. Using the different view modes, there's no need anymore to switch back and forth between two different tabs or windows to see what the page looks like with your new content.

Concerning costs, probably you don't need to have your hand in your pocket. But at the same time, there is not a big premium plugins market for SilverStripe modules, so be ready to modify them by yourself.
Choose WordPress because…
WordPress is known as the most popular CMS, and according to up-to-date research, WP

runs almost 29%

of the whole Internet.

The platform has an extremely intuitive interface, and this makes it easy for all newbies to create and run a website on. Unlike SilverStripe, running a website on WP doesn't require any coding. To make your website more viewable would be effortless for both a beginner and a techie.

This CMS offers its users a huge amount of different plugins and themes. Whether you are running a personal blog, a technical oriented or even a news website, you will definitely find the

automated tool which suits your site best

. In this way, you will be provided with the opportunity to add some extra functionality to your site, give it a new and fresh look so that to attract more and more visitors.
How to Move?
Now, when you are aware of the key features of SilverStripe and WordPress CMSs, you will probably look for the way of fast and accurate migration. You may do it yourself and transfer all the content manually, or hire a developer and pay for his work. But one of the most established and reliable way of content transfer is CMS2CMS automated migration service. Using it, all your SilverStripe content will be migrated to WordPress within 15 minutes in a fully automated way. Keep going and learn five steps of the easiest way of SilverStripe to WP migration.
Register a CMS2CMS account, or, in case, you've already used the service, log in. You are also able to sign in via social media such as Facebook or Google+.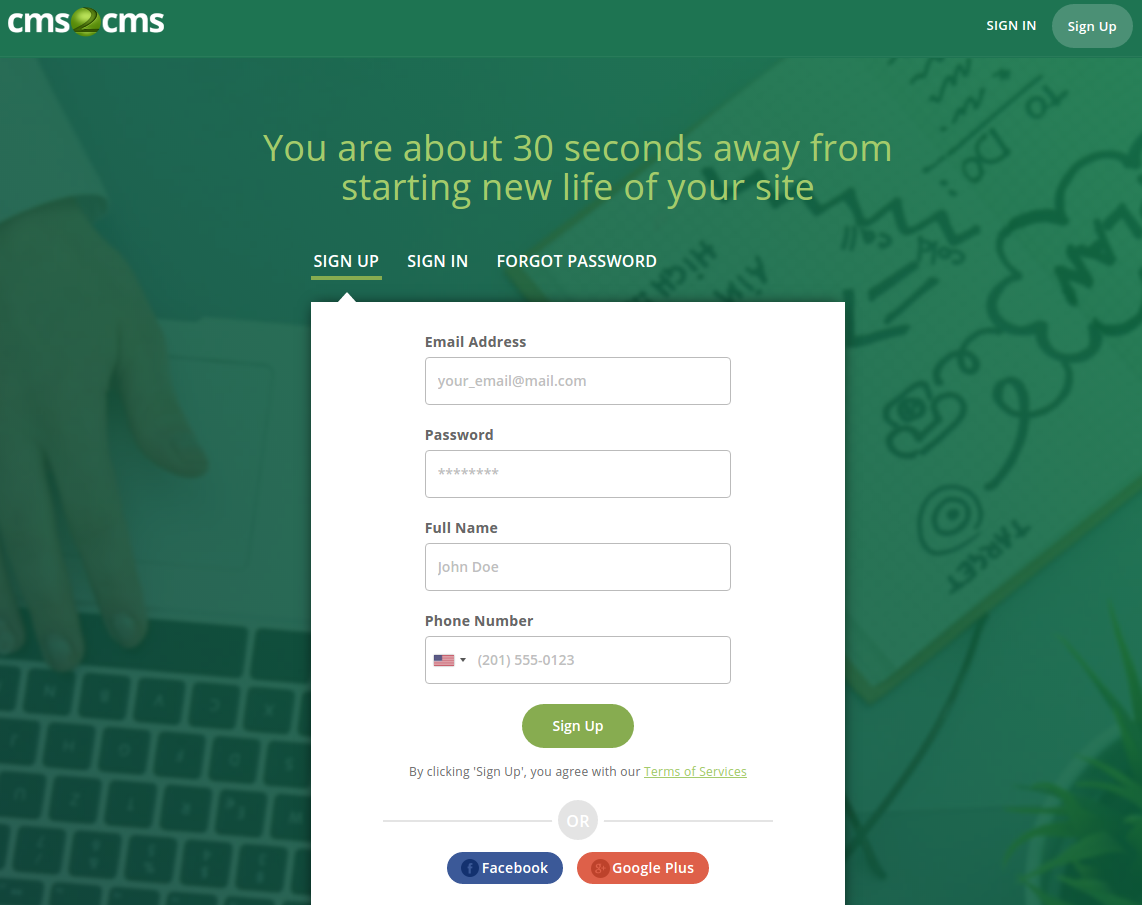 2. Choose SilverStripe as your Existing platform and specify the website URL. Press "Verify connection."
Then, choose WordPress as a New CMS platform and provide its URL. Now, you have to establish the connection between your Existing and New websites. CMS2CMS offers you the opportunity to choose between the installation of the Connector Plugin or the Connection Bridge. Select the way you are more comfortable with and proceed with the migration.
When the connection between your websites is set, select what data you want to be transferred to your New WordPress website. Choose the entities you wish to be migrated and additional options if needed. After that, you can run

Free Demo Migration

to estimate the results first.
And, the only thing left to be done is to start the Complete Migration. Select the additional options needed, choose the migration insurance, check how much it will cost and get the migration going, by clicking the "Complete Migration" button.
Summing Up
Can it be easier? Now, when you are fully armed with all the necessary information concerning SilverStripe to WordPress migration, it's high time to act. Intrust your content conversion to CMS2CMS automated migration service and your website will start living new life very soon.
The following two tabs change content below.
Valentyna Tysiachna
Valia is a vivid CMS platforms observer, that's why she found her dream job of marketer manager at CMS2CMS migration service. Keen English learner, music lover and passionate content writer, she enjoys constant improvement and is open to challenges.
Latest posts by Valentyna Tysiachna (see all)