Considering changing your forum platform? The current one does not meet your needs? There are not enough visitors on your forum, and you can't engage more? Whatever reasons you have, it is good that you are looking for a way to improve.
Undoubtedly phpBB is a great forum software with multiple customization opportunities, though there are bulletin boards out there, which are more flexible and have lots of distinctive features. One of them is bbPress. This bulletin board is a modern forum software designed by WordPress creators. It has a very intuitive interface, is pretty simple to use and has a significant amount of customization opportunities.
If you decided to move your phpBB to bbPress, then CMS2CMS: Automated phpBB To bbPress Migration Plugin. With this plugin, you will have your phpBB forum transferred to bbPress with no coding skills required just in 6 simple steps.
Migration Setup
1. Download Plugin
First of all, you have to download CMS2CMS: Automated phpBB To bbPress Migration Plugin to your computer. The file will be saved in a ZIP format.
2. Install the Plugin
Upload the plugin to your WordPress website and go to the Admin Dashboard.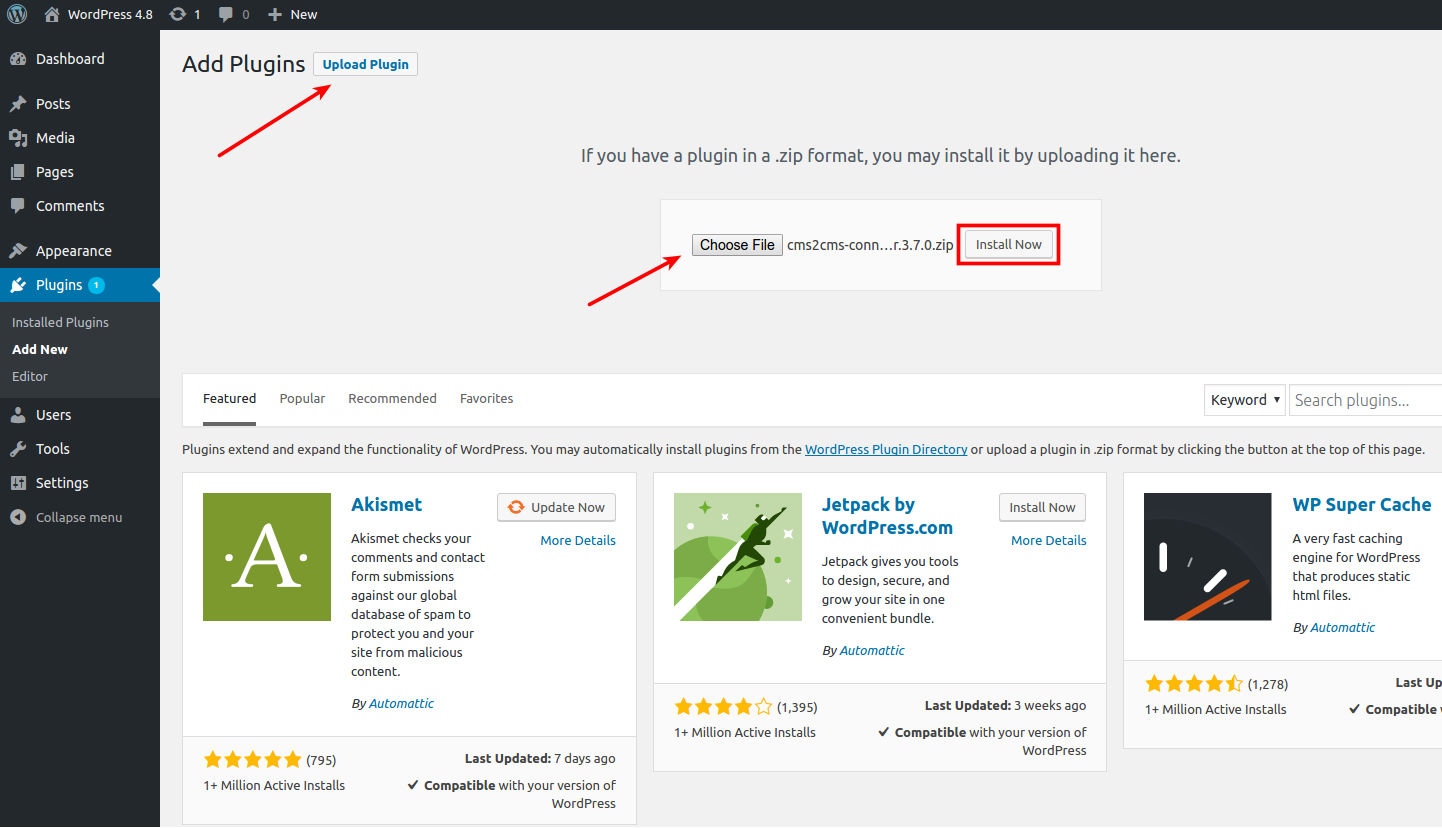 Click "Activate" button, and it will appear right on your dashboard.
3. Insert your CMS2CMS account
Now sign up for CMS2CMS by providing your email and password.
4. Connect to your phpBB forum
Now you have to create the connection between phpBB and bbPress:
Download the Bridge file to your computer. It will be saved as "cms2cms.zip".
Go to the place where you've downloaded the ZIP file and Extract the "CMS2CMS" folder to your computer.
Connect to your existing forum via FTP client software (like FileZilla). To do this, specify your hostname, FTP access login, and password which you can find out from your hosting provider.
Once you did it, open its root directory. It is the top folder with the index.php file. Now, copy the "cms2cms" folder that you've already extracted from your ZIP file. Paste it into the root folder of your WordPress website (because the bbPress forum is based on WordPress)
Then provide the URL of your phpBB forum, and that is it.
For more detailed instruction, watch the video on how to install Connection Bridge:

5. Select the Migration Options
Now choose the entities you want to migrate to your bbPress forum and additional options if needed. Then press the button to proceed with your demo migration to get a sample of your website.
6. Full Website Conversion
After you checked out the sample of your renewed forum, you may complete the migration. You will be given the opportunity to select some additional options like Migration Insurance, 301 Redirect or Forum Topic Watchers Migration.
As soon as the migration is completed, you will receive an email notification and be able to explore your new bbPress forum.
Still hesitating to make a final decision? There is no point in waiting! Hurry up to try out the migration from phpBB to bbPress with CMS2CMS service and your bulletin board will be switched easily and swiftly. Set up the free Demo migration to get the sample of your forum first.
The following two tabs change content below.
Valentyna Tysiachna
Valia is a vivid CMS platforms observer, that's why she found her dream job of marketer manager at CMS2CMS migration service. Keen English learner, music lover and passionate content writer, she enjoys constant improvement and is open to challenges.
Latest posts by Valentyna Tysiachna (see all)