Blogging is all about sharing opinions, experience, and tips. Quite useful and helpful, right? Running a blog means having something you can tell the world. Though will the world receive your message in a proper way? This hints us at thinking about what platform is going to help us blog actively? Blogger or WordPress?
Things to know about Blogger
Being Google-owned, Blogger is a cute platform to start your blog effortlessly. Nearly 830k blogs run here. This is big enough. The reasons for Blogger popularity is hidden in this platform's 5 to 10 minutes blog creation and its further maintaining. (Blogger's interface is really simple in use and doesn't require any special knowledge or proficiencies).
Adding media and its editing is nothing special and quite plain here. Being Google integrated, you have the opportunity to launch Adwords/ Adsense campaigns which might bring you some money for blogging or monitor the analytics of your blog. Blogger could be profitable. Seems like everything you need lies just before you.
Things to be aware of in Blogger
Design. Design options are limited enough when compared to WordPress. You can choose a free theme here but truth to say, not so professionally-looking. When it comes to editing, the only thing you can do is to change color or some layout elements.
The same thing concerns functionality. There are no plugins, so the only way to expand your blog's possibilities is to add several widgets. If you're a techie blogger, we doubt that this would be enough for you.
As a beginner, you might try out this platform to simply get acquainted with blogging, but for the further growth, it's good to 'turn the table' sometimes.
Things to know about WordPress
WordPress is the most used platform these days (powers almost ~80m of blogs and ~18 m of websites). Because of this CMS flexibility and expanded functionality options (like adding plugins/themes or editing the theme using CSS knowledge, customizing your content in any way you want, the list no way is over), experienced bloggers like this platform that much. With the opportunity to own domain and hosting you can gain more control over your content and the way how your blog run in general.
WordPress fits well for the beginners needs to embrace the basics of blogging due to its intuitive interface. Thus, you can go directly to WordPress where the blogging process will evolve in a positive way.
Things to be aware of in WordPress
You should watch out incomplete plugins which after installation might worsen your blog's health. If you're going to evolve from the beginner-blogger stage to a pro (or medium one) you should sweat a bit over comprehending the technical side of WordPress. (It's not necessary of course if you're about to run a fancy blog with a fancy media but this will steeply open up a road for the new opportunities).
Do you have a lot of content stored on your Blogger blog and would like to move it to WordPress somehow? Follow this 6-step guide and migrate your Blogger to WordPress in a matter of minutes. 
1 . Register an account or sign in by providing your email and password. You are also given an opportunity to log in via Facebook or Google+.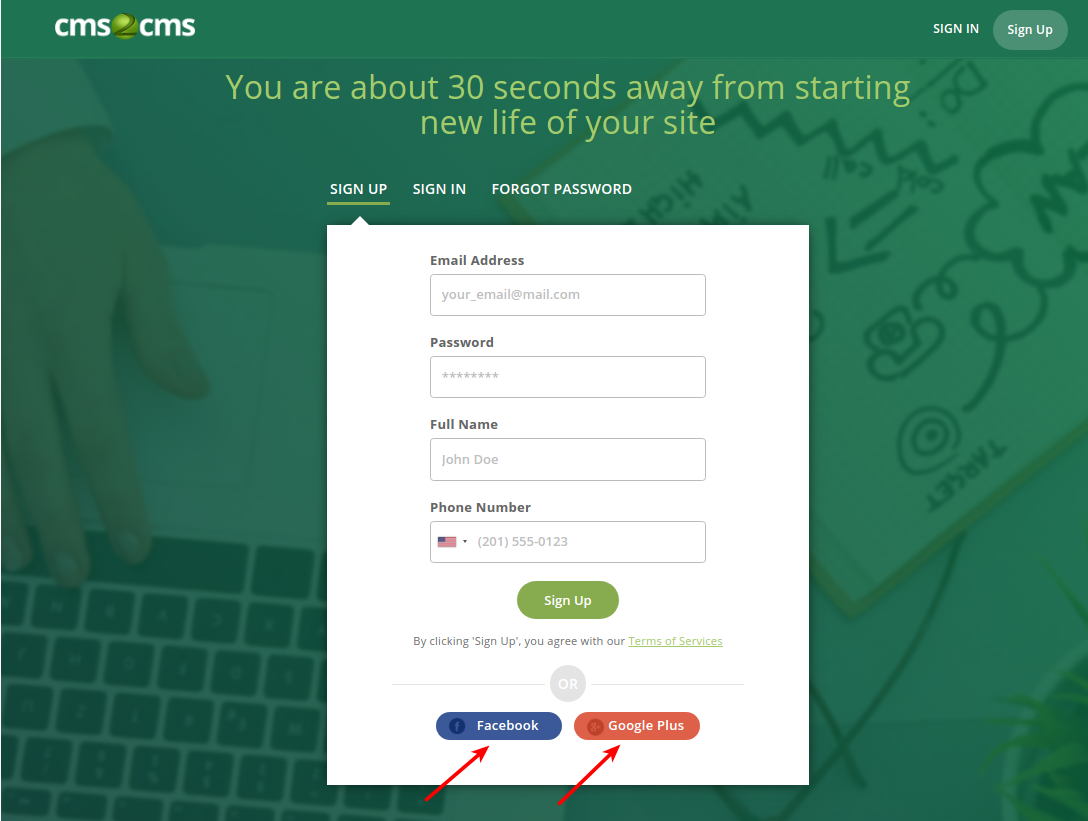 2. Provide your Blogger website details and press "Verify Connection" button.
3. Choose WordPress as your New CMS platform and provide its URL. Now, you have to establish the connection between your websites. To do this, make use of CMS2CMS Plugin Connector. Download the plugin and follow some instructions.
4. By clicking it, you will be redirected to the WordPress Plugin Repository, where you can download the connector plugin to your local computer. It will be saved as "cms2cms-connector.zip".
Upload it to your WordPress website and go to the Admin Dashboard.
Find the Plugins section and activate the CMS2CMS Connector Plugin.
Click on the plugin and log into CMS2CMS.
5. Then, to preview the results of your Blogger to WordPress migration, launch the Free Demo Migration. Choose the items you want to convert:
Taxonomy (tags);

Content (pages, posts, content creation date, images);

Comments.
Decide on the following additional options:
Metadata migration (meta description, meta headings, and meta keywords);

Images included in the content body; 301 Redirects from old URLs to new URLs in order to preserve SEO rankings.
6. If you are satisfied with your Demo results, see how much the migration will cost, and proceed with the Complete Migration.
Congratulations! Now you are an owner of a WordPress-based website!
Summing up the needs
In the end, which one Blogger or WordPress? If you're about to create a type of diary-like blog (share bright events in your life with others) and don't care much about the functionality, perhaps Blogger is what you need? WordPress suits that category too, but with more people coming to your blog eventually due to this platform's universal use.
Has this info influenced on choosing between Blogger or WordPress? If yes, try Free Demo migration to get your data safely moved to WordPress.
The following two tabs change content below.
Valentyna Tysiachna
Valia is a vivid CMS platforms observer, that's why she found her dream job of marketer manager at CMS2CMS migration service. Keen English learner, music lover and passionate content writer, she enjoys constant improvement and is open to challenges.
Latest posts by Valentyna Tysiachna (see all)