In the fast-evolving era of web technologies, forums continue to be the backbone of online interactivity. If you are in the middle of deciding between myBB and bbPress – keep reading. In this article, we will try to choose between these platforms and point out some particular specifics on why people gravitate towards one forum software or the other. Furthermore, we will cover all the tips and tricks of successful myBB to bbPress migration, providing a guide with easy-to-follow steps.
Despite the fact that forums primary goals are to offer its users an opportunity to stay in touch and to have an online interaction on certain topics, the routes they both take to achieve that mission is quite different.
MyBB vs bbPress
While ago treated as an outsider comparing to other forum boards available on the Internet, myBB is gaining more and more popularity over the last decades. It has proven itself as a powerful and fully-featured solution due to its main beneficial sides:
Simplicity
The convenient administration control panel
Powerful plugin system
To the contrary, myBB lacks some qualities (like profit benefit features and better spam management traits) which would certainly make the software using much more beneficial.
Alternatively, bbPress has always been miles ahead than myBB forum board in terms of its ability to manage a site and a forum within one dashboard. It was specifically designed by WordPress developers as a lightweight system with as few features as possible. Where bbPress really shines are:
integration with WordPress (if you are familiar with the WordPress backend, you won't have to learn how this new application works)
user-friendly (doesn't expect deep programming skills to master and operate it properly)
lots of free plugins (allow to add a number of new characteristics to your forum and let it scale and grow as required)
strong security features (prevent the platform from being invaded by hordes of spammers).
Thinking of getting to bbPress?
Explore how to save time and effort with CMS2CMS myBB to bbPress plugin which will help you to make your migration process as seamless and error-free as possible. This online tool doesn't expect any strong programming skills to operate it and, what is more, minimizes your personal involvement in the conversion procedure. The service has simplified the whole migration process to a few straightforward steps which are no more complicated than filling out a few text field on a form.
Left with a strong desire to switch to bbPress – go on reading an instruction provided below:
Step 1
Initiate the migration process by downloading CMS2CMS myBB to bbPress Converter from WordPress Plugin Directory.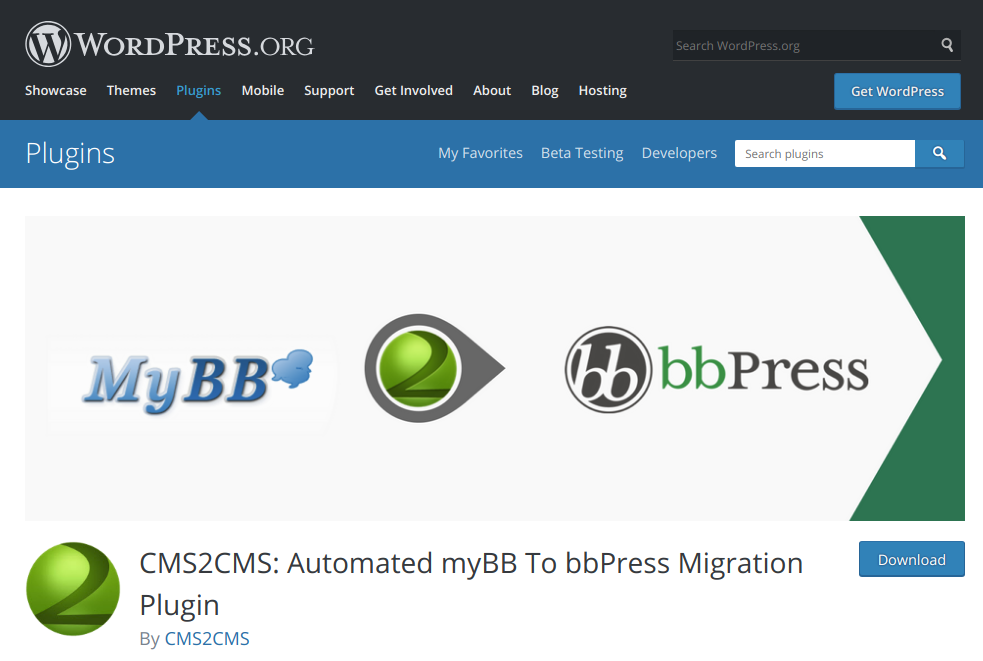 Download the plugin to your local PC;
Extract the folder from the zip file;
Install this plugin to your WordPress site by navigating this way: Admin Panel -> Plugins -> Add New -> Upload Plugin.
Step 2
Activate the plugin. Click on myBB to bbPress Plugin at Admin Panel. Register a CMS2CMS account or sign in to the existing one.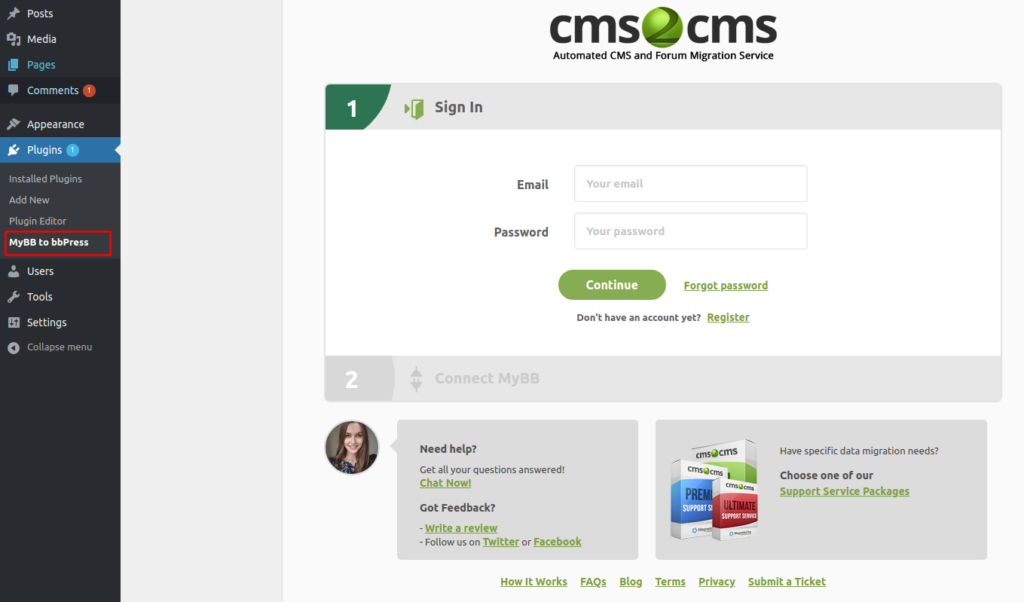 Step 3
Provide your MyBB URL. Connect to your website via Download Bridge and upload it to your MyBB site root folder. For more information, please click here. Press 'Verify Connection'. After that, you'll be redirected to the CMS2CMS website to proceed with your migration.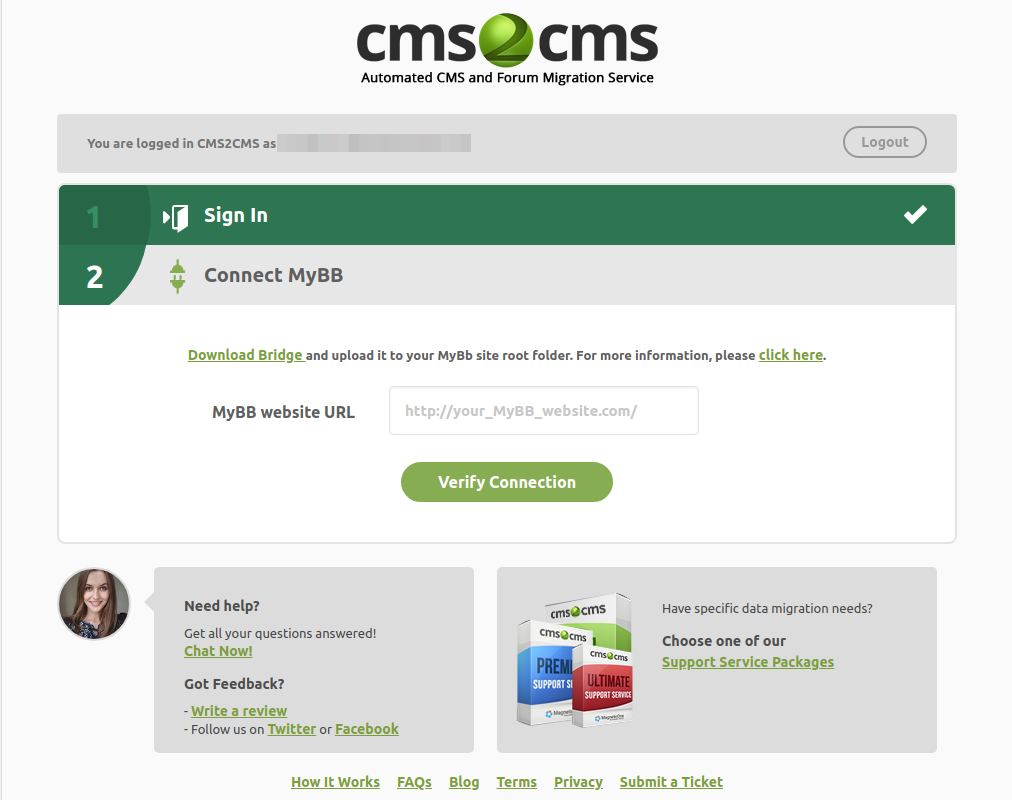 Step 4
Now it's time to select what data you are up to transfer to the new bbPress forum board. Please select the Entities you wish to migrate.
Step 5
Check out your Demo Migration results. If you are absolutely satisfied with them, click the 'Complete Migration' button.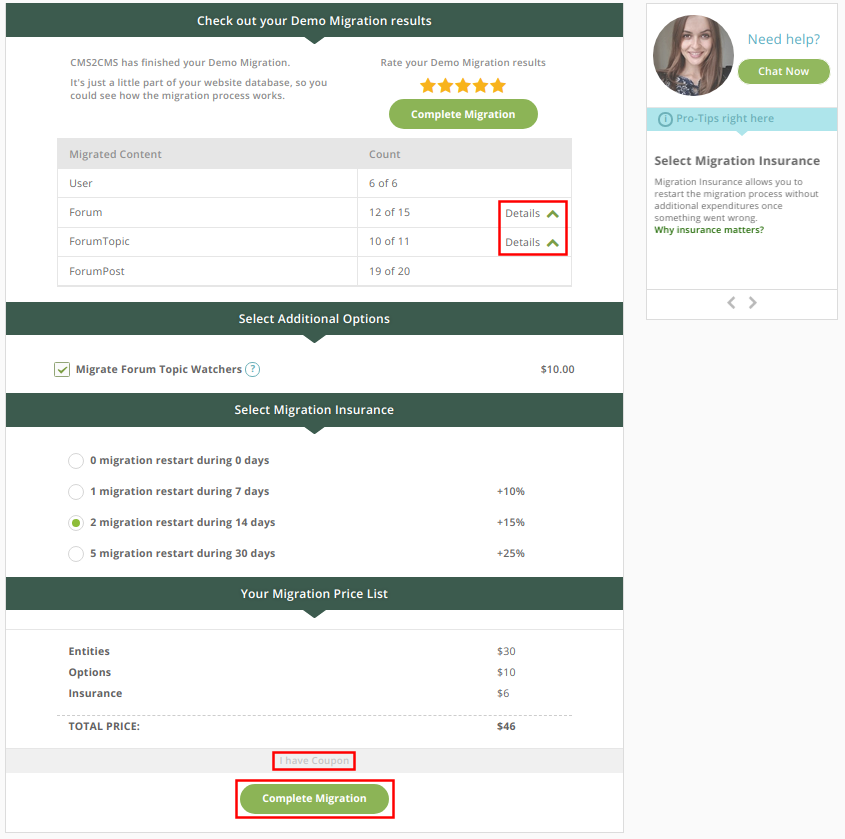 That's it!
All of your MyBB forum data is imported to bbPress.
Don't wait any longer, take this chance and move from myBB to bbPress right now. CMS2CMS automated migration service will perform your switching accurately and incredibly fast.
The following two tabs change content below.
Valentyna Tysiachna
Valia is a vivid CMS platforms observer, that's why she found her dream job of marketer manager at CMS2CMS migration service. Keen English learner, music lover and passionate content writer, she enjoys constant improvement and is open to challenges.
Latest posts by Valentyna Tysiachna (see all)