Frequently, the choice of this or that CMS software package may bring you into a stalemate. There are dime a dozen of website builders that are currently floating around the Web and providing everything needed to make your website management simple and engaging. Needless to say that you should think twice before choosing your future software – making the wrong decision can have a negative impact on your web project for years and cost you a fortune and time to rectify.
In order to narrow down the search for your most-fitted CMS solutions, this post aims to compare the main features of the two popular platforms – Kentico and WordPress – and help you to make the right choice between them.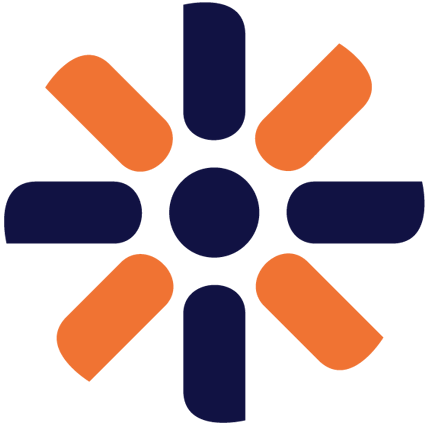 Kentico CMS is a very powerful and feature-rich web content management system which allows creating corporate and personal websites with great ease. It is ASP.NET based CMS and is widely used by corporate giants in 85 countries of the world to settle their web projects on. The platform bills itself as the easiest-to-use platform for non-technical users, while still offers much scope for flexible and rapid site development. Shipped with dozens of modules which aim to deliver a phenomenal amount of functionality for a low license cost, the platform is capable enough to satisfy the most advanced developers. Kentico has its limits though, which are as follows:
lack of community – the platform has a small community and therefore forums are less reliable for those who need help.
price – the platform costs money – $1000/site (and that has no source code, no web farm support, no staging and only 10 products for eСommerce site meaning the $1500/site version is required).
poor development environment – localhost version has a 30-day timeout, ecommerce version limited to 10 products etc.
3rd party components – this becomes a drawback for those users who are unsatisfied with the components that Kentico has created.
Pursuing a path of simplicity in everything from site administration to content management – WordPress has become an award-winning piece of software in terms of ease-of-use and multifunctionality at one time. It has been specifically designed with the end-users in mind – that made it a good option for non-techie and experts alike. Speaking about WordPress functionality, it is packed with so-called basic built-in management options as well as free and premium plugins that allow extending a web project as huge and complex as needed. One more speak-for-itself advantage of the platform is its strong SEO capabilities even without special plugins installed. The security features of the software prevent websites powered by WordPress of getting hacked. In a nutshell, the platform is often treated as the one-size-fits-all solution that has all the necessary tools and even more to drive success in one place.
With all that in mind, Kentico is strongly recommended for more complex and robust websites, while WordPress is nearly a perfect fit when clients need a professionally-looking website get up and run in no time.
Kentico to WordPress. Step-By-Step Guide
In case you find Kentico not right-your-size CMS option – why not give a try to WordPress? With CMS2CMS automated migration service you'll be able to transfer all the content across above-mentioned platforms accurately and flawlessly. Due to the automated process, a full-scale migration is quite fast and takes less than half an hour to perform it with no human involvement at all. A step-by-step guideline for migration from Kentico to WordPress is given below for you to see how simple it is:
1. To set the migration process in motion, the first thing you have to do is to create a new CMS2CMS account or log in via Social Networks.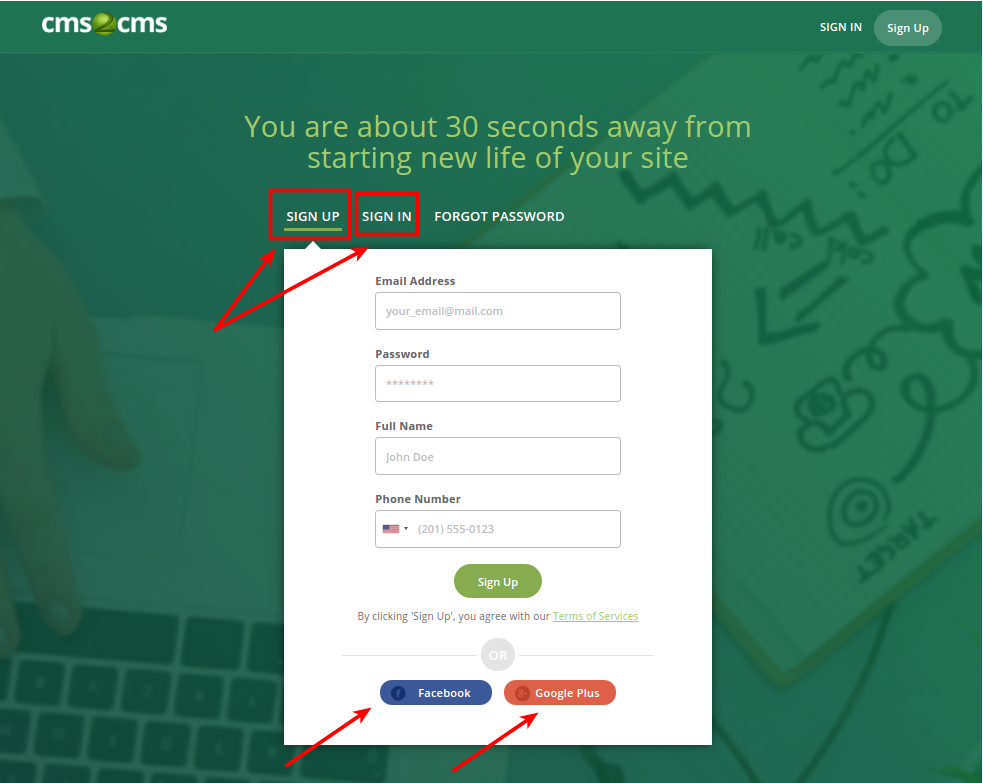 2. Indicate the details of your Existing website. Choose Kentico CMS as your current platform and type its URL. When ready, press "Verify Connection" Button.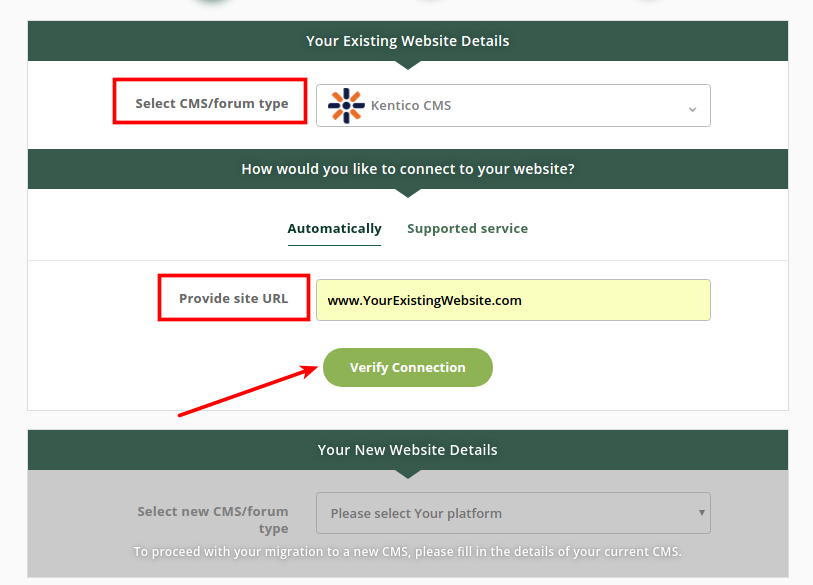 3. On this step, you are to specify your New WordPress website details. Choose WordPress as a CMS platform, type its URL and set up the connection between your websites. To do this follow the next instruction.
Click the "Download Connector Plugin" button and you will be redirected to the WordPress Plugin Repository.
Here you can download the connector plugin to your local computer. It will be saved as "cms2cms-connector.zip".

Upload it to your WordPress website and go to the Admin Dashboard.
Find the Plugins section and activate the CMS2CMS Connector Plugin.

Click on the plugin and log into CMS2CMS.
4. Now, when the connection between your websites is established, you have the opportunity to run a Free Demo migration to move some content from Kentico to WordPress. Choose the entities and additional options if needed and press "Start Free Demo".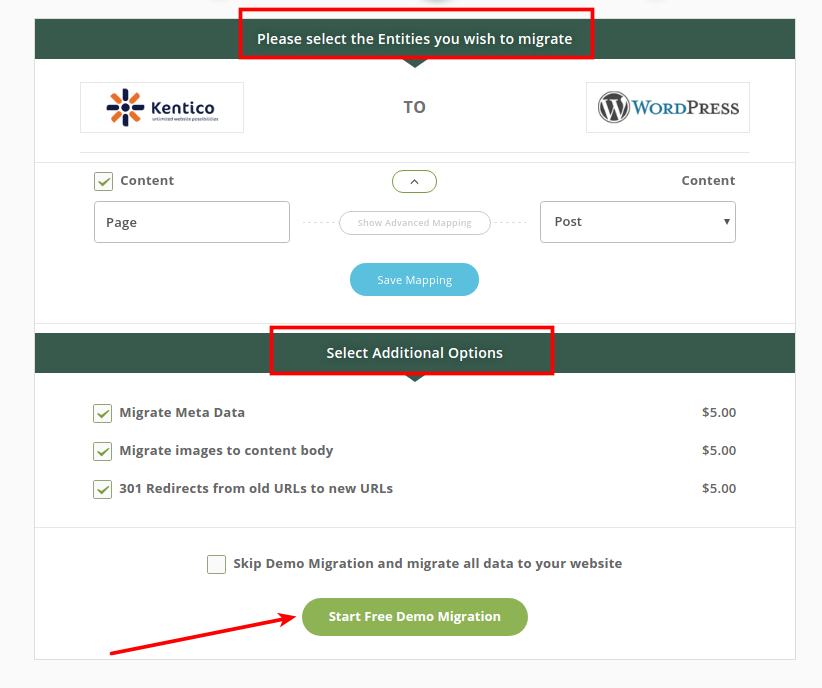 5. If you are completely satisfied with the new look of your website, you can start Full migration to WordPress. Select the additional options needed, choose the migration insurance, check how much it will cost and get the migration going, by clicking the "Complete Migration" button.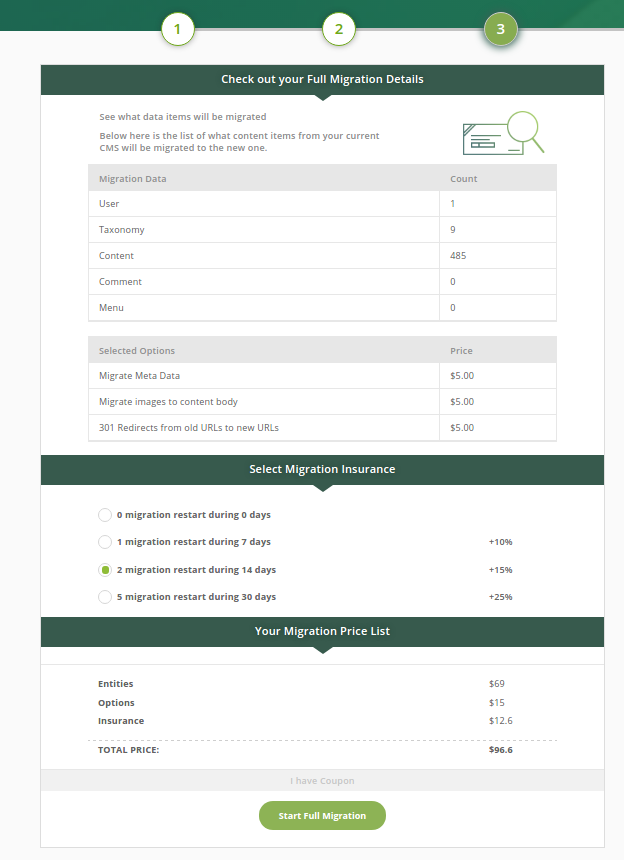 6. Now it's time to check the results of migration and start enjoying your new web project powered by universal WordPress.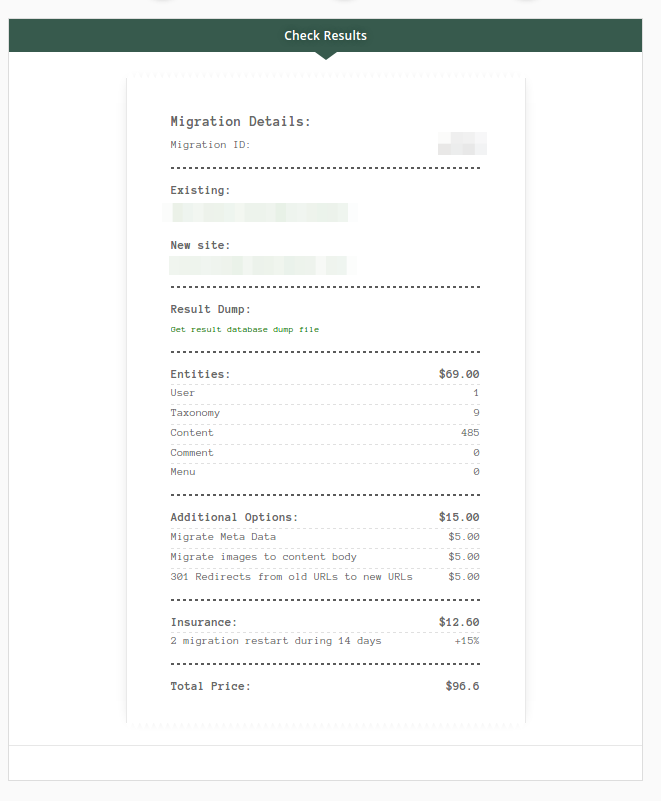 That's it! Could you imagine that it would be so easy? Try CMS2CMS, website and forum migration service, and move your Kentico website to WordPress in fast, safe and accurate manner!
The following two tabs change content below.
Valentyna Tysiachna
Valia is a vivid CMS platforms observer, that's why she found her dream job of marketer manager at CMS2CMS migration service. Keen English learner, music lover and passionate content writer, she enjoys constant improvement and is open to challenges.
Latest posts by Valentyna Tysiachna (see all)