Perhaps, having started running your blog once, you won't stop ever. It's like a blog addiction, you can't stop sharing your thoughts and ideas any more. However, when you run a weblog, whether it's a personal diary or business project, it's not enough to have something you'll write about. One more thing that denotes the success of your blog is the blogging publishing platform itself. The functional side, writing, posting and editing options are the main components of of your web page mover.
Passing on to the root of this article, you want to know the reasons why it's worth to transfer Tumblr to WordPress. Everything runs into the one – your blog expansion and development. So, what you can count on with Tumblr and WordPress?
Moment of Tumblr
If you are reading this post, it's more likely that you're not so happy with your Tumblr blog, aren't you? Perhaps, the things are going right this way. So, what's Tumblr offer? It's easy to create an account there, you have an opportunity to post pictures (in most cases) and it's easy to have lots of followers. And you should realize that you are not the owner of your blog – there are options to customize your web page.
Epoch of WordPress
Considering WordPress as your blogging platform, you have an option to create a full value website or kind of extended blog. It's possible to enter the arena of best-websites race. You may take the higher position in SERPs and get more traffic. Moving on to the design solution, WordPress opens the great bulk of free designer developed themes  and plugins for your blog or website.
As a rule, the only thing that stops bloggers to transfer Tumblr to WordPress is the tedious process of migration, possibility of data and ranking losses. But what if there is a tool that moves data automatedly with no efforts, losses and nerves? Sounds it's no go? Let's check up what CMS2CMS automated migration tool offers. As it's said nothing ventured, nothing gained!
How to Perform Tumblr to WordPress Migration – Watch Live!
Tumblr to WordPress Migration at the Drop of a Hat
Step 1.  Registration
To make the first step to transfer your Tumblr blog to WordPress, you should go to cms2cms.com and register an account or login via your Google+ or Facebook page.
Step 2. Specify Source and Target Website Data
Now, provide your Tumblr and WordPress URL as the current and new site correspondingly. And select CMS platforms types – Tumblr and WordPress. Then, type your Tumblr login and password.
If you haven't installed your WordPress site yet, but want to try the migration anyway, just check the box "I don't have a new website…" and choose the CMS platform you want to migrate to. Then, CMS2CMS will migrate all your content to our tested website and you'll be able to evaluate the migration process and the look of your blog on the new publishing tool.
Step 3. Connect your Websites
Next, you have to download the connection bridge to your computer by clicking the respective button. The bridge file will be saved as 'cms2cms.zip'.
 Then, extract it to some folder and remember its location.
Now, you should connect to your new WordPress site via FTP client software (WinSCP, FileFTP, FileZilla, CuteFTP, etc).
Then you have to provide your FTP host, username and password that you can find out from your hosting provider.
After you have connected to your site via FTP, copy 'cms2cms' folder that you've extracted from the zip file and insert it to the root folder of your new WordPress site. The root folder is the top one with the index.php file.
Step 4. Choose the Additional Options for Migration
After that go back to your wizard in the browser window and press "verify the connection bridge" button. Now, you may choose the additional options for your Tumblr to WordPress migration:
check the box "Migrate Media" if you want to transfer your post pictures.

choose the option "Make the URLs SEO Friendly" if you want to make your internal links appropriate to the rules of your WordPress site.

if you want to erase the tested content on your WordPress site press the corresponding button.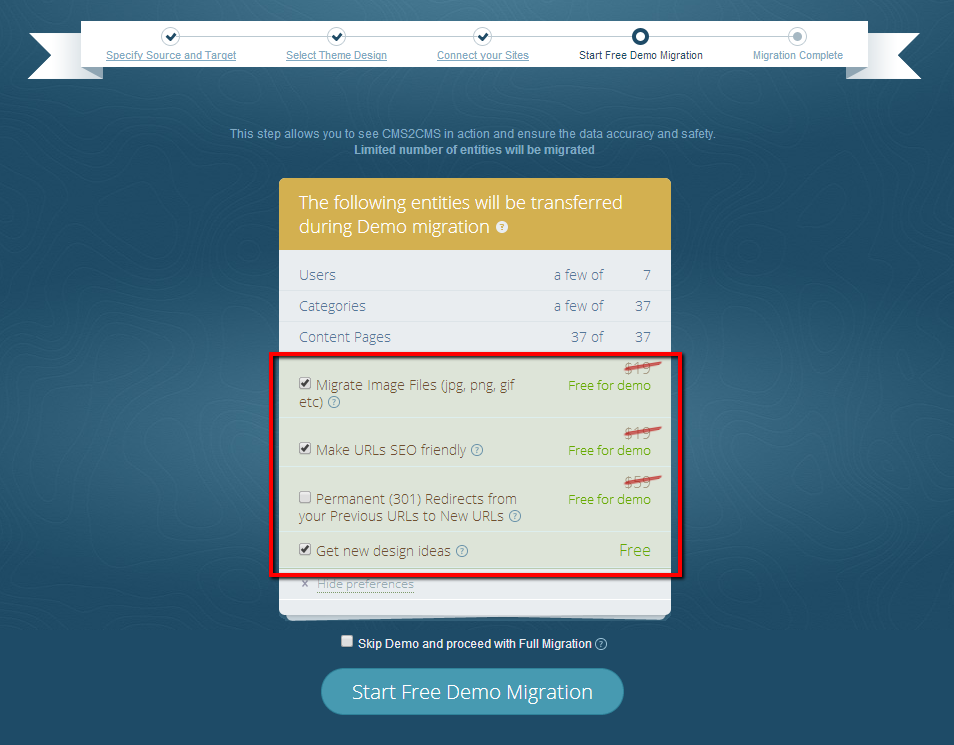 Step 5. Migration Process 
And now, you may start your free Demo Migration of 10 pages with all related entities. In a few moments, you will receive the message that your blog migration complete with the link to your new WordPress website. You will evaluate the migration result, migrated entities. After that, you may start full Tumblr to WordPress migration. And congratulations! You are the new WordPress site owner!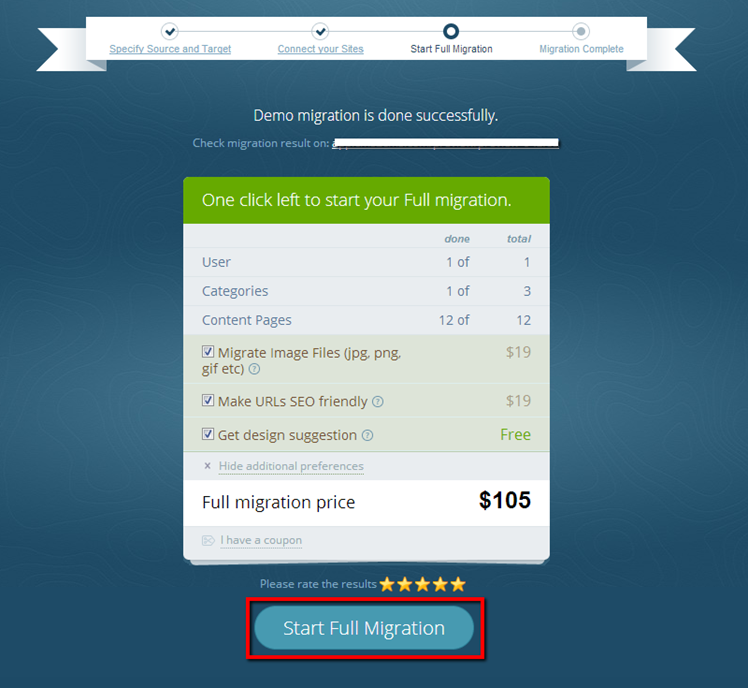 Supported Content Items of Your Tumblr to WordPress Conversion
So, take this radical action to make your blog even more improved and completed, set up your free Demo Migration and in a minutes you'll enjoy your new WordPress blog.
The following two tabs change content below.
Valentyna Tysiachna
Valia is a vivid CMS platforms observer, that's why she found her dream job of marketer manager at CMS2CMS migration service. Keen English learner, music lover and passionate content writer, she enjoys constant improvement and is open to challenges.
Latest posts by Valentyna Tysiachna (see all)