Providing all the necessary tools to create eye-catching websites and make those websites run successfully, Ektron CMS has earned the love and loyalty of thousands of users all over the globe. If you're using this platform, you've probably have heard the news about Windows Server 2008. Or didn't you?
… more about Ektron CMS
Ektron is a privately held software company that provides web content management and social software. Ektron's primary product is CMS400.NET, which is built on the Microsoft .NET Framework. Version 8.5 of CMS400.NET was released back in 2011.
On January 27, 2015, news broke that Episerver and Ektron, are going to merge into one company with Episerver being the dominant brand. As we can see it now, this is exactly what happened – a former official website of Ektron redirects you to Episerver landing page with no mention of its partner. It's obvious that this move will lead the certain consequences. So, what do we need to expect?
The B̶r̶i̶g̶h̶t̶  Future of Ektron CMS
Since Episerver is going to be (and already is) the dominant part of the company, it's expected that there will be no new features added to the Ektron brand. As it was already announced, the end of support for Windows 2008 and 2008 R2 is coming up in early 2020. That means in case the operating system is running on Windows Server 2008 it will stop receiving support, including critical security patches.
As the older versions of Ektron CMS are running your website on Windows Server 2008, it can affect you as a product customer.
Episerver Developer Community says:
"Ektron customers who are running older versions or perhaps have updated the CMS without simultaneously updating the server operating system to newer versions, similar concerns will apply." 
The following Ektron versions will be directly impacted:
Ektron CMS 8.0.x

Ektron CMS 8.5

Ektron CMS 8.6
Fortunately, that's not a deadlock.
What Should I Do Next?
The main options recommended by James Stout at Episerver Developer community are next:
Ektron CMS 9.3, released on June 26, 2018 (the latest one at the moment) is the only Ektron version supported on the latest version of Windows (2016).
Basically, it means your software will no longer receive security patches and updates. And that is (obviously) not okay.
The Alternative Option
The strategy is an important thing for every project. You need to understand whether it will continue to be able to fulfil your needs and help you meet these goals. For organizations that have their site on Ektron a plan for the post-Ektron future is needed now.
The other option you need to consider is a migration to other CMS like WordPress, Joomla, Drupal and others. This solution can be a robust move for your web project. It can help you to establish a new approach for creating and publishing the content, managing your online activity and getting regular updates.
What Do I Need to Do If I Want to Go with WordPress?
In case you made a choice to leave Ektron in favor of WordPress – a number of critical issues should be considered about the content. Needless to say that it would be a great mistake to leave the content behind and to rebuild a website from scratch. Wish to avoid such experience?
CMS2CMS automated migration service can more than help to save your time and prevent the risks of data losses. Also, you don't have to be concerned about lengthy website downtime – we guarantee that your source website will be 100% available throughout the switching period. The list of entities you can migrate automatedly is the following:
Ektron to WordPress: Step-by-Step Guide
1. Registration Step
To get started, create an account or login with your Facebook or Google account.
As soon as the migration is completed, you'll have a working WordPress website ready to be used. Now you can enjoy your new WordPress web project and make use of all the possibilities that it provides.
2. Connect to your Ektron website
Indicate your current website (in your case it's Ektron) and website URLs in the following fields. Press 'Verify Connection'
3. Specify your WordPress website details
Now it's time to connect to your WordPress website. To allow data interaction between your current website and WordPress, you need to provide your WordPress admin login and password to install the Connection Plugin automatically.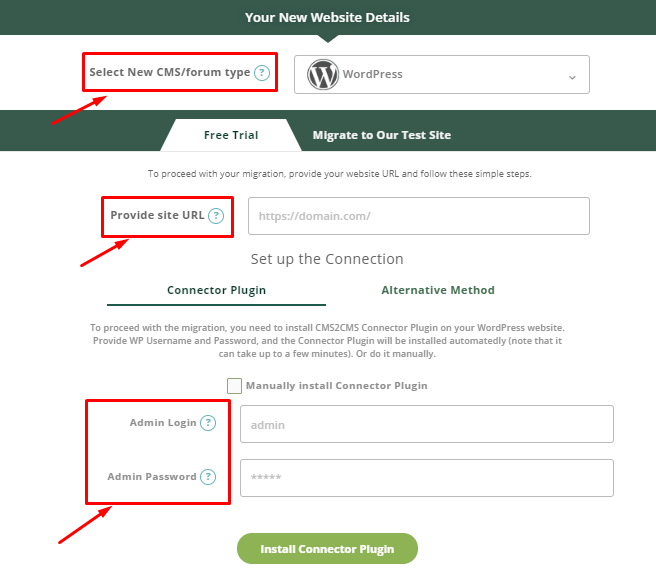 4. Select Entities and Options and Start Free Demo Migration
Before starting the migration, CMS2CMS service offers you to preview the future look of your website and run a Free Demo migration. At this step, you can specify the entities and choose the additional options.
5. Full Migration Step
In case you are satisfied with the Demo Migration results, then you can set up Full Migration and enjoy the results within minutes. You can even order Design Customization!
Wrapping Up
It's your decision whether to stay with Ektron CMS or not. This could be a good starting point for moving forward and changing the platform. In case you made a choice to leave Ektron in favor of WordPress or other CMS, CMS2CMS service is happy to help you to catch this excellent opportunity and move website content fast and accurately.
The following two tabs change content below.
Yuliya Tsvihun
Yuliya Tsvihun is an Internet Marketer at
CMS2CMS
, the automated website and forum migration service. She enjoys discovering website improvement solutions and travel destinations.
Latest posts by Yuliya Tsvihun (see all)