DNN (DotNetNuke) and WordPress are two of the largest CMSs at the modern web market which allow to build your web presence and administrate your content. While WordPress powers a colossal 45.97% of the top 10,000 sites. DNN boasts a more modest 0.55%, although is still recognized as one of the top 10 CMSs in the world. Go on reading this post aiming to shed some light on when one might be more appropriate than the other.
Platform
DotNetNuke is written in ASP.NET, that means if your infrastructure is already .NET based this can make hosting and integration easier. WordPress, alternatively, is written in PHP based on MySQL, which is a very recent platform for content management systems being preferred by most of the web designers and developers these days.
Ownership and community
Owned and maintained by DNN Corp, DNN software has a closed development process. Paid versions of the platform give its users access to support and various other features. WordPress, alternatively, is an open source application, that means anyone can contribute bug fixes and new features.
Ease of Use
DotNetNuke is considered to be clunkier and less easy to be used than WordPress. Most of the users claim that they find WordPress more comfortable to be used. It contains an intuitive interface for the administrators. Besides, it also includes an uncluttered bar for admin when it comes to seeing a public website.
Extensibility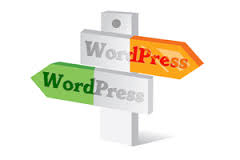 Both systems provide its users with a repository of plugins. To be specific – WordPress has an impressive 31,000+ plugins that can be downloaded freely at its official website, when DNN can boast just over 1,000 modules which come at certain price.
Usage
The difference in market share (that was mentioned at the very beginning of the post) might indicate that the systems have very different uses – DNN is preferred for medium sized and enterprise eCommerce, while WordPress is preferable for bloggers, artists, and smaller, local businesses that desire a respectable web presence.
Summary
There is no shadow of a doubt that DNN and WordPress are both great systems if used in the right context. Using either of the systems in an inappropriate situation can lead to frustrated users and developers. So, take your time to examine all the ins and outs of the both software and choose the one that fits your needs perfectly.
Left with a strong desire to switch from DNN Software to WordPress? Get going with CMS2CMS plugin and start using new possibilities to make your web project even more successful than ever before. Remember that there's a chance to run free demo migration and preview the final result first 😉 

The following two tabs change content below.
Valentyna Tysiachna
Valia is a vivid CMS platforms observer, that's why she found her dream job of marketer manager at CMS2CMS migration service. Keen English learner, music lover and passionate content writer, she enjoys constant improvement and is open to challenges.
Latest posts by Valentyna Tysiachna (see all)