DataLife Engine CMS is in the top 15 of the most popular content management systems in the CIS countries. DLE is used by 0.4% of all the web according to W3techs statistics and powers around 50,000 websites as of 2019.  However, WordPress is getting even more popular and completely dominates other markets.
DLE and WordPress Highlights
Both DataLife Engine and WordPress are advanced and efficient content management systems.
🔶 DataLife Engine is a commercial CMS, which is developed with AJAX to lower traffic consumption. If you want to customize a template there are no restrictions. You can also integrate any design for a website powered by DataLife Engine. Along with that, this multi-user CMS allows blogs or news website creation.
🔶 WordPress is a free, open-source solution, which allows creating as many web projects as you want. It's free, easy to install and, what's more, WP works out of the box. This platform has the greatest number of customizing opportunities thanks to hundreds of thousands of plugin, widgets and themes.
DataLife Engine to WordPress Migration: How to Make It Easy?
You may think about how to make your website completely different and much more improved. For instance, you may try a new CMS platform or get to know the revolutionary option of your current one, that will tremendously switch your website management.
If you're interested in migrating your Datalife Engine website to WordPress, CMS2CMS service can help you to transfer the content items smoothly and accurate. The whole procedure is totally automated and takes up from 15 minutes, depending on the size of the website. During the switching process itself you can choose the following entities to add to the migration list: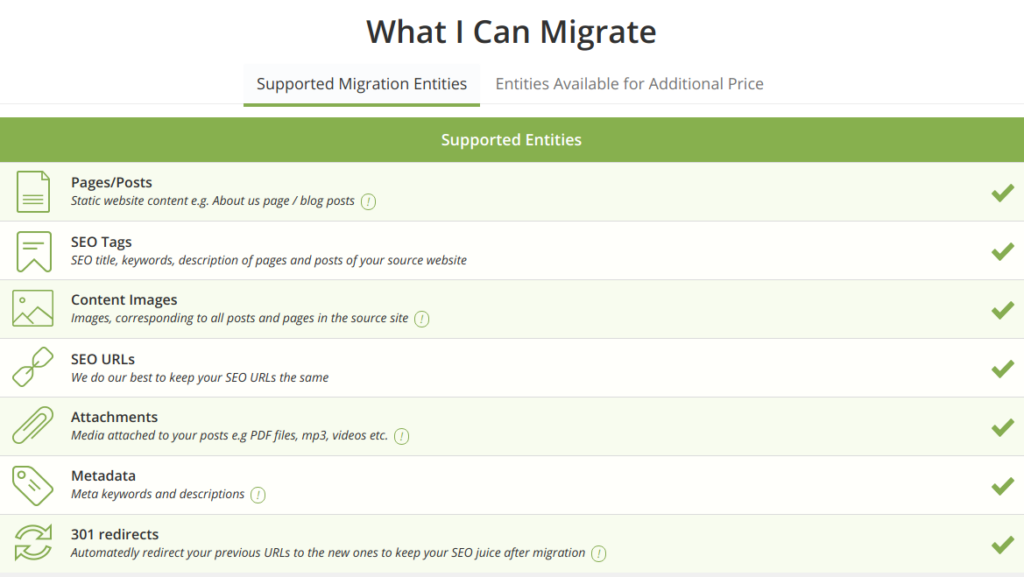 Ready to see what's next? Here is the detailed 7-step instruction on how to migrate a website from DataLife Engine to WordPress to satisfy your interest.
The Migration Guide
Step 1
Sign in using your Google or Facebook account or create a new one at CMS2CMS Dashboard.
Step 2
Choose DLE from the list of suggested platforms and provide its URL. Please verify the connection.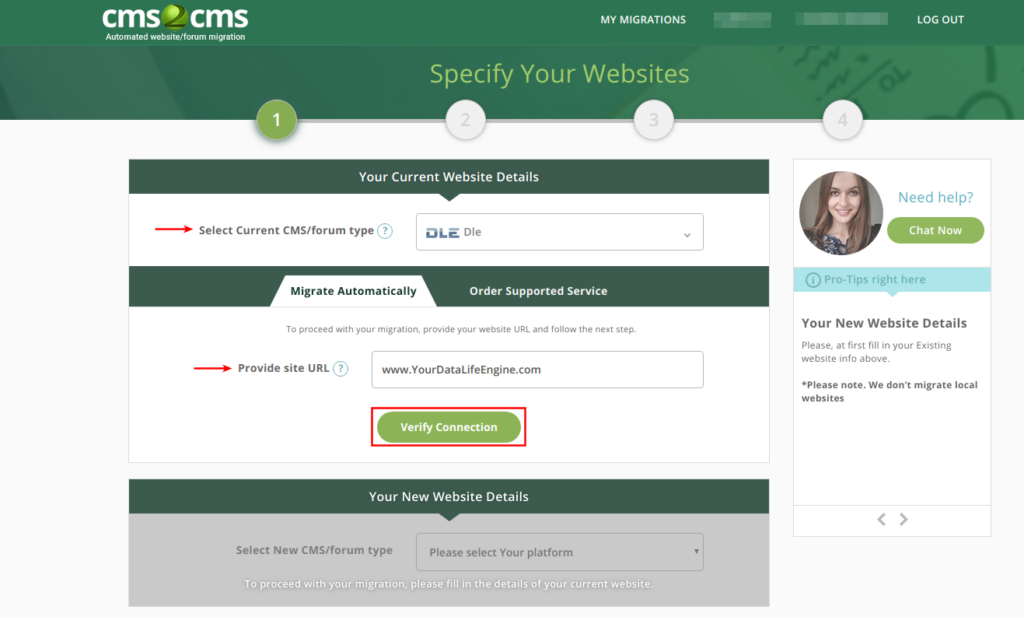 Step 3
Provide your new WordPress website details, admin login and password to install the connector plugin automatically. In case you don't have your WordPress installed yet, you can try the migration to CMS2CMS Test Site.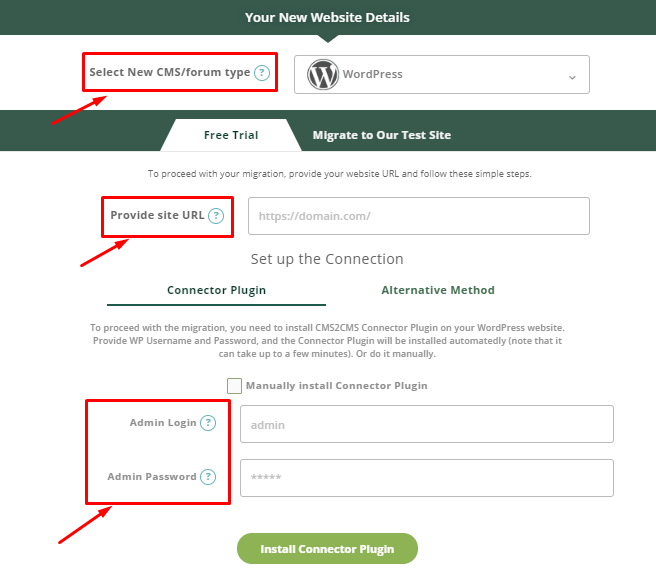 Step 4
After this step, you will be redirected to cms2cms.com. Now you have to choose the migration options.
Before migrating DLE to WordPress, CMS2CMS service offers you to preview the future look of your website and run Free Demo migration. Choose the Entities and needed additional options you are going to migrate. In case you want to migrate all your data without Demo, you may skip this step.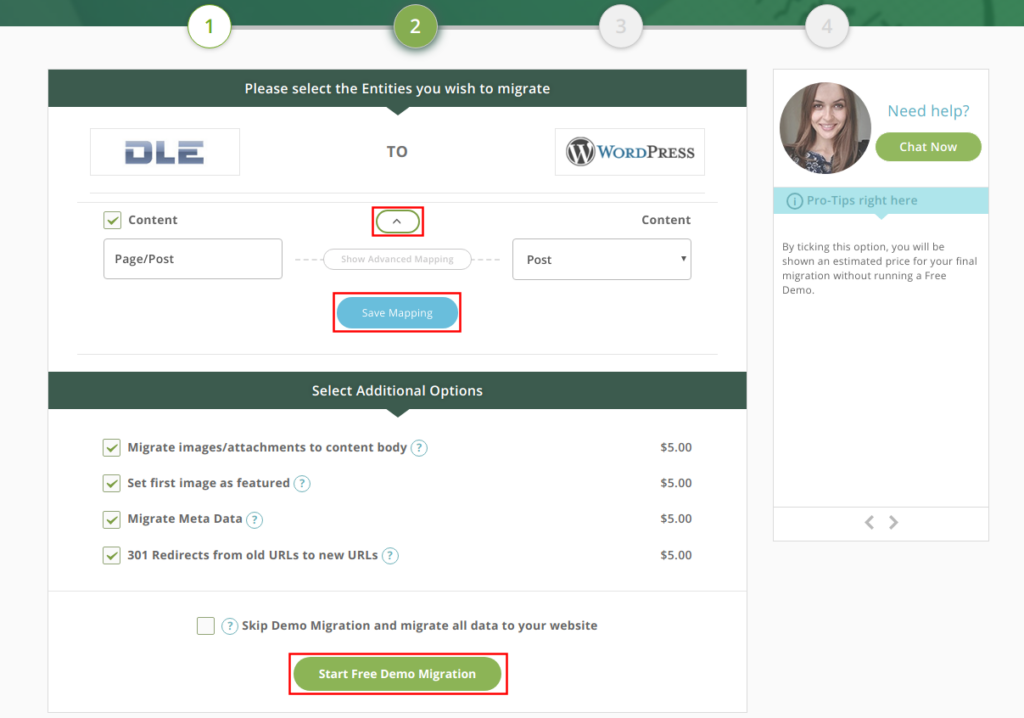 Step 5
Press the button 'Details' and you will see how your migrated posts look like on the new CMS platform. If you are satisfied with the result, you may complete the migration.
Do you have a discount coupon? To get the lower price just use 'I have a coupon' option for that.
Run Full Website Conversion
And finally, you can start your Full DataLife Engine to WordPress Migration.  As soon as the transfer is complete, you will receive an email notification and will be able to check out your new WordPress website.
That's it!
Now you are a happy owner of WordPress-powered website with all your DataLife Engine content on it. Check the results!
As you have already figured out, it is pretty easy to set up the DataLife Engine to WordPress migration. Agree?
If yes, let the automatic technology save you from the migration hassle – move your website with CMS2CMS service! 😏
The following two tabs change content below.
Yuliya Tsvihun
Yuliya Tsvihun is an Internet Marketer at
CMS2CMS
, the automated website and forum migration service. She enjoys discovering website improvement solutions and travel destinations.
Latest posts by Yuliya Tsvihun (see all)