If you run a blog site or you are about to launch one, then you've definitely heard about WordPress and Blogger platforms. These two CMSes are extremely popular. In fact, Blogger is a wonderful tool to set up a blog in a fast and free of charge way. WordPress, on the other hand, requires some coding skills and not significant outgoes to start a blog, but it also provides its users with the infinite functionality and possibilities of customization. If you eventually realize that with WordPress CMS you will gain full control of your blog and more advantages after all, then it is time to migrate your blog site from Blogger to WordPress.  
In this article, you will not only find out the major reasons of Blogger to WordPress migration, but also how to perform the migration process itself.
Main Reasons to Migrate Blogger to WordPress
While speaking about the design, Blogger is miles behind of WordPress with its vast range of themes and unlimited customization opportunities. On the WP platform, it is possible to design a website from scratch and give it any form you want.
Despite the fact that Blogger is managed by Google itself, this CMS is less SEO friendly than WordPress. This is because Blogger utilizes one extended and filled with the HTML page. The WP CMS is considered to be the best platform for SEO which means better ranking in search results, bigger traffic and finally extra revenue.
Running your blog site on Blogger means letting Google host it. And if you have your Google account closed, your website will be closed up as well. Thus, with Blogger CMS you don't have an absolute control over your blog site. WordPress is open source which means that you can move your site from one hosting to another anytime you want. Thus, with WP CMS you have more control over your site and content.
Due to the fact that WordPress is one of the most popular CMS platforms all over the world, its community is tremendous. Moreover, because of distinctive WordPress events such as WordCamp, or smaller meetups, its community is growing constantly. Blogger can't compete with WP in community-related issues.
How-To: Blogger to WordPress Migration
There are a few ways to move your blog site from Blogger to WordPress. But if you want the migration process to be fast, accurate and without any data loss, then CMS2CMS automated migration service is the right tool to use. With this service, converting a Blogger website will be a flawless procedure.
Here is a step-by-step instruction on how to perform the migration. 
1 . Register an account or sign in by providing your email and password. You are also given an opportunity to log in via Facebook or Google+;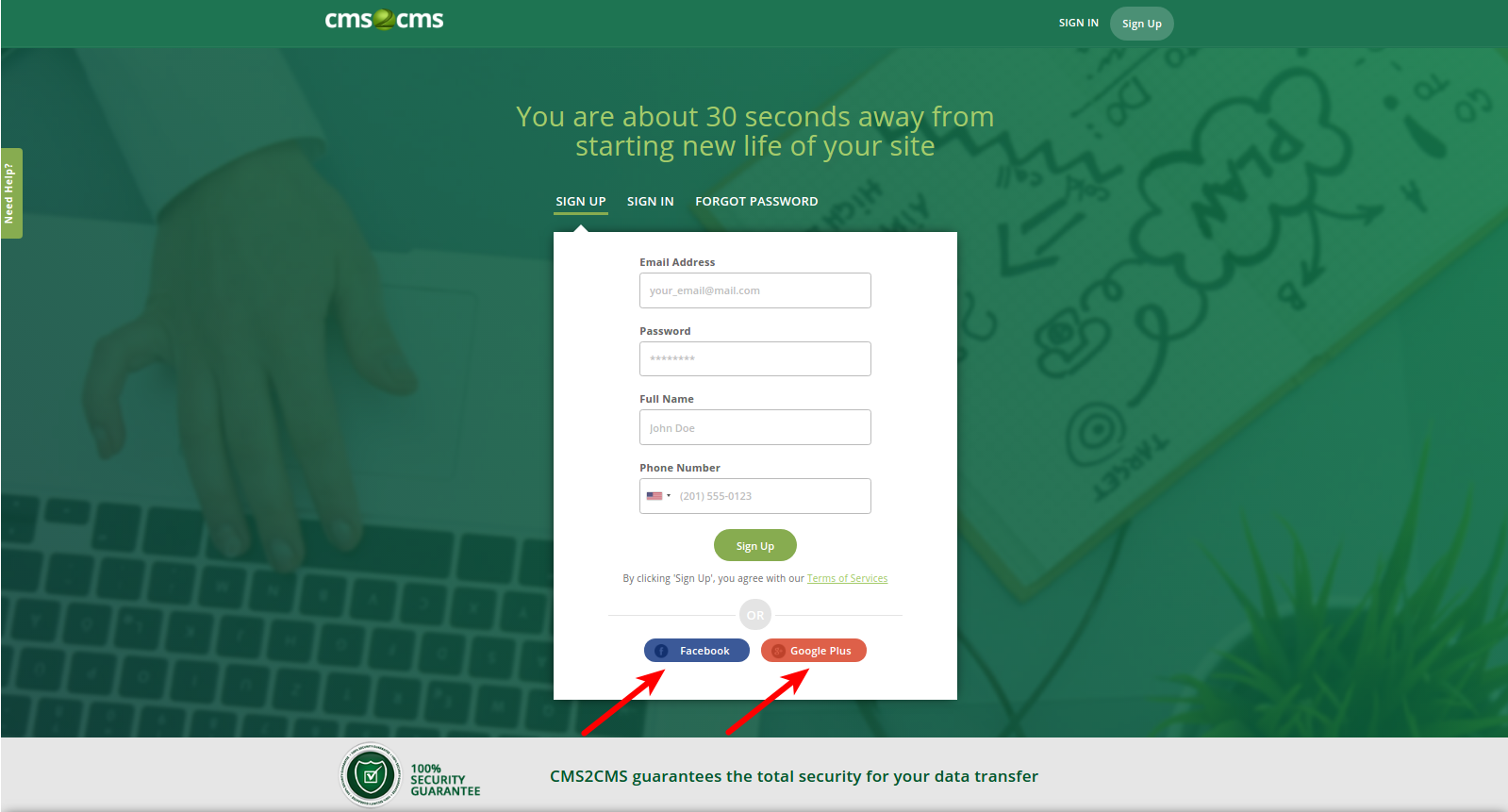 2. Provide your Blogger website details and press "Verify Connection" button.
3. Choose WordPress as your New CMS platform and provide its URL.
4. Now, you have to establish the connection between your websites. To do this, make use of CMS2CMS Plugin Connector. Download the plugin and follow some instructions. By clicking it, you will be redirected to the WordPress Plugin Repository, where you can download the connector plugin to your local computer. It will be saved as "cms2cms-connector.zip".

Upload it to your WordPress website and go to the Admin Dashboard.

Find the Plugins section and activate the CMS2CMS Connector Plugin.

Click on the plugin and log into CMS2CMS.

5. Then, to complete the migration, you will be redirected to CMS2CMS website. Here you need to choose the items you want to convert from Blogger to WordPress:
Taxonomy (tags);

Content (pages, posts, content creation date, images);

Comments.
Decide on the following additional options:
Metadata migration (meta description, meta headings, and meta keywords);

Images included in the content body; 301 Redirects from old URLs to new URLs in order to preserve SEO rankings.
To preview the results, launch the Free Demo Migration;
You may trace the migration process right in the migration wizard.
6. If you are satisfied with your Demo results, see how much the migration will cost, and proceed with the Complete Migration.

Summing Up
Now you know how to make the Blogger to WordPress migration flawless, accurate and effortless. There is no need to hesitate any longer, give a try to CMS2CMS, the automated website and forum migration service and move your blog to the next level.
The following two tabs change content below.
Valentyna Tysiachna
Valia is a vivid CMS platforms observer, that's why she found her dream job of marketer manager at CMS2CMS migration service. Keen English learner, music lover and passionate content writer, she enjoys constant improvement and is open to challenges.
Latest posts by Valentyna Tysiachna (see all)