Are you trying to get something new going on your site to drive more quality traffic? Perhaps an online forum is one option you can look into. Online forums let you create a platform for your visitors that allows them to research, read posts, and interact with several other members of your group. They can share ideas that are focused on your niche area, thereby increasing the level of engagement with your site.
There are some things you need to keep in mind before you launch your online forum.
Below are seven factors you should consider with references to follow to learn more about what to do to prepare to launch and maintain your successful online forum in 2021.
1. Plan Your Design
Planning your design is almost as important as creating your content. The design should fit naturally around the content, but you should at least have a general idea of how you will utilize the colors, style, and fonts that you plan to use on your forum pages. Much of this will depend on which platform you use.
If you already have a forum in place and running, then you might want to consider different migration options available. This way, you won't have to start from scratch, and you can have a professional handle the process to make sure the new migration and integration of your forum is pain-free and seamless.
What kind of design should you have?
Many people spend a lot of time wondering what type of design they should have for their online forum. They wrestle with images and styles until they are too stressed out to make a legitimate decision. This will ultimately come down to the software you are using to power your forum, your customization and programming skills, and also what type of budget you might be working with.
In many cases, there's no need to stress on the initial design of your forum. This is especially true if you are planning to use any of the top WordPress hosting solutions that work well with the WordPress platform and have advanced server solutions and support plans in place to work with WP-hosted sites, and advanced plugins and themes. Take the time to study different options out there, and then go with a reliable forum solution that can be added as a new theme or plugin. WordPress has tons of options that focus on your industry. So one place to start is to explore all of the styles that are popular in your genre. But, in the end, you should choose the one that best suits your goals for your online business and website.
Some of the most popular design trends of WordPress in 2021 are listed below:
Drag & Drop Blocks

Optimizing for mobile platforms

Minimalism
Read the article, "WordPress Design Trends for 2021" by CMS2CMS to learn more about the trends for design in WordPress for 2021 and beyond. It may at least inspire you to think outside the box and consider how you can find the best tools to create your website.
2. Steer your readers
When you start a topic thread on your forum pages, you should think about whether your target audience will want to respond to it and share it. You should plan topics that you know will get the most attention and encourage them to share it on social media and other platforms.
If you do not start a thread on a topic you want users to discuss, they will start their own thread which often has nothing whatsoever to do with your niche area or brand.
3. Emulate the successful forums
One of the best ways to learn more about your market in a public forum is to emulate the successful platforms and try to work in some of their techniques within your content.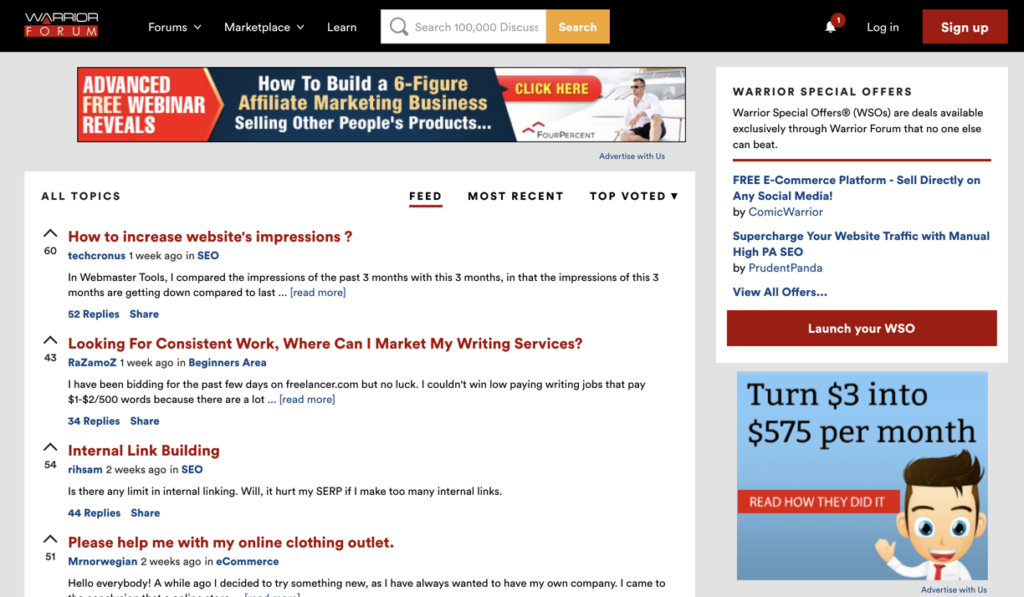 Warrior Forum is one of the most successful online forums due to its many features, tips, design, and level of engagement. They put interesting topics right on their main page and keep them there at all times, so the first thing a visitor sees when they enter their forum is a list of exciting topics.
Since this forum focuses on IT and web design, they have the following topics on their blog currently:
How to Increase Website Impressions

How to Market Your Writing Services
Internal Link Building
They change the topics at least once per week, so they may have different topics when you visit their forum, but it's worth taking a look.
4. Consider using WordPress
WordPress is now one of the most popular platforms in the world for online blogs and forums. They have so many different designs, templates, and add-ons/plugins, that it's hard to know how someone can have a website without using it.
There are tons of other platforms to jump on if you're planning to start an online forum, but there's a reason that 33% of all websites on the Internet now reside on the WordPress platform!
The reason more people don't try out WordPress may be due to the fact that they are used to their current platform and don't want to change. However, it's a good idea to consider moving your site to WordPress if you want to start taking advantage of the features of WordPress.

If you already have a website that you want to migrate to the WordPress platform, CMS2CMS service is just the ticket. It automatedly moves all content to WordPress, preserving such important points as SEO, 301 redirects and metadata. What's more, an average migration lasts about 15 minutes and you will be charged only for the content migrated.
5. Study how the experts do it
If you want to create a great public forum, it should be on a theme that is interesting to a lot of people. Having a discussion on how to find better dentures might be okay if you own a geriatric dental practice, but it is not going to get many views from the younger segment of the population. Try to fit your forum topics and threads into your branding and business in the most effective way possible so that more people will share it.
Check out expert bloggers and influencers such as Neil Patel and Seth Godin to get inspired on what you should do next.
6. Visit lots of forums
The only way to understand how forums should look is to visit several forums yourself. We mentioned Warrior Forum earlier. Also, check out Digital Point. This is a diverse forum that has a section designated for comments and threads. But it also has a "marketplace" where writers can advertise their content, a place to sell website templates, and more. You may be able to find some original WordPress themes by visiting this site or get some innovative ideas on how to put your site together by fellow Digital Point forum members.
7. Visit WordPress to see sample templates and content
If you are not sure whether you want to use the WP platform or not, check out the WordPress templates first to get an idea of the type of designs you can use, then try the free version to test drive the platform first. Also, look at the plugins that you can download for WordPress and think about how you can use these with your own website or forum platform.
Btw, CMS2CMS offers Free Demo migration to help you make a final decision. A limited number of content will be moved to WordPress totally for free and you can preview how your website will look like in the new "web-home".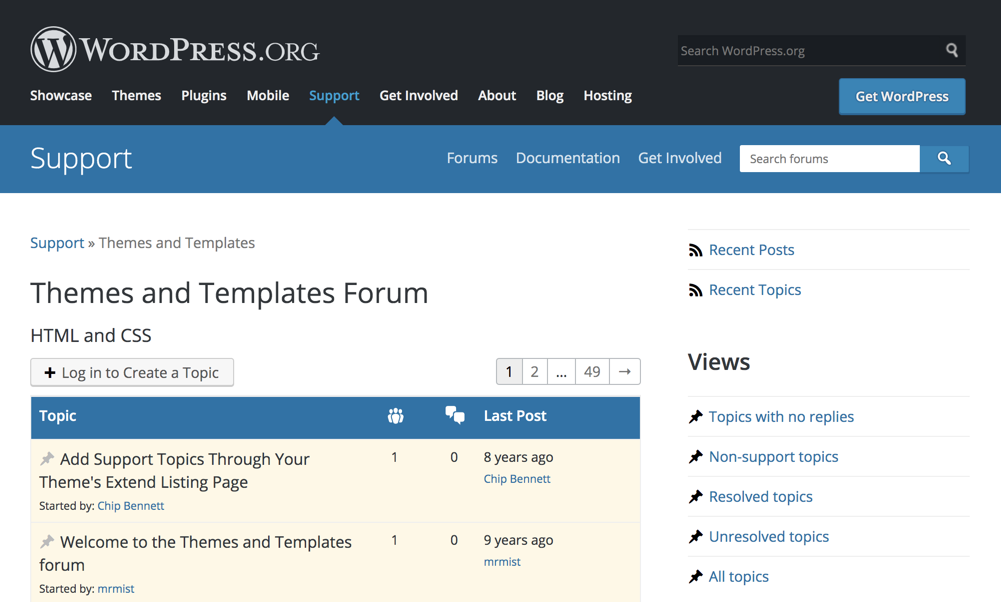 Think Outside the Box
If you want to create a dynamic, compelling, and engaging forum that many people will want to come to, you need to make sure you are on the best platform possible to draw the most customers. If you have great content and use the right keywords, you should be able to draw a crowd no matter what platform you are on.
However, getting on the most popular web server platform with your forum might be a step in the right direction if you are having trouble getting enough people to your site.
The goal of any online forum should be to increase engagement and gather leads and potential customers that you can market to time and time again.
PC Magazine calls an Internet forum anything that allows a free exchange of ideas that can inspire people to interact with each other and to allow for a Question and Answer system that will enable people to ask and answer questions.
Then, as the business and forum owner and moderator, you can jump in and add content to the discussions and answers some of the tougher questions. That should serve to stir things up and provide a comfortable atmosphere for others to interact, share, and engage.
Good luck in setting up your online forum. It adds a unique component to your online web content that encourages a deeper level of interaction and engagement, and it can fit into your web design easily if you know what you are doing.
There's plenty of help, so dig in and start your own now.
The following two tabs change content below.
Kristel Staci is a freelancer writing and marketing expert that has worked with a wide range of media companies, while also have a tech company of her own. Be sure to
follow her
on social media to see what she's currently writing on.
Latest posts by Kristel Staci (see all)